Exclusive Offer for Shorty Awards Finalists
As a Shorty Awards Brands and Organizations Finalist, you get a free month of Switcher Studio's Plus plan. Switcher Studio empowers your team to create engaging social video content more easily — livestreaming and live-editing stunning multicam video from the iOS devices in your pockets.

Brands streaming with the Switcher Plus plan
Engage with your audience through live video
Live video is an amazing way to connect with your community in real time. Stream interviews, product demos, talk shows, recruiting events, conferences, workshops, and more.
An official sponsor of the 2020 Shorty Awards, Switcher lets you edit your videos while you're streaming — easily switching angles, bringing in text, slides, graphics, prerecorded videos, even remote guests. And because Switcher works on iPhones and iPads, you don't have to buy any gear to get started.
What's included in your free account
1-month access to Switcher Studio
All Plus plan features
3 licenses for your team
Storage for up to 500 graphics and videos
4 remote guest slots
No Switcher Studio watermark
Claim your free month
Fill out this form, and we'll email you a redemption code to claim your free month. (In the meantime, it will start a free trial.)
Made with Switcher
If you can dream it, you can stream it. Check out what other brands are creating with Switcher Studio.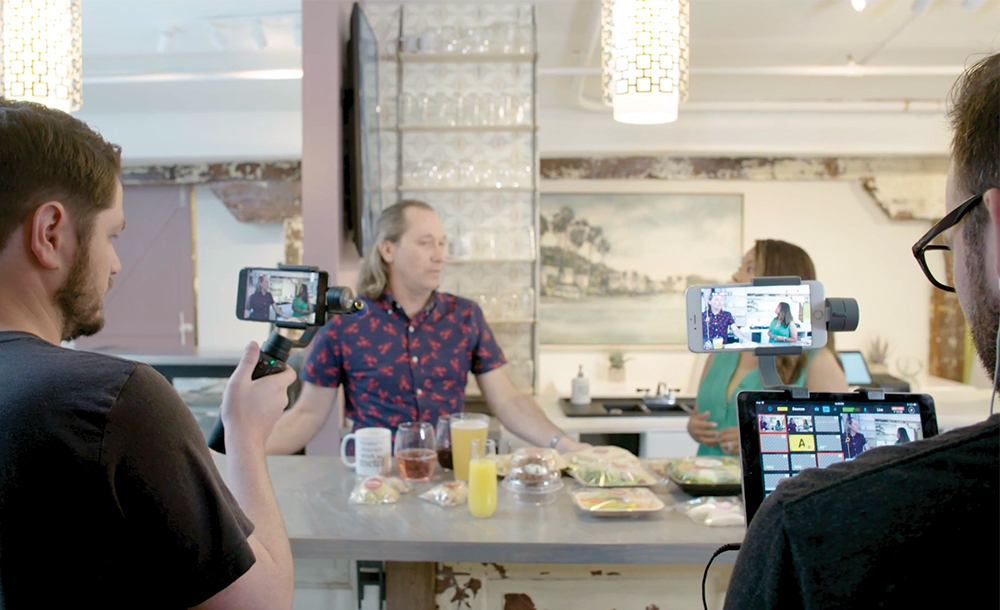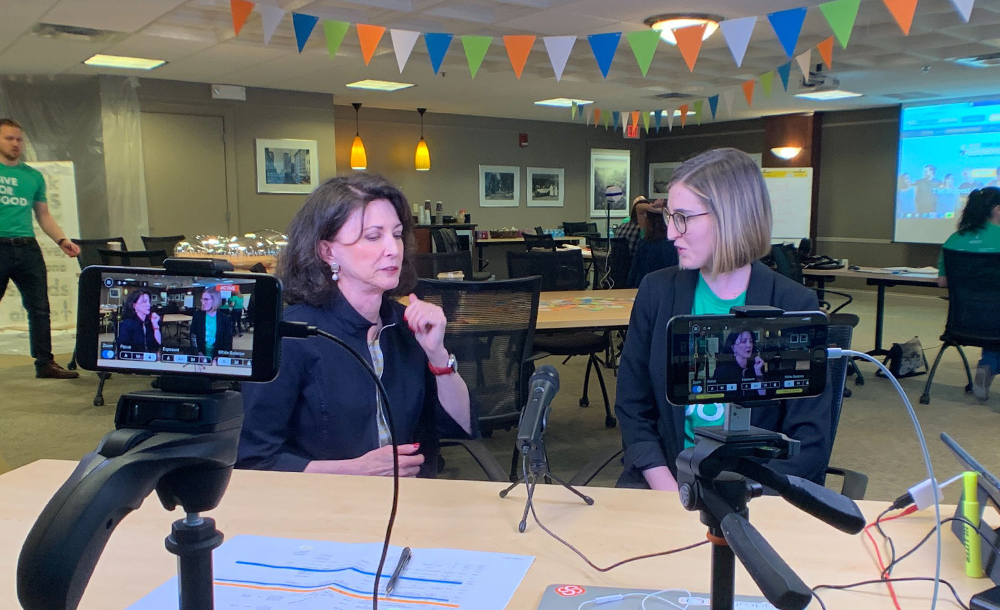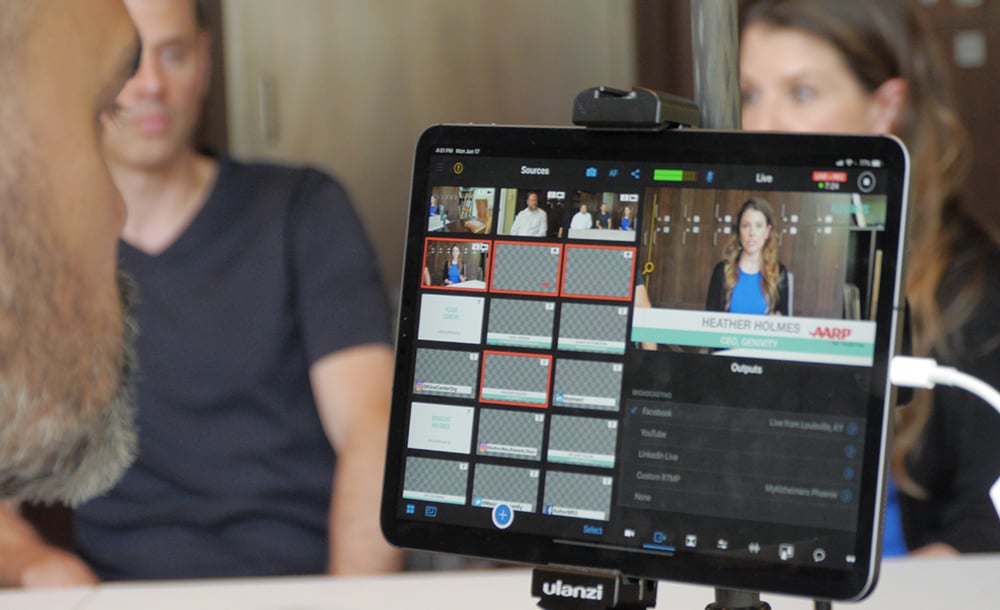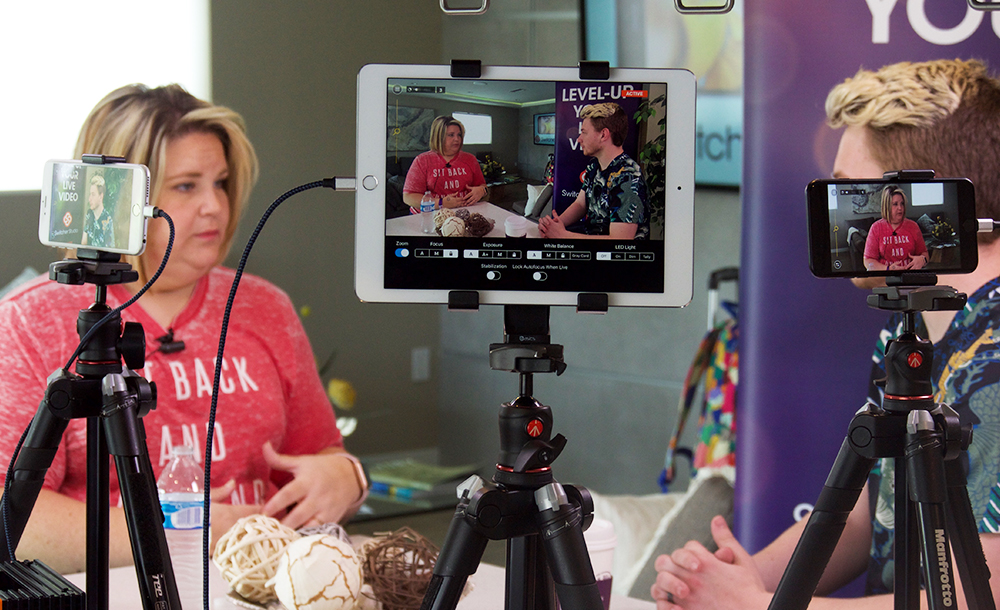 Level up your
live video
Create any stream you can imagine with these powerful features:
Stream from multiple cameras
Connect up to 9 iPhones and iPads on one Wi-Fi network to capture multiple angles.
Host 4 remote guests
Bring up to 4 guests onto your stream from anywhere in the world — think co-hosts, guest callers, or interviewees. They can even share their screens.
Live-edit with the iOS app
Edit while you stream — add graphics, switch angles, roll in video, and more. You can control all your cameras, screens, and remote guests from your main iOS device.
Add prerecorded videos
Roll in openers, hype videos, earlier interviews, and clips — combining the power of recorded video and live video.
Screenshare from iOS, Macs, PCs
Screenshare anything from your Mac, PC, or iOS device — websites, presentations, apps, and more!
Insert text, graphics, logos, and overlays
Easily add titles, lower thirds, and social handles. Plus, brand your stream with logos, corner bugs, and graphics.
Customize multiview layouts
Display up to 4 sources at once with customizable multiview and picture-in-picture templates.
Display comments on screen
Get the conversation going — just tap viewers' Facebook comments to add them to your live video.
Collaborate with your people
Your free Plus plan includes 3 user licenses, and it's easy to add more. Your team can upload 500 shared graphics or videos to the Switcher Cloud, giving everyone instant access to on-brand assets.
Tools for every department
Video is customers' preferred medium, and brands big and small are getting on board. From sales to marketing to HR, every department has a use case for live video. Switcher users are livestreaming:
Behind-the-scenes access
Branded content
Community coverage
Company announcements
Education
Employee training
Interviews
Live events
Meetings
Product demos
Storytelling
Talent recruitment
Switcher Shoutouts
Our company does a weekly live show which reaches out to 600,000 on Facebook every week. We could take shots from around the full showroom and still have the main switching device in our studio. We also ran a competition for 50% off all canvases and took over £65,000 in sales in 5 hours.

ROBERT HAMILTON, Founder at Big Spark Creative
Best compliment from a client to date: "You made a believer out of me." I said, "No, Switcher made a believer out of you." Side note: He [had] just signed me on to do a real estate project with him. I'm responsible for all of his social media. Two weeks later and over 5.6k views on our page and climbing.

ED GARDENER
By using Switcher, employees are able to focus on other projects. One or two people can manage a Switcher Studio shoot versus a full five-to 10 person team.

SARAH KELSEY, Senior Manager of Smart Living