Case Study
The Morning Wolfpack
Seattle
Entertaining the Emerald City on the air and in live video streams
The Morning Wolfpack, an award-winning radio show on Seattle's 100.7 The Wolf, is using Switcher Studio to expand their audience by streaming live video of their radio broadcast directly to Facebook — growing their Facebook Live viewership nearly 2,000% in the process.
When you think of Seattle, there's a good chance that coffee comes to mind. As the birthplace of Starbucks, Seattle is a city that knows how important it is to start the morning off right — and for thousands of Seattle-area residents, The Morning Wolfpack on 100.7 The Wolf is the perfect complement to their morning coffees.
Ensuring people are in a good mood before they get to work is the main goal for the Morning Wolfpack crew. The radio show aims to create a fun and family-friendly morning show that everyone can enjoy — and by the looks of their 2019 Country Music Association (CMA) Award for Major Market Personality of the Year, they're doing just that.
"Live video, specifically for going Facebook Live with Switcher, is a great opportunity to talk directly to our customers right then and there"
Matt Chavez, Video Production, Sun Basket
"Other colleagues in radio assume we've got an entire digital production team producing our content in real time, when in fact it's just me and Switcher, of course. That simply would not be possible with other platforms I investigated."
Joe Wallace, Executive Producer and On-Air Personality for The Morning Wolfpack
The Challenge: Finding a simple solution for multicamera live video
Before using Switcher, the Morning Wolfpack team typically recorded their radio broadcasts on video, edited the footage, and then posted the videos to Facebook when they were ready. They occasionally streamed to Facebook Live, but it wasn't something they incorporated into their video efforts very often. The delay between editing footage and uploading the videos, paired with the infrequency of using Facebook Live, led the crew to realize that they were missing out on the opportunity to engage with their audience in real time.
Executive producer and on-air personality Joe Wallace, who spent countless hours each day recording and editing footage, quickly realized there had to be a better and more efficient way to record, edit, and livestream their videos.
When he set out to find the right video software solution for their needs, Joe knew he was looking for a few things: the ability to use multiple camera angles, livestreaming functionality, a simple and easy-to-use interface, and compatibility with the existing equipment they already had.
When Joe discovered Switcher Studio, he knew he had found everything they were looking for and more.
Ready to stream live video of your
radio broadcast?
Build your audience and boost your engagement.
The Opportunity: Discovering Switcher Studio
"We found Switcher when I was trying to come up with an easy solution for multicamera live video that would simulcast with our traditional on-air broadcast. Switcher seemed to be a turnkey solution that we could implement immediately with equipment we already owned. What we found was a solution that met those needs and so much more," says Joe.
Compared to other livestreaming video software, Switcher Studio stood out to Joe. He loved Switcher's:
Seamlessness:
Easily simulcasting their radio broadcasts directly to Facebook Live was exactly what The Morning Wolfpack needed.
Multicamera views:
The ability to sync iPhones and iPads would allow viewers to see the show from different angles inside the studio.
4K recording:
Saving live videos, quickly editing them, and then rebroadcasting those videos in 4K resolution was a game changer.
Customization:
Being able to create branded livestreams using lower thirds, titles, and sponsor logos was key to making sure their streams had a professional look.
Mobility:
Broadcasting live interviews and performances from backstage or on stage at concerts or events using just an iPhone or iPad created new opportunities for remote broadcasts.
After learning about all of Switcher's features and how they could help expand their audience and boost engagement, Joe signed up and began using Switcher to stream live video of their radio broadcasts to Facebook. The results were almost instant.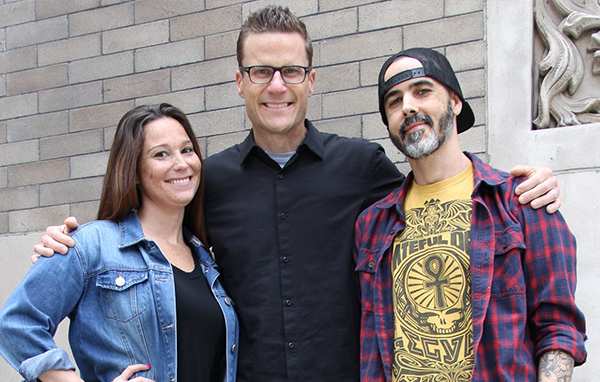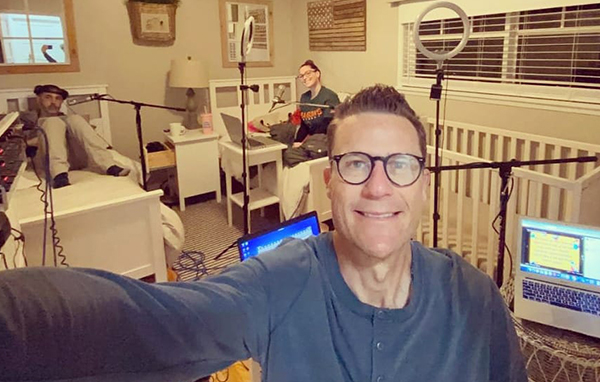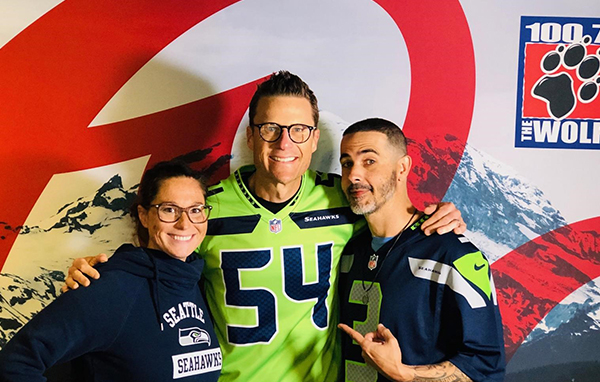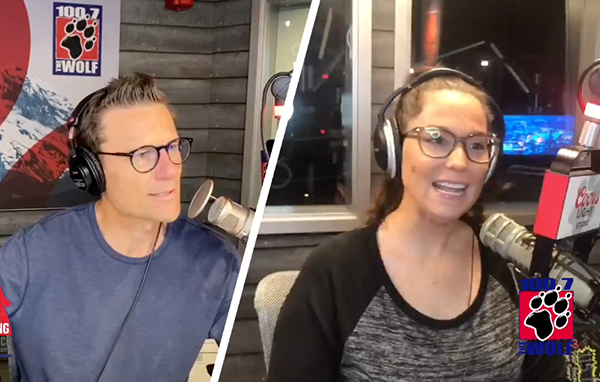 "A Switcher setup is as mobile as your phone, which for us was a complete game changer. We're now able to broadcast live interviews or performances from backstage or onstage at our concerts and festivals while simultaneously recording HD raw footage for re-editing later."
Joe Wallace, Executive Producer and On-Air Personality for The Morning Wolfpack
The Results:
Using live video streaming to expand their radio audience
The Morning Wolfpack team uses an iPad for switching and syncs three additional iPhone cameras to let their viewers watch the show from multiple angles. Since using Switcher, they've created nearly 200 videos, and they've seen a drastic increase in their Facebook following and engagement.
"Our average Facebook Live viewers jumped close to 2,000% in a matter of a couple of weeks. We've gone from about 60-70 live viewers to 500-600, and total views have gone from about 500 to 6,000-8,000 on average," says Joe. The Morning Wolfpack's Facebook page now has over 135,000 likes.
Along with a huge spike in live viewers, they're also seeing a significant increase in real-time engagement.
"The great thing about digital media is that you can watch your engagement in real time. As soon as we began using Switcher on a regular basis, we saw our social engagement on all platforms skyrocket," says Joe.
When asked how important real-time engagement is, Joe explained that it's crucial in the radio industry. "Getting real-time feedback from our audience is a huge part of what we do on a live radio show. Phone calls and text interaction have always been the standard, but being able to ask questions to our Facebook Live audience has become an invaluable resource. These interactions are instant and often more thought-out than anything we'd get over text, and they open us up to an entirely new segment of our audience that might be phone-shy or more open to communicate with a show they can actually see happening live."
With their radio broadcasts now livestreaming to Facebook and the ability to quickly edit footage to repurpose videos for their website and other social media channels, The Morning Wolfpack has found the perfect blend for making the mornings more enjoyable for Seattle-area residents.
"People ask me all the time how we are able to get such incredibly polished and professional broadcast-quality content out in real time when I'm a one-man production team behind the scenes and on the air at the same time. Switcher is the only reason that is possible, and the results speak for themselves."
Joe Wallace, Executive Producer and On-Air Personality for The Morning Wolfpack