Simple, yet Powerful video podcast software
Ready to increase your reach and amplify your podcast with video? Switcher's video podcast software helps you easily create a video podcast using the gear you already own. Create live video podcasts, embed content on your website, and even monetize with Gated Content.
Get started
Tools That Make Video Podcasting Easy (And Effective)
These days, podcasts with video > podcasts without video. Luckily, with Switcher, it's easy to create an outstanding video podcast using the gear you already have.
Create pro multicamera video
Our iOS video podcast app makes it easy to record professional, branded, multicamera episodes.
invite remote guests and co-hosts
Guests, collaborators, and co-hosts can join on any device with our built-in Remote Guests feature.
embed and monetize episodes
Embed episodes, bonus content, even livestreams on your website. Then gate your content to earn revenue.
Creating A Video Podcast With Switcher
Switcher Studio is a complete video platform with a suite of tools helping podcasters create, share, and monetize their video content. Check out the Switcher features our users love for creating video podcasts.
multicamera video podcasts on ios
Sync up to 9 iPhones and iPads to capture different angles around your recording space. Show multiple views at once with built-in templates, or switch cameras with just a tap within our video podcast app. You can even connect and use professional video cameras.

Add photos, videos, and multimedia graphics in real time. Throw in branded text graphics, titles, and lower thirds instantly. Roll in prerecorded segments. Screenshare a computer or phone. The opportunities for enhancing your video podcast visuals are endless. Plus, you can customize any of our hundreds of graphics templates, or design and upload your own.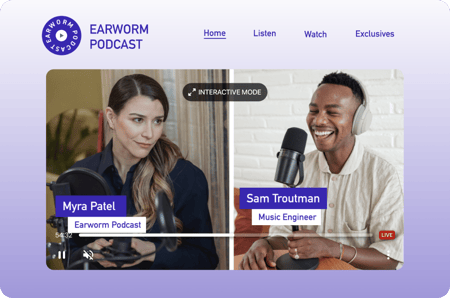 control audio and video
Want total control over your sound? Hook up the audio mixer of your choice. Or, connect an audio recorder and podcasting mic to capture a clean audio file to edit in post. Use Switcher to add music and sound effects assets to your video or livestream. It's easy to create professional video recordings using Switcher Studio while also capturing a high-quality audio file to edit and submit to the podcast directories of your choice.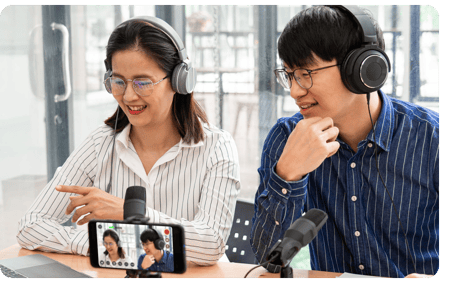 Collaborate and connect
Bring co-hosts, guests, or interviewees onto your live show from anywhere in the world using Switcher's built-in Remote Guests feature. Guests can join from any device with a browser and a camera - they don't even need to download our video podcast app. Co-hosts can present and share their screens. The production preview window allows interviewees to see what the viewers see. Plus, private chat lets you communicate privately with your guests before and during the show.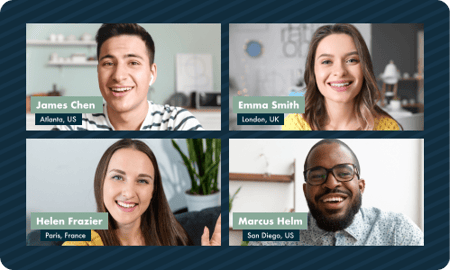 record or stream live video podcasts
Switcher's powerful video podcast app makes for dynamic visuals and zero post-production, whether you're recording or livestreaming. That means you can capture the same high-quality video visuals when you record a video podcast, or if you decide to use Switcher's built-in Multistreaming functionality to reach your audience live on Facebook, YouTube, and your own website — all at the same time.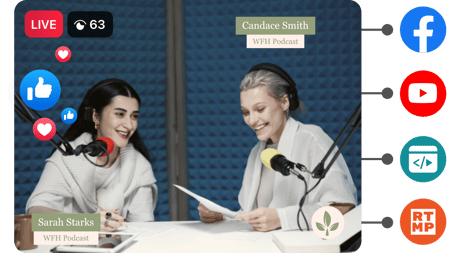 Not Sure Where To Start? Check Out Our Video Podcast Guide
New to podcasting? We've got you covered. Check out our complete video podcast guide to learn exactly how to start your own podcast.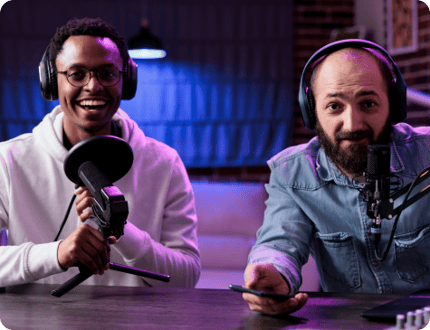 Video Podcast Software That Takes Your Content Farther
Creating a successful video podcast isn't just about shipping an episode. See how Switcher empowers podcast creators to take their content farther with tools built for growth.
own your content with switcher player
Bypass the algorithms by embedding your video podcasts (and your bonus content) right on your website. With the Switcher Player, it's easy to create a seamless, white-label video experience on any of your webpages. Upload prerecorded videos to a Switcher Player, then add show notes, sources, and even links right in the video description. Curate playlists of videos to keep your audience on your domain, turning your dot com into your content library. Even stream live to a Switcher Player — it's like having your own Netflix.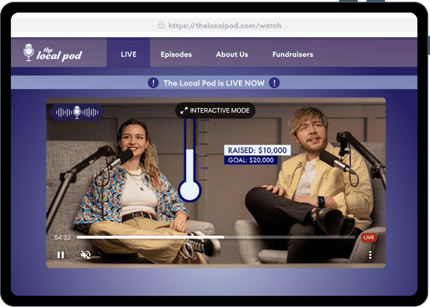 Monetize your video content
Earn revenue with video podcast software made for monetization. Augment sponsorships by adding sponsor logos or rolling in prerecorded video advertisements. Collect tips and donations within the Switcher Player by adding links to platforms like Venmo and Cash App. And inspire action by displaying built-in platform graphics with your username.

Or, use Gated Content to put your video podcasts and bonus content behind a paywall on your website. Gating your video podcast content is simple: Just create a Pass, set your price, and decide which videos to include. Create a collection of content from videos you've uploaded to a Player, and even include new livestreamed content. All your supporters need to do is buy the Pass, and they'll get access to all the content you've included in your collection.

Don't send your audience to an entirely different membership platform. Decide how you want to package your content, and then decide exactly what to charge for it. Your earnings shouldn't depend on ad revenue, minimum viewers, or sponsorships. With Gated Content, there's only a $.99 transaction fee per Pass purchase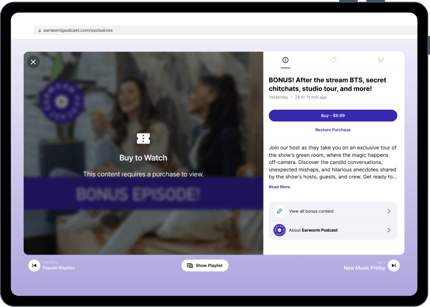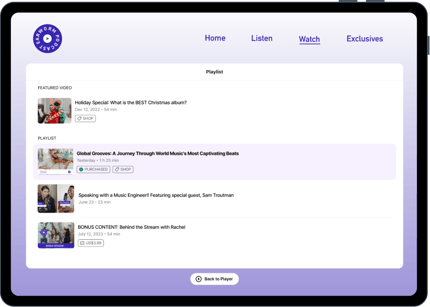 reuse and repurpose video recordings
Once your episode is over, it's easy to reuse and repurpose. Export your HD file to edit in post-production or use our built-in Clips creator to share your best content to social media. Change the aspect ratio or playback speed, add titles or closed captions, and more. Then, share your clip directly to social media platforms like Facebook, Instagram, or TikTok. It's an easy way to expand your reach and amplify your podcast marketing.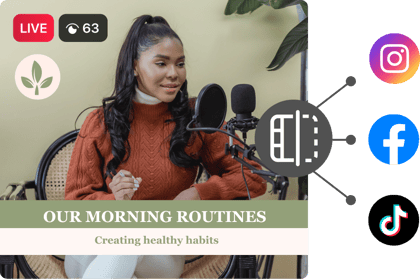 see the switcher player in action
Podcast like the pros with switcher studio
Ready to see how easy it is to create, share, and monetize an incredible video podcast? Try Switcher Studio today.
"It's a waste of time to create podcasts without video. With Switcher, you don't need a ton of extra equipment to stream or record video podcasts, and almost all the post-production is eliminated. This great product and great team helped me formulate my business!"

Molly Ruland

Founder at Heartcast Media
"Using Switcher has transformed our show from just a regular podcast to something that is MUST SEE. Everyone loves food and watching us get different foods and try new food trends is something amazing. The ease of Switcher allows me to control the flow of the show, add video and graphics, have remote guests, and many more things — all while hosting the program as well. Using Switcher's integration with Facebook Live has allowed us to reach well over 100k people a month and grow our brand."

Phil Byrd

The Podcast Doctor