Create your Online fitness Platform
With Switcher, it's easier than ever to create your online fitness platform. Film high-quality virtual personal training classes and live workouts with the gear you already have, then embed gated video content right on your website.


How to build an online fitness business
With Switcher, building your online fitness business is easier than doing a set of burpees (like, way easier).
Create standout prouctions
Switcher's iOS app makes it easy to create professional, high-quality videos and livestreams with your gear.
share and host content
Expand your brand by multistreaming to nearly any platform — and even embed content on your webpages.
Monetize live and recorded video
Amplify your online fitness program by creating gated video content. It's video-on-demand, right on your site.
Live and On-Demand Video, Made Simple
Whether you're offering personalized strength training or online yoga, you need high-quality, branded video content. Here's how Switcher makes it easy:
Create dynamic multicamera fitness content with iOS devices
Filming fitness content doesn't require a production team or a studio setting anymore. The Switcher Studio iOS app makes it a cinch for anyone at any skill level to create high-quality professional video content.
With Switcher, elevating your production is as simple as connecting an additional iOS device (you can even connect mirrorless or DSLR cameras) to create multicamera videos and livestreams. Capture close-ups and wide shots, then switch between camera angles or feature multiple shots at once with Multiview templates.
Highlight exercise modifications by training a camera on a specific instructor or rolling in a prerecorded clip. No matter what kind of workout content you're creating, Switcher Studio helps you capture the energy and instructional quality of an in-person class, ensuring that your online fitness program is as dynamic as your favorite 90's at-home workout.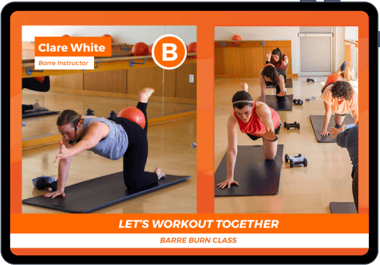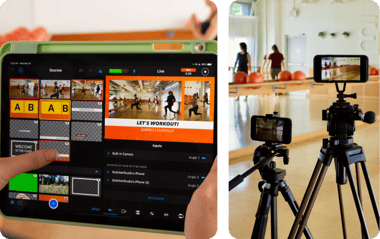 Brand your fitness videos with graphics
Make sure your workout videos are as sleek and branded as any big production company's — and trust us, it's easier than you think. Pin your logo to any video or livestream, plus add text graphics with your brand colors and font. You can add animated graphics, countdown timers, and so much more — right from your iPhone or iPad.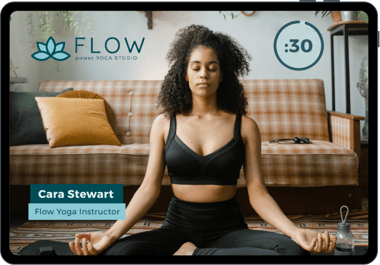 Offer live and on-demand workout videos
Every online fitness program is different, and every audience wants a different kind of content. With Switcher, your video quality is consistent whether you offer prerecorded at-home workouts, livestreamed classes, or a combination of live and on-demand workout videos. You can even livestream prerecorded videos, boosting engagement and visibility without the pressure of streaming live workouts.
If you're working on growing your member base, Switcher offers built-in Multistreaming functionality. That means you can stream one workout video to multiple audiences. Stream to almost any platform — Facebook, YouTube, Twitch, and more — at the same time. It's a great way to increase your visibility and direct potential customers to the hub of your online fitness platform: your website.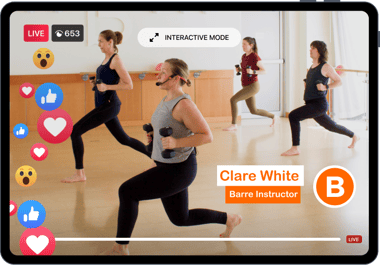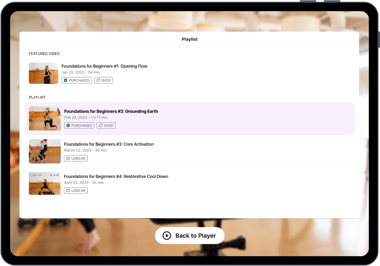 Host Your Online Fitness Platform on Your Website
The key to building a successful online fitness business? Hosting your quality live and on-demand video content on your website.
EMBED LIVE AND ON-DEMAND FITNESS CONTENT ON YOUR WEBSITE
Switcher's HTML5 video player, Switcher Player, is the easiest way to bridge the gap between video creation and distribution. Switcher Player allows you to embed a video player on almost any webpage. Upload recorded videos or stream directly to your Player, making Switcher the easiest way to livestream fitness classes to your website. Plus, once you've created a Switcher Player, you can easily create playlists of content, turning your website into your fitness content channel.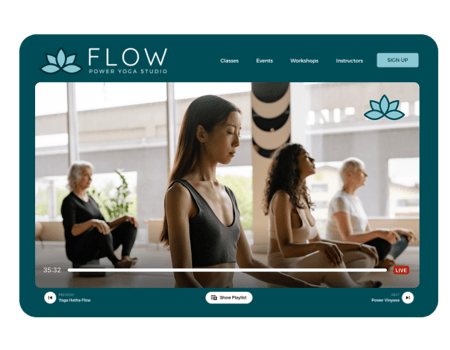 MONETIZE YOUR HOME WORKOUTS WITH GATED CONTENT
Now that you're hosting your fitness content on your website, it's time to launch your online fitness business by gating that video content.
Creating Gated Content is simple: Just create a Pass (think, "Beginner Yoga Classes") and set your price. Then, decide which videos you want to include in your Pass collection. Pick any videos you've uploaded to a Player and even include new livestreamed content. Once your customer purchases a Pass, they get access to all of the content you've included in the collection.
Your revenue doesn't depend on ad revenue or minimum viewers — there's only a $.99 transaction fee per Pass purchase.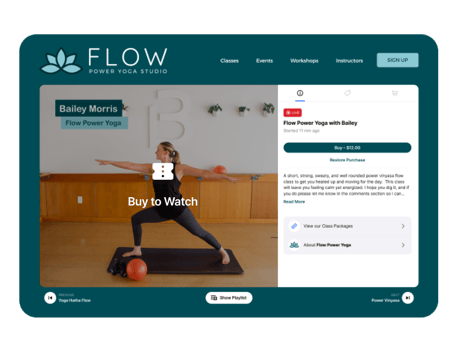 see the switcher player in action
Create Your Online Fitness Platform with Switcher
You've got the skills and the expertise. Try Switcher Business free for 14 days and see how easy it is to ​​build an online fitness business, today!
Try Switcher Business for free
"If you're in the online fitness world, I urge you to consider moving back to your space - your website. With Switcher Studio by your side, the journey is not just easy but incredibly rewarding."

Terri Walsh