Create A
Video Subscription Platform
Content creators, get ready to amplify your earnings. Switcher's video subscription platform integrates seamlessly with your current website, so you can own your premium content and earn recurring revenue directly from supporters — today. Plus, Switcher has everything you need to create, share, and monetize subscription-based video content.
What's different about Switcher's video subscription platform?
Well for starters, it's easy. Whether you're a seasoned pro with a library of videos ready to monetize, or you're just getting started creating subscription-based video content — Switcher's video subscription platform has everything you need to create, share, host, and monetize.
Video On Your Site
Break up with social platforms without starting over from scratch: Our white-label video player is easy to embed on your current site.
Simple Monetization
No need to hit a minimum number of viewers or rely on ad revenue to start earning: Put any video or livestream behind a paywall.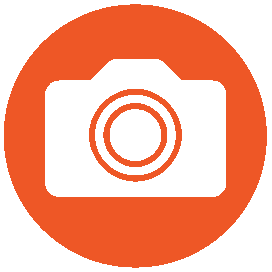 Content Creation
Easily upload your existing video content to Switcher — or create incredible multicam videos and livestreams using your iOS devices.
Turn Your Website Into A Video
Subscription Website
If you have a website, you can have a video subscription website. White-label video tools integrate seamlessly into your existing website so you can start building a video subscription service today.
Embed a white-labeled video player on any webpage
The best part about Switcher's video subscription platform is that it integrates seamlessly into your existing website. Customize the look of the Switcher Player to ensure that the only branding your viewers see is your branding. Then, copy and paste the simple code block to embed your content on almost any webpage. Create multiple players for different pages or content types, and curate playlists of content to build your subscription service.
No website? No worries. You can still create a video subscription without embedding the player — just copy and share a link to the player feed.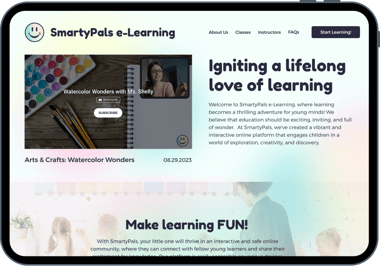 Create and customize your video subscriptions
Creating a video subscription service with Switcher Studio is simple and flexible. You build the content package, give it a name, and decide the price you want to charge. Your subscription can include unlimited access to just one video or an entire video collection. You can exclusively offer video on demand, livestreams and live events, or a combination of both. You're in the driver's seat and you get to build your subscription-based video content the way you want.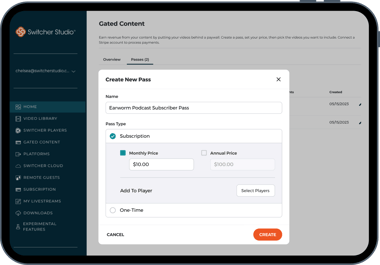 Include premium live content or videos on demand
Switcher Studio is a unique online video subscription platform, because we solve for every step of your video process. In addition to our video hosting and monetization tools, we have robust solutions for creating incredible, professional videos and livestreams. That makes Switcher unlike any other video subscription platform out there today.
Download the Switcher Studio iOS app to start creating. You can livestream directly from your iPhone to your website, or record videos on your phone while editing live. Customize and add graphics, photos, text, and more. Connect multiple devices to create multicamera videos and livestreams — even use DSLR or mirrorless cameras.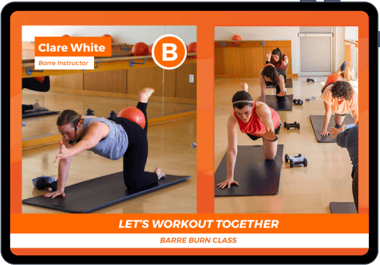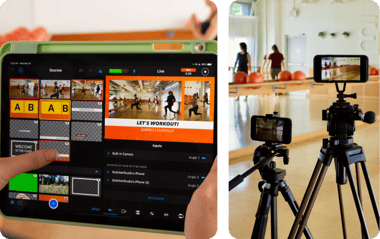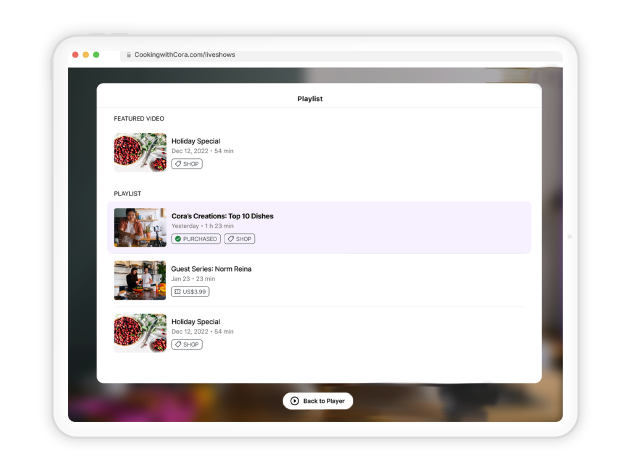 Create playlists of subscription-based video content
Once you've embedded a Switcher Player on your webpage, you can start curating your content exactly the way you want. Put together a playlist of content based on a topic, like a webinar or series of classes. Leave the first video free to watch (like a teaser trailer) and put the rest of the playlist behind a paywall. Or, pick and choose videos from across your Switcher Players to include in your subscription. Turn your website into a library of video content that keeps your audience engaged and inspired (and boosts your SEO, too).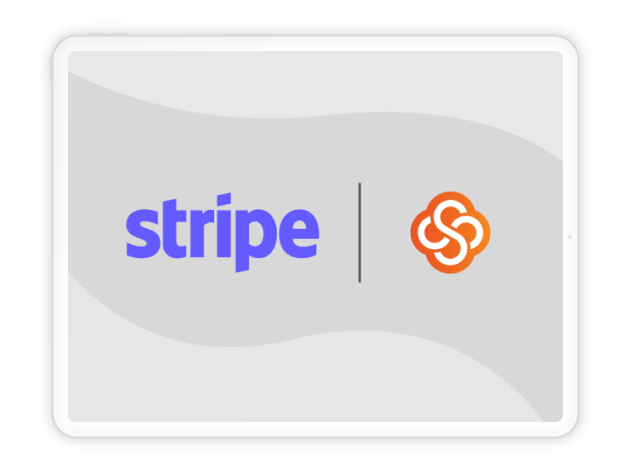 Process subscription payments securely with Stripe
Get paid on time and keep your (and your subscribers') banking details and personal information secure! We process all of our payments securely with Stripe, and creating a Stripe account and connecting it to Switcher takes only a few minutes. You can review and manage all of your subscription and gated content payouts right on your Switcher dashboard. Plus, whenever you get a new subscriber, their contact information goes directly to you. (Hello, mailing list.)
Try Switcher's Online Video Subscription Platform Today
Switcher offers a free 14-day trial, so you can see just how easy it is to create a video subscription website. Take our features for a spin and start monetizing your video on your terms.
"The Gated Content feature has helped me build a tight-knit community around my content. Now, my most dedicated followers have the opportunity to access premium, exclusive content."

Euan Smith

Musician and Teacher
"I use Switcher and the Switcher Player to host virtual events. Switcher allows me to create professional presentations, and the Switcher Player allows me to make them private so I can sell tickets. Plus, being able to upload pre-recorded videos and compile a library of content means I don't have to keep reinventing the wheel to share my work. It's my go-to tool."

Jon McLeod

Video Producer