Amplify Education with E-learning Video Software
Whether you're livestreaming cooking classes or teaching a coding bootcamp, you need e-learning video software that streamlines your process. Switcher is a complete e-learning platform for creators: With just one subscription, you can create multicamera e-learning videos and livestreams, embed them on your website, compile online course playlists, and then enable Gated Content to earn directly from students.
An All-In-One E-learning Platform for Creators
People want to learn what you have to teach — you just have to get your e-learning content in front of the right students. Streamline your process with Switcher.
Create e-learning videos
Livestream, record, and edit professional multicamera video tutorials and classes with iPhones or iPads.

embed streams and videos
Skip social and embed videos and livestreams right on your website. Even curate full video playlists.
Sell online courses on your site
Once your content lives on your site, enable Gated Content to sell single videos or entire course playlists.
E-learning Video software for ios
Switcher's e-learning video software offers a full suite of tools for creating, sharing, and monetizing remote learning content. Here are some of the Switcher features our users love for creating e-learning videos.
Create e-learning videos with iPhones and iPads
Creating high-quality video tutorials can seem challenging. You need crisp video, great sound, informative graphics, and even additional camera angles. Enter the Switcher Studio iOS app. With Switcher, it's quick and easy to create, stream, and edit pro-quality e-learning videos using iPhones and iPads.

Connect an additional iOS device (you can even connect mirrorless or DSLR cameras) to create a multicamera video tutorial. You can even capture a screen recording on your PC or Mac. That means showing the on-screen speaker and their project, whether they're cooking fresh pesto or demonstrating an Excel formula. Switch between your video sources or display them all with Multiview templates.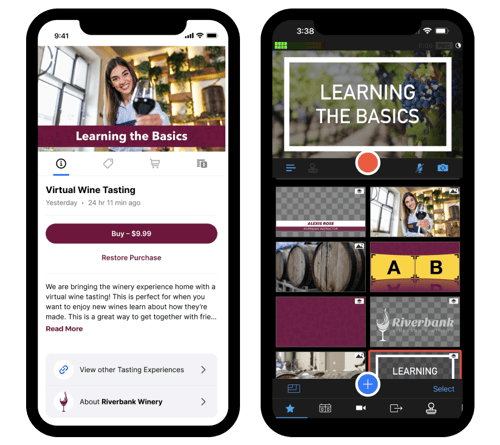 Enhance (and brand) your video tutorials with multimedia graphics
It's easier than you think to enhance e-learning video content with visuals. With Switcher, you can add logos, text graphics, photos, and videos in real time, whether you're livestreaming a class or recording a video tutorial.
Customize any of our hundreds of graphics templates with your logos, fonts, and brand colors. That means animated text graphics, title cards, instructions, countdown timers, meters, and so more. Or, you can design and upload your own graphics.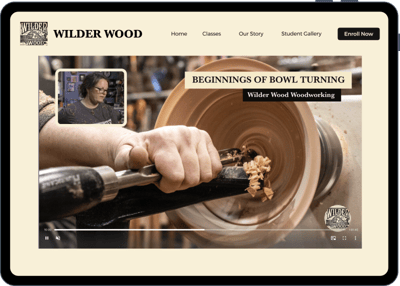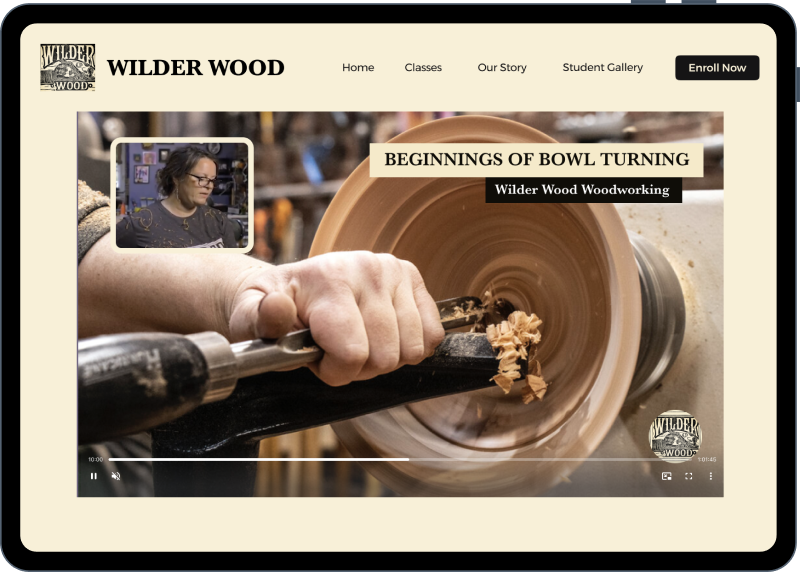 Offer live and on-demand online courses
There isn't a one-size-fits-all e-learning video format. You might want to record, edit, and upload an evergreen online course. Or, you might prefer to offer more interactive livestreamed classes. With Switcher, your video quality is consistent whether your remote learning content is livestreamed, video-on-demand, or a combination of both.
Plus, Switcher offers built-in Multistreaming functionality for online educators working on growing an audience. That means you can livestream a video tutorial to almost any platform — Facebook, YouTube, Twitch, and more — simultaneously. With Multistreaming, e-learning creators can increase their visibility and direct students to their website for additional remote learning opportunities.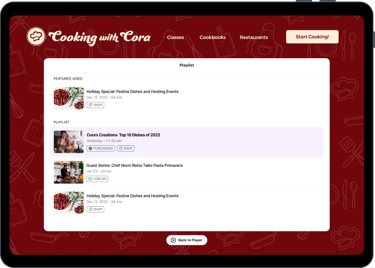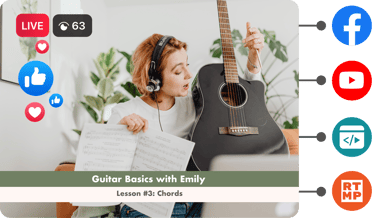 Host online courses on your website
The key to building a successful e-learning platform? Hosting your educational video content on your website.


Embed live and on-demand online education
Switcher's e-learning video software enables creators to bridge the gap between video creation and distribution. With the Switcher Player, you can embed your content on almost any webpage. Upload recorded classes or stream tutorials directly from the Switcher iOS app to your domain. Curate playlists of content, compiling full online courses for your audience. With Switcher Player, your website becomes your e-learning platform.
Learn about the switcher player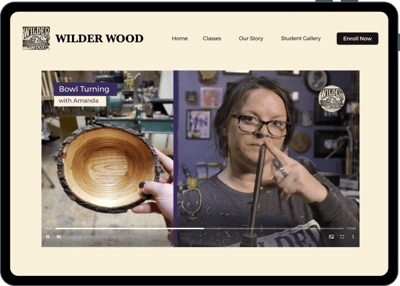 Monetize online courses with gated Content
Once you're hosting your e-learning content on your website, you can start earning directly from your supporters — no additional software needed. Enable Gated Content on any of your Switcher Player-hosted videos or livestreams to start monetizing.
It's simple. Create a Pass, set your price, and decide which video content you want to sell as a part of that collection. A Pass can include any uploaded videos or new livestreamed classes — just one event, or an entire playlist of content. And, there's just a $.99 transaction fee per Pass purchase.
Learn More About Gated Content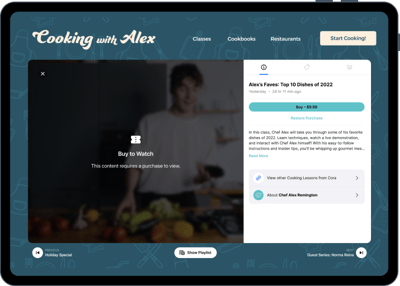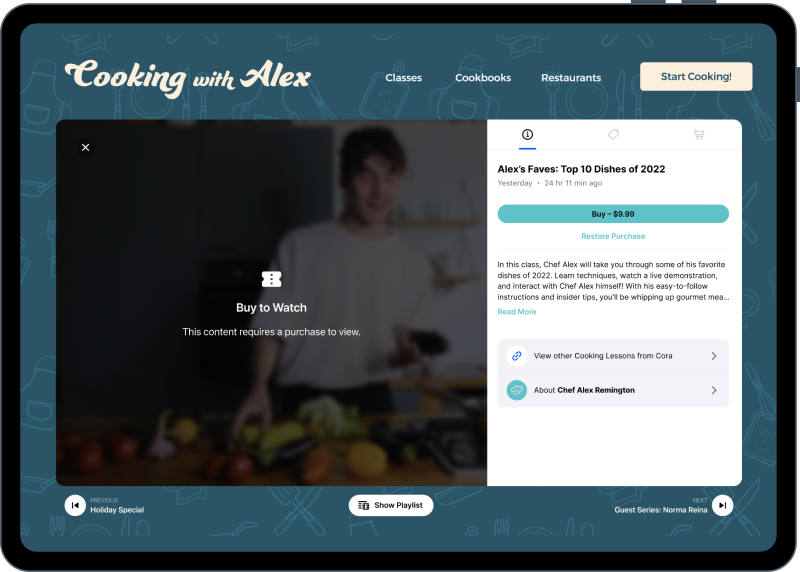 see the switcher player in action
Amplify Your E-Learning Content With Switcher
You've got the skills and the expertise, all you need is the right e-learning video software to take your online education to the next level. See how Switcher helps e-learning creators share their world with the world.
Get Started
"Switcher Studio has made this process much easier. So far we have streamed 67 chapel services (11 per week), a senior athletics ceremony, class ring ceremony and more. I also have a group of students who are learning to use the technology and getting more involved in front and behind the camera. It is such a user-friendly product."

Brad Williams

Digital Media Coordinator at Ascension Episcopal School
"The Gated Content feature has helped me build a tight-knit community around my content. Now, my most dedicated followers have the opportunity to access premium, exclusive content."

Euan Smith

Musician and Teacher