The new year always provides major opportunities for those in the health and fitness space. Gym memberships typically soar in the month of January, as many have made New Year's resolutions to lose weight, get stronger, or simply be healthier.
One caveat, however, that makes this year different than previous years is the pandemic. With some gyms and fitness studios either closed or at limited maximum capacities, more people have been turning to at-home workouts.
This recent shift has created even more opportunities for health and fitness professionals and enthusiasts to livestream their fitness classes.
The benefits of livestreaming your fitness class
Whether you're a fitness instructor or just someone looking to share your personal workouts to help motivate others, livestreaming your fitness class can be beneficial to you and your audience.
Grow your audience
One of the biggest benefits of livestreaming video is growing your audience. Streaming your workouts to social media platforms like Facebook, YouTube, Twitter, Twitch, etc., lets you connect with your audience on the platforms they're already using.
Plus, being able to answer questions in real time about specific exercises or workouts helps create authentic interactions that will keep your viewers engaged.
Help people reach their fitness goals
By taking your workouts online through livestreaming video, you're able to help more people achieve their fitness goals and live a healthier lifestyle. Since livestreaming video can be watched by viewers from anywhere, you're expanding your reach beyond the limits of a physical space.
Repurposing content
Just because a livestream ends doesn't mean your content has to. Viewers can still access previous livestreams on your social pages, and you can pull clips and images from your livestreams to add to your social stories and posts. Repurposing content you've already created can save you time and effort with your social media content creation.
Earn revenue
If you decide you want to charge for your virtual fitness classes, you can monetize your livestreams by creating ticketed events on Facebook, or use a monetization platform like Uscreen. When using the proper third-party livestreaming video software, you can also make money by featuring sponsors' logos on your streams, adding donation overlays (Patreon, PayPal, Cash App, etc.), or displaying CTAs throughout your streams.
Livestream any type of class
Live video doesn't limit your offerings. Classes like yoga, aerobics, fitness boot camp, cycling, personal training, boxing/kickboxing, CrossFit, Zumba, Barre, high-intensity interval training, and more can be perfect for livestreaming as long as you have the necessary space and equipment.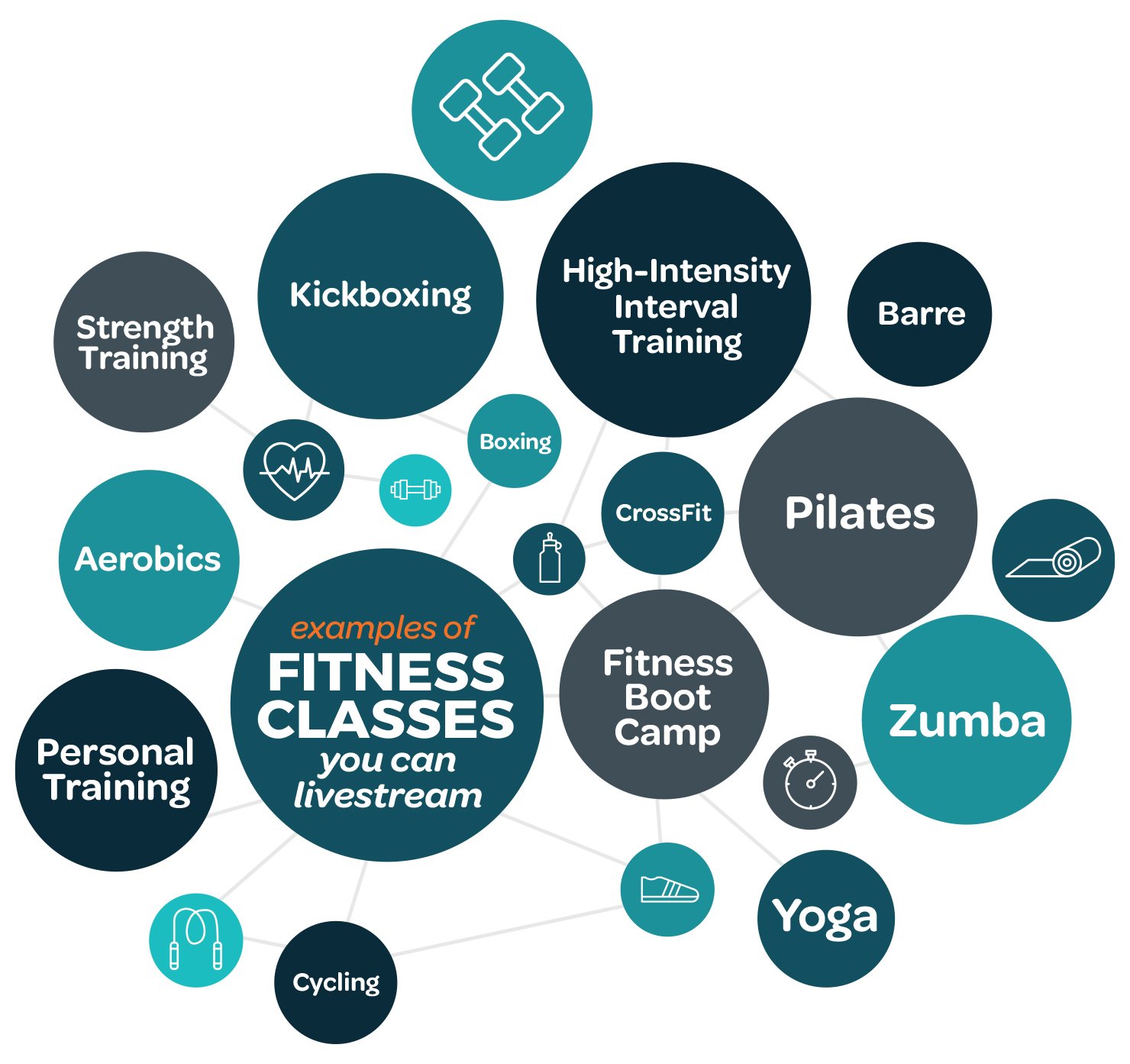 Tips for livestreaming Virtual fitness classes
Not all livestreams are created equal. While technically your virtual fitness classes could be livestreamed without a solid plan in place, the quality of your livestreams and the content you're sharing will affect whether your viewers enjoy your workouts and if they'll decide to come back again.
Luckily, there are several easy steps you can take to ensure that your livestreams are high-quality and enjoyable for your audience.
Proper gear
Making sure you have the right gear is vital to the success and quality of your livestreams. Today's smartphones have great cameras, so as long as you have a relatively new smartphone, you shouldn't need a camera. Some types of equipment that you should consider, though, are a tripod, a microphone, and an audio mixer.
A tripod will keep your camera steady while you're working out, and an external microphone will provide better audio quality than your smartphone's built-in microphone. If you decide to use multiple external microphones or you want to play music during your classes, you'll need an audio mixer — which essentially lets you change the quality and levels of your audio signals.
If you're curious about what equipment to purchase, check out our list of audio/visual equipment recommendations.
Plan out your fitness class content
No one wants to join an unorganized livestream. Planning out your workout routines and video content ahead of time will allow viewers to see you as more credible and professional.
Once you know the exercises and workouts you're going to cover, put some thought into what you'll need to make your livestreams successful, and be sure to let your future viewers know what they should expect from the class and what equipment they'll need too.
For example, if you're teaching a virtual boxing class, you might need hand wraps, boxing gloves, a heavy bag, a jump rope, and so on. Coming prepared and giving your visitors a heads up on what they should bring will help your livestream run more smoothly.
Choose the right platform
Understanding who your audience is and what social media platforms they spend their time on can give you insight on where to livestream to. For example, let's say you livestream a monthly team-building yoga class for businesses and corporations. In this instance, you might consider livestreaming to LinkedIn since it's usually a preferred platform for business professionals.
Facebook, of course, is generally a safe bet since it has the most users, and it often creates a sense of community among users — which could be great for group classes like CrossFit, yoga, Barre, fitness bootcamps, and more.
YouTube is another great platform to livestream to since it's already widely used, and it allows you to embed your livestreams onto your website to create a more branded experience. This can also help boost traffic to your website, which is always a plus.
Promote your livestreams
One of the best things you can do to help grow your live video audience is to promote your livestreams in advance. Promoting your livestreams through social media posts gives your followers a heads up on when you'll be livestreaming.
Remember that people have busy schedules, prior obligations, etc. — so giving them plenty of notice allows them to plan and prepare ahead of time.
Scenery
While this might seem minor, having a clean and professional-looking background can make all the difference during your livestreams. Be sure to avoid clutter and distractions, and instead create a backdrop that's fun, inviting, and relaxing. Including things like plants, artwork, posters, health and fitness equipment, windows, and decor can create an aesthetically pleasing environment for your livestreams.
Conduct Test streams
You know what they say, practice makes perfect — and livestreaming is no different. This is especially important for inexperienced livestreamers, although even experienced streamers can benefit from practice streams.
Setting up practice livestreams let's you get a feel for what you're doing and can help identify any technical issues that you might run into before you actually go live.
How Switcher can strengthen your livestreams
If you really want to create professional-quality livestreams that give your viewers the best experience while working out, you'll need to use a third-party livestreaming platform.
With Switcher Studio, you can:
Show your workouts from different angles. Sync up to 9 iPhones and iPads and auto-switch between different angles to give your viewers a detailed look at your workout routines.
Save money on equipment. Since Switcher uses iOS devices, you can use equipment you already own — rather than having to purchase expensive cameras and gear.
Have special guests join you.

With Switcher's Video Chat feature, you can invite guests to demonstrate exercises, share their testimonials, and even host Q&A sessions.

Beef up your streams with logos, graphics, text, CTAs, and prerecorded video.

Brand your broadcast with your logo, recognize sponsors by showing their logos, or share workout routine info, graphics, and images. You can also roll in prerecorded training videos, special segments, clips, and more.

Stream from your home, studio, and beyond. Since Switcher is 100% mobile-friendly, you can livestream from anywhere with a Wi-Fi connection.
Livestreaming your fitness classes can kick-start or expand your online fitness business by growing your audience and presence on social media — all while helping others achieve a healthier lifestyle. If you're ready to get moving, start your free 14-day trial of Switcher Studio today!
Subscribe to the blog
Sign up to receive notifications whenever a new blog post is published. You may unsubscribe at any time.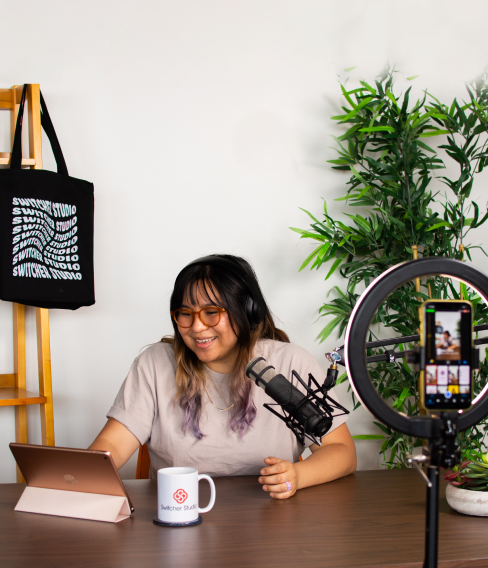 ---
About the Author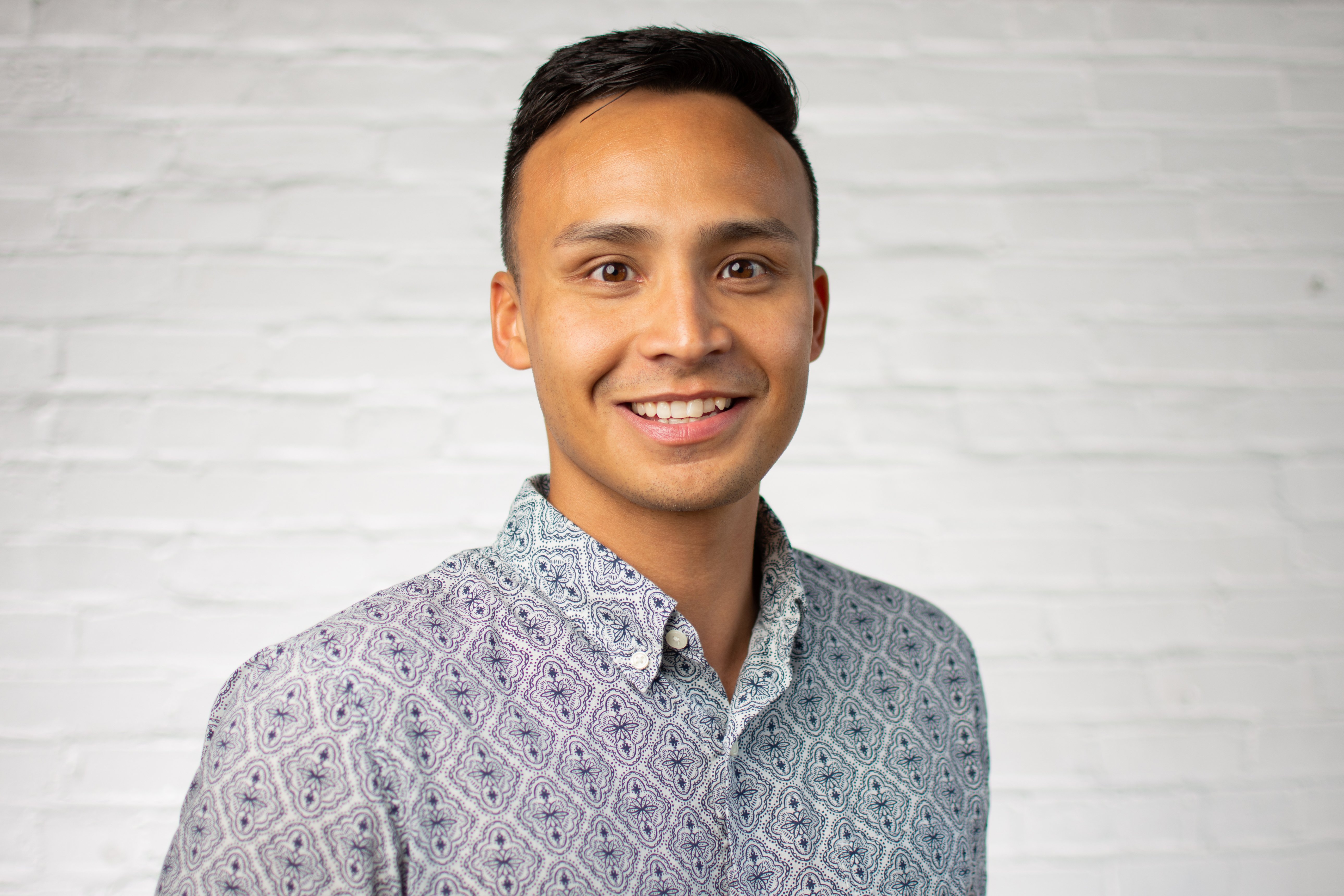 As Switcher's associate product manager, Jared aims to educate and entertain readers on all things live video. He's spent his career in digital content strategy, helping brands to better connect with their audiences.