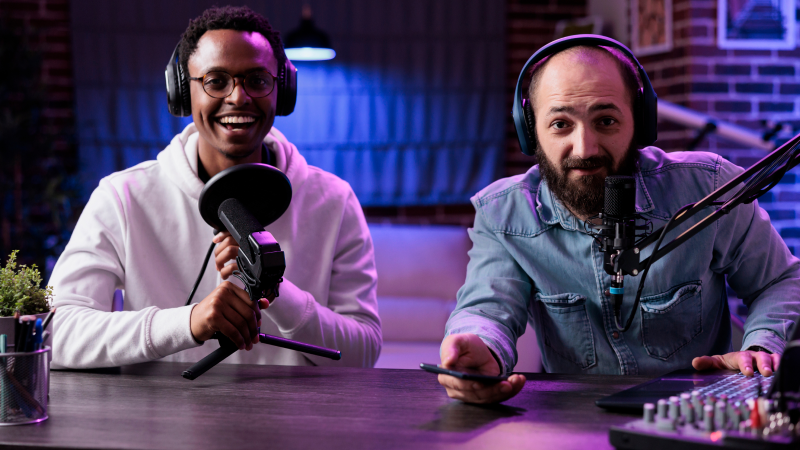 Thinking about starting your own podcast? Congrats — it's a great idea! With well over four and a half million (and counting) podcast listeners out there, podcasting continues to be worthwhile content for creators and businesses in all sectors.
HOW TO START A PODCAST
Podcasting is something almost anyone can do. Podcasts are relatively easy to create and share, and many podcasts are independently produced because they require minimal gear and effort. Once you have an episode, it's simple to get your podcast on the most popular podcast platforms out there, including Spotify and Apple Music.
WHAT IS A PODCAST?
A podcast is an audio show that can be streamed online or downloaded to your device. That's it! There are no rules when it comes to topics or format, which is part of why podcasts continue to grow in popularity: Creative freedom and niche audiences mean the possibilities are practically limitless.

WHY START A PODCAST?
There are also plenty of reasons why you might decide to start a podcast. A business may want to grow awareness or educate customers. Individuals may want to share knowledge, establish themselves as a thought leader, or entertain an audience. Your goals will influence your direction, so think about what you hope to accomplish.

Ready to learn how to start your own podcast? Read on! We're going to cover all the ins and outs of podcasting so you can get started creating your own podcast right away.
FIND YOUR PODCAST NICHE
Considering just how many podcasts there are out there (about five million), you can imagine that there are innumerable formats and topics. From investigative journalism to "just chatting" shows, your podcast can be almost anything you want it to be. So, when it comes to creating your podcast, the first step is going to be choosing your podcast niche. That means deciding on your genre, topic, format, and your target audience.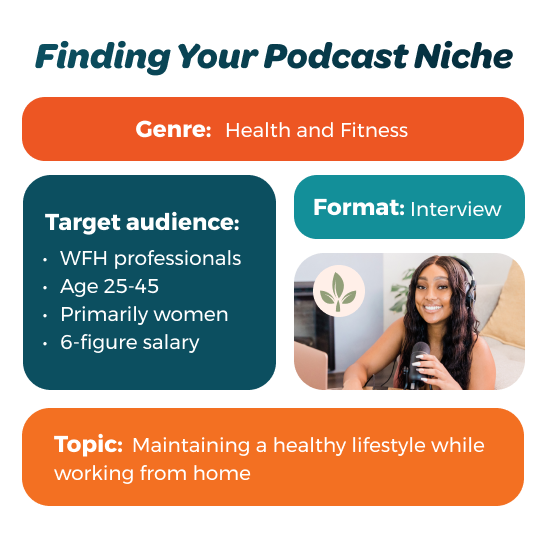 PODCAST GENRES
According to Statista, the most popular podcast genres in the United States are comedy, news, and true crime. Other popular genres include sports, health and fitness, religion and faith, politics, self-help, investigative journalism, pop culture, game show, drama, and finance.
PODCAST TOPICS
Within the broader category of the podcast genre is the more specific podcast topic — i.e., the subject of your episodes. For example, if your genre is health and fitness, your topic might be "How to maintain a healthy lifestyle while working from home." Or, if your genre is news, your topic might be local news in your area. It's fine to get specific — no matter what you're talking about, there's going to be someone else who's interested.
Don't forget to research keywords related to your topic. This can help you get an idea of the general level of interest. Keyword research tools include Wordstream, SEMRush, and Ahrefs. You'll also want to research competitors (podcasters whose topics are close to yours) on YouTube and other podcast platforms. If you find that your niche is saturated, add a unique spin.
PODCAST FORMATS
Along with your podcast topic, you'll need to decide on your podcast format. Popular podcast formats include monologue/solo, interview, storytelling, panel, and so on.
The format you choose could be dictated by your topic: For example, if your podcast is dramatic and story-focused, it likely won't be formatted as a panel interview. On the other hand, an investigative journalism podcast would likely require a significant amount of interviews.
Your podcast format can also be impacted by your production constraints. If you are a team of one, doing a podcast as a side hustle, it's going to be a huge time investment to source, schedule, research, conduct, and edit an interview-style podcast about current events.
Consider your topic, your team, and your time when deciding on your podcast format.
PODCAST TARGET AUDIENCES
When you consider your goals for starting your own podcast, you'll naturally consider your target audience. Knowing your audience will inform the content you create, how you present it, and eventually, how you monetize your podcast.
Researchers have a good idea of what kinds of people are listening to podcasts (and why), but these demographics are changing as the podcasting industry grows. For example, in 2011, white Americans made up 68% of podcast listeners in the United States. By 2023, that percentage has dropped to 57%.
Additionally, podcast listenership among older audiences continues to climb. However, age groups vary in the kinds of podcasts they listen to (and why). For example, younger audiences are more likely to listen to podcasts for entertainment purposes, and older audiences are more likely to listen to podcasts that teach or inspire them.
If you're a business trying to grow your customer base, you should have a good idea of your target audience already, that is, your typical customer. If you're a business or a creator with an existing following, you can explore your social media channels to see what followers engage with your content. You could also poll your community to find out what sort of podcast they'd like to listen to.
But what if you're starting from scratch, with no extant following and no customers on which to base your audience? Try researching the target audience of podcasts similar to yours. Explore demographics to learn what kind of audience is most interested in the kind of content you want to create.
PLAN YOUR PODCAST EPISODES
Once you've found your podcast niche, you can begin planning your podcast episodes. That means taking into consideration your podcast topic and format to determine episode length and frequency. It also means the more practical components of podcast production, like recording equipment, podcast editing software, and hosting platforms.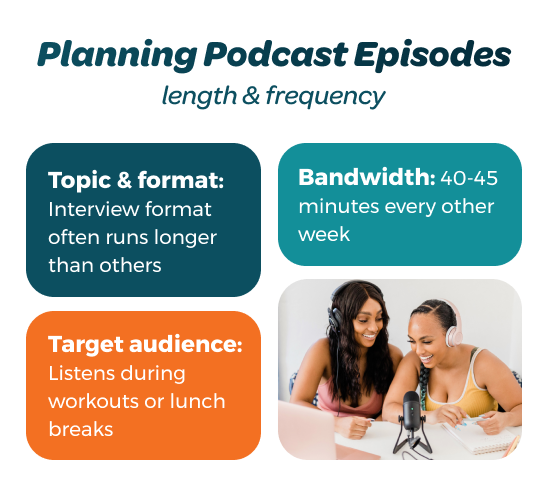 CHOOSING YOUR PODCAST EPISODE LENGTH AND FREQUENCY
There's no ideal podcast length. The average podcast episode is around 30-40 minutes, but keep in mind that some podcasts can last well over an hour, while others are just a few minutes long. Where does this leave you? Luckily, you've already nailed down some important aspects of your podcast that can help determine the length.
Consider your target audience's listening habits
Some suggest considering the listening habits of your target audience. Do they listen to podcasts all day while they work, or do they just have 20 minutes during their morning commute? Do they have busy lives that make long breaks difficult, or do they want to make time to enjoy a longer podcast? While episodes can be listened to in installments, it's still worth considering how much total time your target audience has to invest in your content.
Also keep in mind that the length of your podcast is one of the first things a new listener will notice. According to a 2020 study, nearly 20% of listeners polled were "put off by episodes shorter than 15 minutes," while over 30% said they "feel put off by episodes longer than one hour."
Your topic and format can influence your episode length
How much time do you really need to cover your topic? You don't want to cram too much information into a short, 30-minute episode. On the other hand, you don't want to draw out your topic to fill up space. Finding your pacing — and being consistent across episodes — is a challenge.
Your format can also influence your episode length. If you're doing a solo show, expect your episodes to be shorter. On the other hand, interview-style and conversational podcasts naturally stretch.
Don't burn out — plan to be consistent
All of this to say: When it comes to your podcast episode length and frequency, the most important thing is consistency. You want to start strong and maintain the same level of quality and output throughout the life of your podcast.
Try planning, recording, and editing at least a few episodes of your show before launch. (Some podcasters even suggest preparing 5-10 episodes before you launch.) As you record and edit several episodes in succession, you'll get a feel for your pacing and how long it makes sense for your episodes to be, on average.
Plan, record, and edit 5-10 episodes before you launch.
As you work through and get used to the content creation process, you'll also get a feel for how much time it takes you to plan and ship an episode. Because consistency is key, you need to budget the time to research, record, and ship episodes at a regular cadence — whether it's multiple episodes per week, or just one episode a month.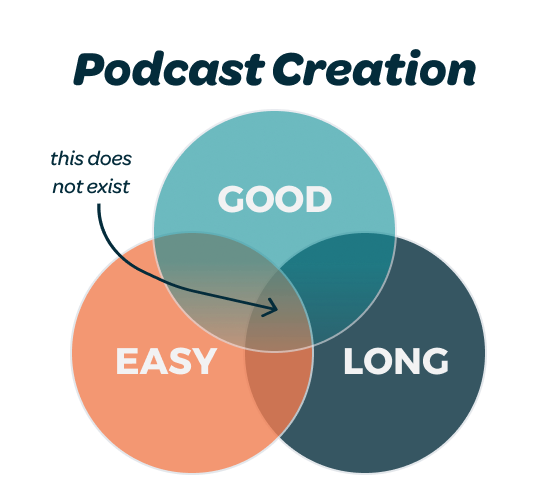 ENHANCE YOUR PODCAST WITH VIDEO
These days, podcasts are shifting from an audio-only medium to including much more video — even platforms like Apple Podcasts and Spotify have added video functionality. You can read more about video podcasting in our blog, The Ultimate Guide To Creating And Promoting A Video Podcast, but here are three big reasons why more successful podcasters are choosing to add video:
Video makes your podcast more discoverable
You've probably heard that YouTube is the second most popular search engine in the world. And, if you ignore the fact that YouTube is now part of Google … it's true. In 2022, YouTube was the most preferred podcast platform, with the majority of listeners preferring a video component.
Listing your podcast on YouTube is incredibly helpful for getting your podcast in front of a broader audience.
Video improves podcast engagement
One of the reasons video is such a powerful online medium is because video is inherently more engaging than audio, photos, or graphics alone. That means adding a video component to your podcast helps you develop a deeper connection with your audience, learn more about their preferences, and grow a community around your content.
Video supports podcast marketing
Video also makes marketing easier. On social media platforms, video performs better than any other content type, so you can use video to grow your audience and increase reach. Plus, it's easy to repurpose video content, so you can share more Reels, TikToks, and Stories.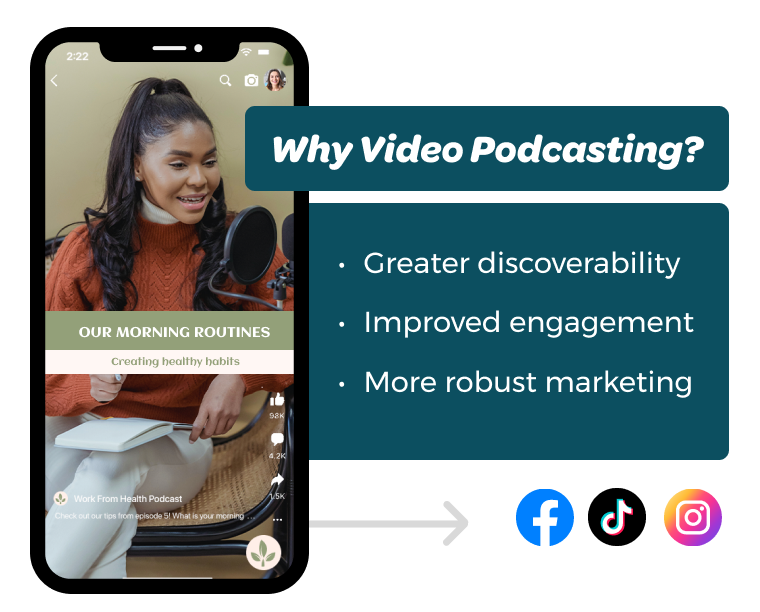 CHOOSE YOUR PODCAST RECORDING EQUIPMENT AND SOFTWARE
For the tech-savvy, this might be the really fun part: Time to choose your podcast recording equipment and software. Audio quality is your number one priority in this case, and thankfully, it doesn't take a huge investment to get the equipment you need. In fact, you likely have some of the essential gear already:
iPhones or iPads
Microphone
Audio Recorder
Headphones
Lighting
Audio Editing Software
A Recording Space
Hosting Platforms and Directories
IPHONES OR IPADS
iPhones and iPads are perfect for podcasters. They're easier, more portable, and more budget-friendly than many other recording methods — plus, using your iPhone or iPad allows you to capture the audio and video on the same device. There are also a ton of podcast apps out there that make the task even easier. For example, Switcher Studio allows podcasters to capture multicamera, multisource video by connecting up to nine iOS devices. You can also add graphics, and even invite remote guests to join your show.
MICROPHONE
Your phone or laptop mic is simply not going to cut it for podcast audio, so you will need to get an external microphone. Thankfully, there are good microphones at a range of price points. Here are our picks:
AUDIO RECORDER
An audio recorder will allow you to record super high-quality audio content using your microphone and your iPhone or iPad. It will also allow you to capture a solid audio-only recording, which you can then edit and send to the podcast hosting platform of your choice. With an audio recorder, you can easily transfer your audio file to your desktop to edit in post.

HEADPHONES
Whenever you're recording audio, headphones are a necessity. Headphones allow you to monitor the audio and improve the quality of your recording. This is partially because microphones pick up audio differently than you hear it: Any rustling or ambient sound in your environment might go unnoticed during recording but can be overwhelming when you edit the audio. Here are some of our favorite headphones for podcast recording.
LIGHTING
Video creation does require some consideration about your lighting. It's not difficult to create a lighting setup simply and inexpensively for a video, even without buying dedicated lighting gear. However, if you're going to be recording a podcast regularly, for the sake of consistency, you might want to invest in some simple lighting. Here are our recs:
AUDIO EDITING SOFTWARE
Once you have your podcast recorded, you'll want to edit the audio. This allows you to add intro music, cut out mistakes (or sneezes), and improve the overall quality of your podcast recording. If you're going to be editing on a PC or Mac, Audacity is a free and open-source audio editor that works well for podcasts. If you're going to edit your audio on your iOS device, you'll need an adaptor for your mic to get the audio file onto your device, as well as a podcast recording app for iOS.
PREPARING A PODCAST RECORDING SPACE
In addition to these pieces of gear, you'll need a space to record. Find a small, quiet room. Turn off any machines that produce constant noise (e.g., your mini fridge). You want to reduce the ambient noise as much as possible, so fill your studio with sound-absorbing material. This doesn't have to be studio-grade sound-proofing wall tiles — it can also mean adding a carpet to your hardwood floor, hanging curtains, or even getting some pillows.
EXPLORING PODCAST HOSTING PLATFORMS AND DIRECTORIES
You've got your podcast planned and recorded, now it's time to get it out in the world. Popular podcast directories include Apple Podcasts, Google Podcasts, Spotify, Stitcher and so on.
In order to get your podcast onto those listening platforms, you first need to select a hosting platform for your podcast. When you publish your podcast on a hosting platform, it will become available on any podcast directory that has your link.
Some of the best hosting platforms include Buzzsprout, Soundcloud, Castos, Storyboard, RSS.com, and Rumble Studio.
Take time to research different hosting platforms to make sure the one you choose suits your needs. Directory integrations, customer support, ease of use, and the ability to monetize your podcast natively could all influence your choice of hosting platform.
MARKET YOUR PODCAST
You have your first few podcast episodes recorded and ready to publish, and now time to start thinking about how to market your podcast. Effective marketing and promotion for your podcast can make all the difference when it comes to growing your audience and listenership. That includes your branding and visuals, social media channels, website, and more.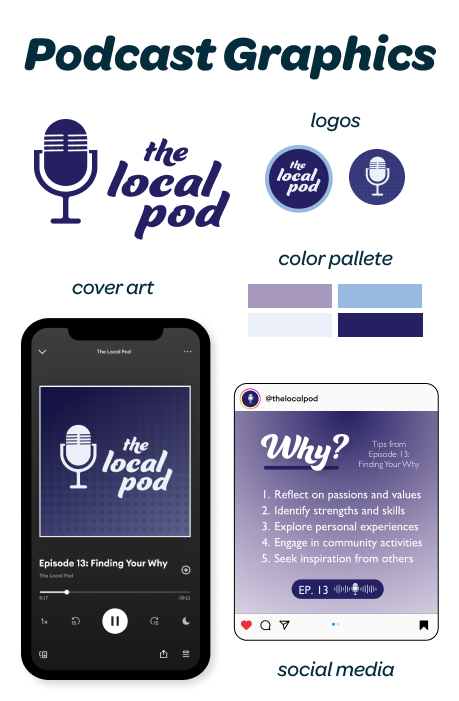 PODCAST GRAPHICS
Your podcast's visual brand and graphics are foundational to your marketing efforts, just as they are for any marketing campaign. Here are the key graphics you'll need for your podcast:
Podcast cover art
This is arguably the most important component of your podcast's visual identity. Your cover art is like your album cover: It's the first thing your listeners see, so it needs to be eye-catching, easy to read, and give the listener an idea of what your podcast is about. Plus, you need cover art to upload your podcast on podcast directories so it can be found on platforms like Spotify and Apple Music.
Podcast logo
Your logo can be a component of your cover art or a simplified version of it, but either way, you'll need to use your logo in many more applications than your cover art. Your logo is part of your brand's visual guidelines, alongside things like your font and color palette. Determining these things will help you create a cohesive visual identity across your website, social media graphics, and merch.
With these visual components, you should have a toolkit to create any other kind of graphic you need, whether you want to create specific episode thumbnails, social media posts, or text graphics for videos.
INSPIRE AUDIENCE ACTION
Your podcast audience is one of your biggest marketing assets, especially when you're just getting started. It's incredibly helpful (especially when your podcast is new) to have positive reviews and ratings for your show. Good ratings build social proof and increase the likelihood that your show will be recommended by podcast directories. Encourage your listeners to leave reviews on popular podcast platforms, then highlight positive reviews on your website or social media channels.
Make sure to include a CTA in every episode, whether encouraging your audience to leave a review, asking them to recommend the episode to a friend, or making sure they check out your social media accounts.
CREATE A PODCAST WEBSITE
A website is a great way to amplify your podcast marketing. It allows you to connect directly with your viewers, grow a community around your show, expand your reach by making your podcast more searchable and accessible, and more. Here are some essentials for your podcast website:
Add an About page
Have a general information page, including where to listen or watch your podcast. Also include links to your social media channels and a form to sign up for email marketing. Not all of your potential listeners will use the same directory, so include everywhere your show is available.
Upload your podcast videos
If you decide to have a video component to your podcast, your website is another great place to host recordings. You can either embed a YouTube video or embed a more seamless white-label video player. Switcher Studio's video player allows you to upload recorded videos, and then add additional information like show notes and relevant links. You can even collect tips or sell merch within the same video experience.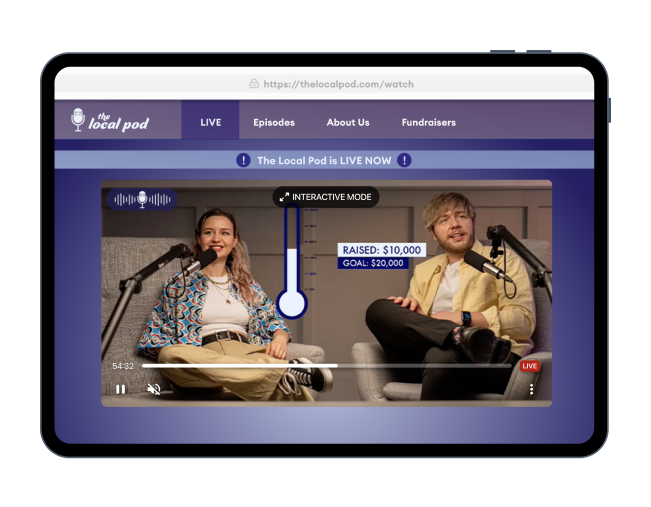 Use blogs to maximize reach
Most website builders these days make it easy to create a blog, and blog posts are a great way for you to share when a new episode has been posted. You can also use your blog to upload and share show notes, point your audience toward your sources, shout out podcast guests, and more.
Post episode transcripts
A transcript is a word-for-word written account of your episode, and there are a ton of benefits to sharing your episode transcripts. Most importantly, transcripts make your podcast more accessible, as it offers a way for your content to be consumed by people who can't listen to your show. In addition, sharing podcast episode transcripts can improve your website's SEO by dramatically increasing the amount of content and the number of keywords on your website. There are even more reasons why transcribing your podcast is helpful to your reach, and thankfully it's easy now to get podcast episodes transcribed quickly and inexpensively.
Sell premium content and merch
Your website is also a great place to post extra content that fans of your show might enjoy. That means behind-the-scenes content, post-show conversations, additional resources, and more. Premium content is a great way to earn revenue from your show (which we'll cover even more later). Many successful podcasters also use their website as a storefront for selling podcast merch.
LEVERAGE SOCIAL MEDIA
Social media is, of course, one of the most powerful tools out there for promoting your podcast. Create dedicated accounts for your podcast on popular platforms like Facebook, Instagram, and TikTok. Then, use those channels to build buzz and community around your show.
Share compelling content
Regularly share engaging content related to your podcast on your social media channels.
Tease upcoming episodes in posts and stories the day before the episode goes live.
After your episode is posted, share clips, behind-the-scenes photos, and quotes.
You can also use your social media as a way to highlight positive reviews, sell merch, promote upcoming events, and more.

Engage with your audience
Make sure to engage with your podcast audience regularly on social media.
Respond promptly to comments and messages.
Encourage feedback, questions, and suggestions.
Consider incorporating listener-submitted questions or stories into your episodes to create a sense of community and interactivity.
Conduct polls or giveaways.
Use livestreams to engage with your fans in real time.
Try creating a Facebook Group around your podcast so that listeners can interact with one another.
COLLABORATE AND CROSS-PROMOTE WITH GUESTS
Many successful podcasters regularly feature guests in their episodes. This is a brilliant way to increase exposure! Collaborating with other podcasters in your niche can expand your reach and introduce your show to new audiences. You can leverage your guests' marketing channels and platforms to cross-promote and expand the reach of your podcast. Seek opportunities for guest appearances on other podcasts or invite relevant guests to be featured on your own show.
USE EMAIL MARKETING
Like social media, email marketing is a powerful channel for promoting your podcast. Over time, with forms on your website and social media platforms, you can build up an email list of dedicated listeners who enjoy regular updates. You can offer access to exclusive content or early access to episodes as an incentive for signing up. Regularly send out newsletters with highlights from recent episodes, upcoming guests, or behind-the-scenes insights. Use email marketing platforms to automate the process and effectively engage with your subscribers.
BE CONSISTENT
Remember, just like with creating episodes, consistency is key for implementing these podcast marketing strategies. Regularly release high-quality episodes, engage with your audience, and adapt your marketing efforts based on listener feedback and analytics.
With dedication, creativity, and strategic promotion, your podcast can gain momentum, attract a loyal following, and establish itself as a prominent voice within your niche.
MONETIZE YOUR PODCAST
Starting a podcast is not a quick way to make cash. However, one of the reasons podcasting is such a large industry is that it offers opportunities to generate revenue. Monetizing your podcast can help support its production, growth, and sustainability. Here are some popular ways to monetize your podcast.
EXPLORE ADVERTISING AND SPONSORSHIP MODELS
As your podcast grows in popularity, you'll begin attracting businesses interested in reaching your audience. Advertising is a popular way to monetize your podcast, and there are a number of ways to go about it. For example, there are pre-roll and mid-roll ads, referring to where in the show the ads appear. Some ads play before the show starts, other podcasters take an ad break in the middle. You could also sell premium ads or sponsorships.
Ads and sponsorships
Premium ads in podcasts are usually under a minute and are created or produced by the advertiser. That means the ad includes the advertiser's voice, tone, music, etc. On the other hand, host-read sponsorships are endorsements of a brand read by the podcast host. These ads are typically longer, around one to three minutes. Host-read sponsorships are great for podcasts with larger audiences since it feels like a personal recommendation.
Dynamic ad insertion
Dynamic ad insertion is a technology that (you guessed it) places ads and sponsorships in your podcast. Dynamically inserted ads and sponsorships are heard during your podcast episodes at the right time, targeting the right audience, across all your catalog of episodes. This makes it possible to optimize your advertising revenue over time and ensures that new listeners hear current ad campaigns — even if they begin with old episodes. With dynamic ads, podcasters can generate passive ad revenue from episodes published years ago.
Branded content
Podcasters with a significant following could also partner with advertisers to create branded content, i.e., creating dedicated segments or whole episodes around a product or service. For any branded content or sponsorship, it's vital to maintain transparency and authenticity. Be selective about the brands you work with, even when you're new to monetization and anxious to build revenue. Only endorse products and services you believe in, as it will help build trust and loyalty in your audience. Always remember to disclose sponsored content or partnerships. Again, maintaining transparency helps build trust with your audience (and comply with legal requirements or industry guidelines).
Affiliate marketing
Affiliate marketing is another advertising model. With affiliate marketing, public figures like podcasters, creators, and influencers can earn a commission for every sale resulting from a promotion. Affiliate podcasters can receive a code or link from a business to share with listeners. When a listener uses that code or link to purchase from the business's site, the podcaster receives a kickback.
When you're incorporating advertising into your podcast, it's important to strike a balance between providing value to your audience and generating revenue.
Keep your audience's preferences in mind and carefully select advertisers that align with your content and values. As your podcast becomes more attractive to advertisers and sponsors, consider seeking professional guidance, such as podcast networks or agencies specializing in podcast monetization, to maximize your revenue potential. With careful consideration and a focus on audience value, monetizing your podcast can provide a sustainable source of income while continuing to deliver meaningful content to your dedicated listeners.
OFFER PREMIUM CONTENT
Another popular monetization model is offering premium or exclusive content to your audience. To monetize premium and exclusive content, you'll need a platform that allows you to gate your content. This can be a membership-specific platform like Patreon, or you can leverage a platform (like Switcher Studio) that allows you to gate content right on your website. Either way, here are some ideas for premium and exclusive content you can offer to monetize your podcast.
Record bonus episodes
Your diehard fans will always want more content. Try creating additional podcast episodes for premium subscribers. These episodes can delve deeper into specific topics or feature special guests or collaborators. You could even record a "recap" or "debrief" of your regular episode.
Release episodes early
You can also offer premium podcast subscribers the opportunity to access episodes before the general public. Early access gives supporters a sense of exclusivity, without requiring much additional effort on your part — all you need to do is push your release schedule a week or two to allow your premium subscribers time to enjoy your content early.
Offer extended or ad-free episodes
You could also release extended cuts of episodes. That way, your regular audience can enjoy episodes released on your podcast directories, while your hardcore fans can pay to listen to longer, more in-depth episodes. You could also offer ad-free episodes to your paying subscribers, allowing you to bypass ad revenue and earn directly from your supporters.
Record exclusive content
In addition to bonus and extended episodes, you could also offer your premium subscribers additional exclusive content. This kind of content is perfect if you're considering creating a membership model around your show. Exclusive content could include behind-the-scenes access, Q&A sessions, livestreams, and more. Content like this can help entice listeners to become premium subscribers, and support building a community around your podcast.
SEE WHAT WORKS FOR YOU AND YOUR AUDIENCE
When it comes to monetizing your podcast, there are many ways to go about it. In addition to the ideas we've recommended, you could explore doing live shows, crowdfunding or accepting donations, or selling podcast merch. If podcasting is your primary source of income, you'll likely want to explore a few different monetization models to see what your audience prefers and what's most sustainable for you. Be flexible, take feedback from your audience, and evolve your strategies over time.
LEARN PODCASTING FROM THE PROS
There are many things to consider when it comes to starting your own podcast. It's not a quick way to make extra income — it requires a lot of planning and dedication to become a successful podcaster. However, there is much to be learned from experienced podcasters when you're just getting started. If you want to learn from a pro, Switcher user Phil Byrd (The Podcast Doctor) is a professional podcast creator and producer with years of experience. checkout the Podcast Doctor's Comprehensive Guide to Starting & Marketing Your Podcast for even more tips and tricks.
TRY SWITCHER STUDIO FOR VIDEO PODCASTING
Video podcasters love Switcher Studio. Streamline your video podcast production, promotion, and monetization with an all-in-one video platform! Learn more about using Switcher for podcasting, or try us free for 14 days.
Related Posts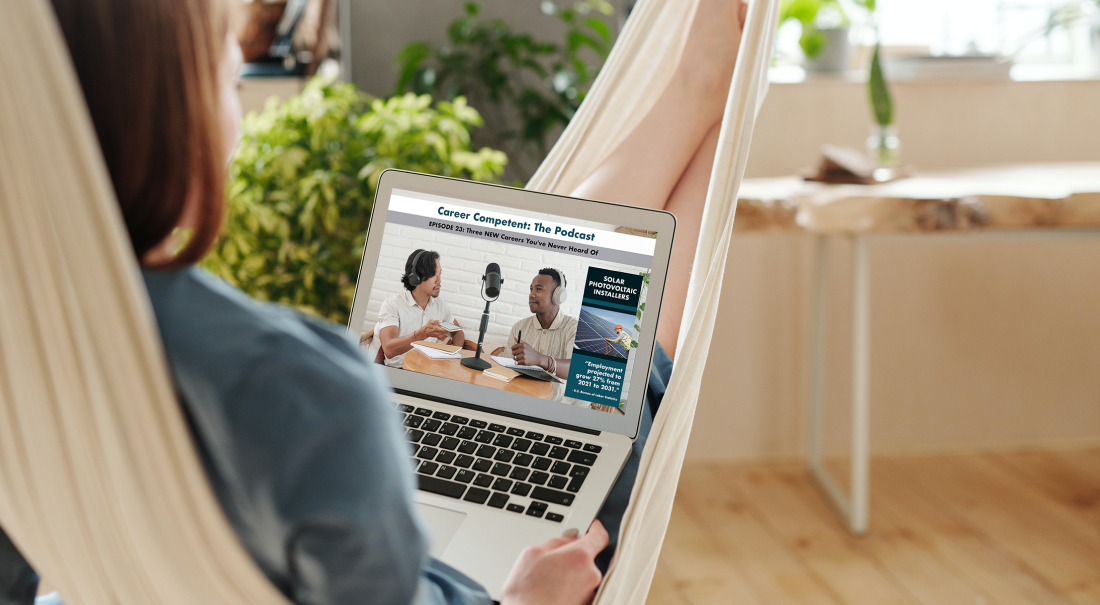 September 14, 2023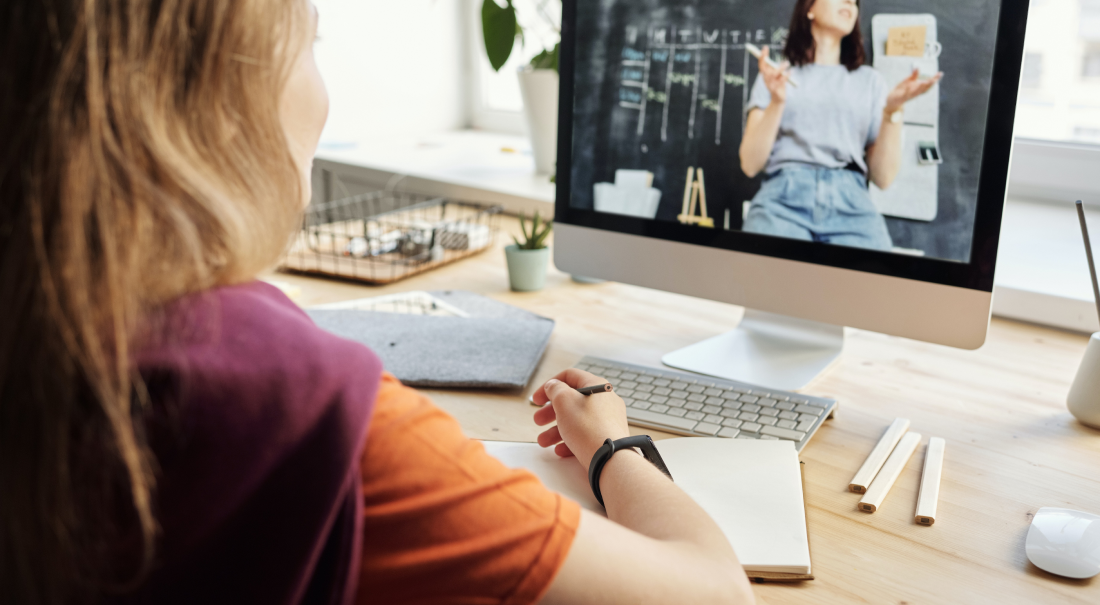 September 12, 2023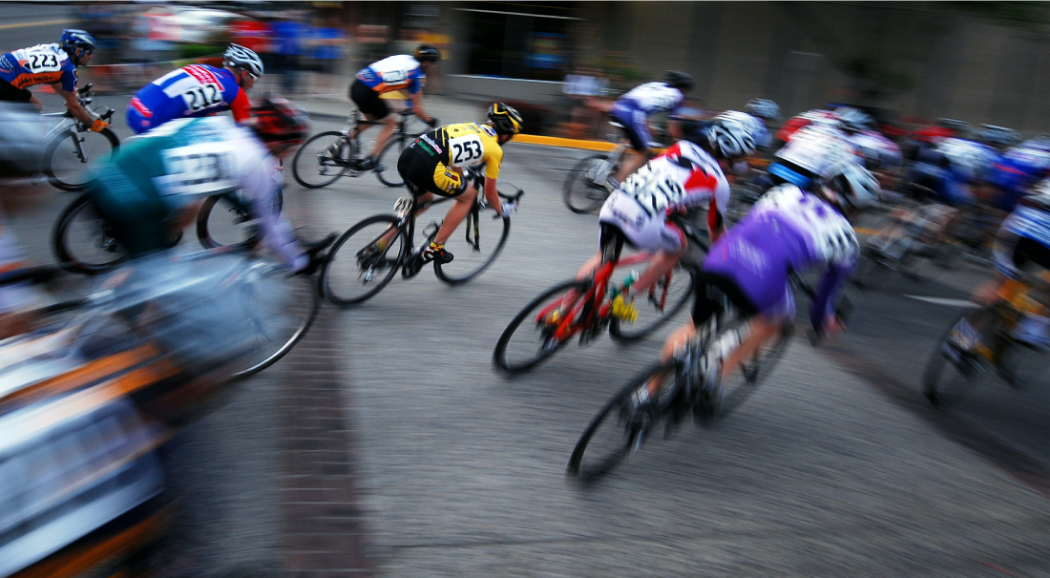 September 7, 2023