According to one online source, there are currently north of 3 million podcasts for consumers to choose from (🤯). That can be an intimidating number, especially if you're a content creator looking to get your own show off the ground. But don't fret—we've compiled a list of 25 podcast topic ideas to get the wheels turning.
You may be asking yourself, "If there are that many podcasts out there already, why bother?!" Don't worry. There are plenty of things you can do to set yourself apart from other shows (like producing a video podcast).
If you've already selected a topic for your show and need help launching it, here's a handy guide to get you started. In it, we cover everything from what kind of equipment to purchase, to marketing and monetizing your show. For everyone else, bookmark this guide for later.
How do I get content ideas for my podcast?
When it comes to writing, Mark Twain famously encouraged writers to "write what you know." This approach should also apply to creators and podcasters, and should expand to "talk about what excites you."
Because podcasting is a medium that so heavily relies on engaging conversations and the spoken word, you'll want to make sure you zero in on a topic that you're especially passionate about! That may sound like a gimme, but trust us when we say you don't want to approach selecting a podcast topic with its potential success in mind.
In other words: Pick a topic you can confidently speak to, not one that you think will be popular and successful.
That said, if you still need help brainstorming a topic for your podcast show, you've come to the right place. (If you're ready to dive in, click here to browse our list of topic ideas.)
What podcast topics are popular?
Podcast topics run the gamut from sports and pop culture, to very specific interests like Denzel Washington and beekeeping.
In recent years, there's also been a meteoric rise in "audio dramas"—scripted podcasts that incorporate leveled-up production, such as original music, sound effects, and a cast of voice actors.
Audiences love these because they can binge compelling stories on the go. Plus, much like streaming TV shows, there's a multitude of genres to choose from. Many audio dramas pull in A-list talent, like "From Now"—a scripted sci-fi drama starring Brian Cox of "Succession" fame—and "Blackout"—an apocalyptic tale starring Oscar-winner Rami Malek.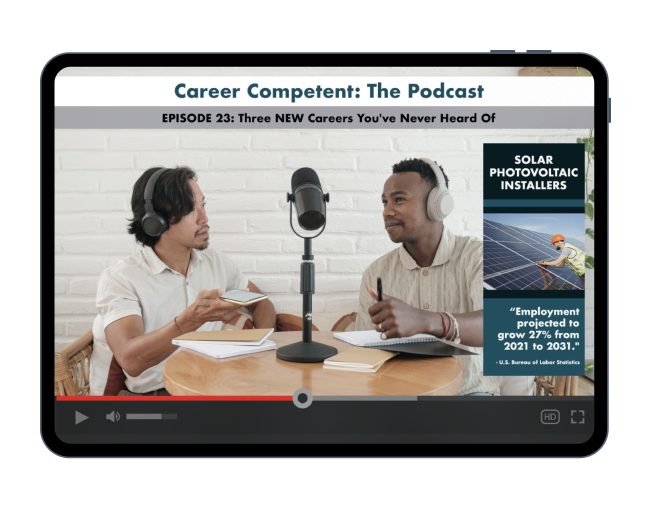 Aside from these, a handful of popular podcast topics include:
Expert advice in a specific field, like life coaching

Book or movie reviews

Technology and gear reviews

Parenting, family, or relationships

And more!
What do you talk about on a solo podcast?
The podcast topic you choose may end up informing how many hosts your show should have. For example, if you have a green thumb and love discussing gardening, you might decide to invite individual experts onto your show across the span of a season so that you can stick with a "one-on-one" format for your podcast.
Solo hosting allows for a more intimate, personal kind of interview that's hard to accomplish with a roundtable of hosts.
And, if you decide to be your show's only host, know that you're in some good company. According to Pew Research Center, most of the top-ranked podcasts streaming today have a single host (though they do clarify the number of hosts that top podcasts have also differs by the overall format of the show).
We should stress that if you pick solo hosting for your podcast, you must bring an engaging, lively energy to the show. Your voice will be the foundation of the podcast, it will be what guides your listeners through each episode. Try to strike the balance of having a conversationalist tone with confidence—sound endearing, not overly eager.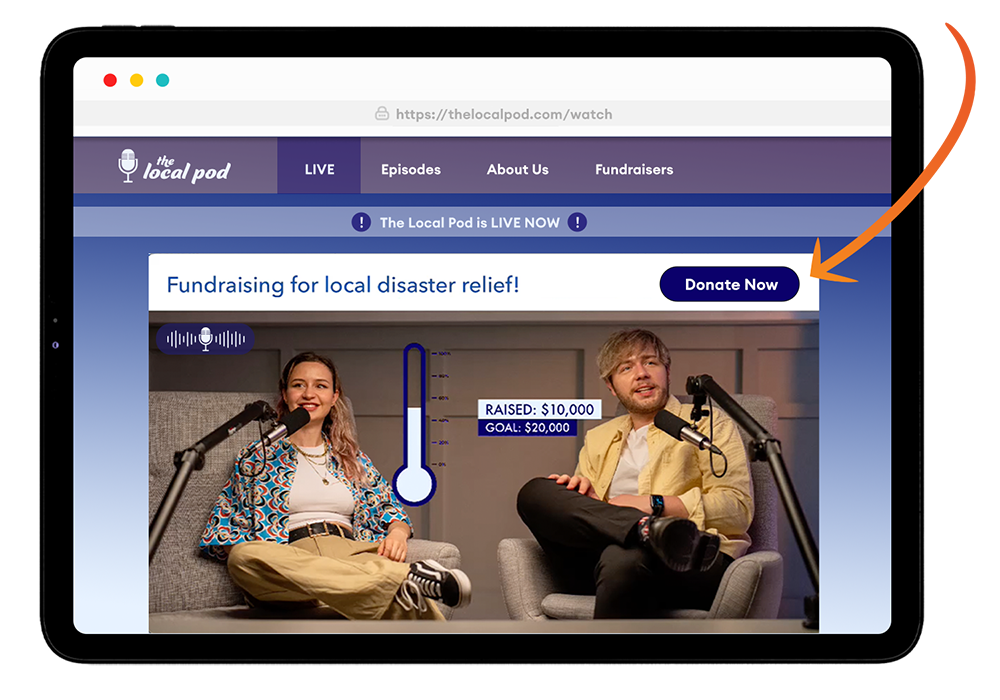 And, if you think we're putting too much stock in this, consider that a recent survey (also conducted by Pew Research Center) found that only 27% of U.S. podcast listeners say they "feel extremely or very connected to that podcast's host or hosts."
So, make certain you're comfortable engaging your audience authentically and relationally, and you'll be set.
How do I make my podcast stand out?
The beautiful thing about podcasting is that nearly anyone can do it since the barrier to entry is very low. But that doesn't necessarily mean that everyone should do it.
Since the podcast landscape is so crowded, hosts and creators have to focus on a handful of elements to set themselves apart:
Select a niche topic (if you're discussing broad topics, find an angle that's decidedly unique to your personality)
Get creative with your title and branding
Broaden your reach with video
Live stream a special episode
Producing video may sound expensive and cumbersome, but it's a lot easier to achieve than you might realize, especially with tools like Switcher Studio at your disposal! In most cases, all you really need is your smartphone, some good lighting, and an interesting corner of your home.
Plus, video podcasts will give you a lot of content to repurpose. You can edit short, bite-sizable cutdowns for your social media channels, or create episode trailers to distribute to your email lists every week.
Consider video podcasting a secret weapon. A lot of content creators and show hosts will avoid producing video for their podcasts because they think it's more involved than it actually is.
The same goes for live streaming. If you really want to create a lot of buzz around your show, think about producing a live episode around a particular milestone (i.e. to commemorate your tenth episode or the start of a new season).
More importantly, try to involve a notable guest or expert and cross-promote the live streamed episode on both of your channels. This kind of marketing will double (or triple) your show's reach, as it'll be shared to your guest's audience.
Like we mentioned with video producing, live streaming is easier than ever with Switcher. Our intuitive, award-winning app allows podcasters to live stream and broadcast to every single channel under the sun—all while saving you thousands of dollars in video equipment.
And, since you can do all of this from your smartphone, there's really no reason not to incorporate video and live streaming into your podcast strategy.
Podcast topic ideas
Okay. This is what many of you came here looking for, so without further ado—here our list of 25 podcast topic ideas:
Celebrity Interviews: It's easy to stand out when you can dialogue with celebrities, even local ones (they're people too!)
Mental Health: Today, seemingly more than ever, audiences are interested in understanding the many layers to our mental health, and how it informs our behaviors
Day in the Life: There's something beautiful about the day-to-day; if you can find some interesting guests, like brain surgeons or songwriters, this kind of podcast could present a lot of variety to your audience
True Crime: Ever since NPR's groundbreaking "Serial," audiences have been on the lookout for the next bingeable true crime series
Pop Culture: The great thing about pop culture is that every single day presents new, interesting stories to unpack
Latest News: Similar to pop culture, this topic will give its host or hosts a lot to discuss
Short Stories: Like audio dramas, short stories involve a narrative framework and tend to really hold the audience's interest—especially if the stories are compelling
Social Media: Nearly everyone uses social media these days, so if your podcast is aimed at various users and provides insights and tips, you stand a good chance at reaching a lot of folks
Travel Podcast: Give your audience a chance to live vicariously through you as you chronicle all the exciting places you've traveled
Coaching Podcast: Everyone's looking for encouragement and advice, and your show could be just what an audience needs to reach their goals
Life Hacks: Time is the most precious commodity, so if you've got some tips on how things can be done more efficiently, we're here for it
Pets: 66% of U.S. households own pets, so there's a good chance your show would quickly find its audience
Business Advice: If you're entrepreneurially minded, consider sharing in-depth advice with your listeners
Arts and Entertainment: Talk about what you're creating, or what kinds of art you love to consume
Shopping: Who doesn't love getting tips on the best places to save money?
Cooking: Share recipes and cooking tips for the everyman
DIY: Life doesn't come with an IKEA manual; lots of folks need hand-holding with various household tasks
Book Recommendations: Give your personal recommendations so that your listeners can make informed decisions when choosing their next read
Movie or TV Show Recommendations: Same as above—tell your listeners what you're watching, and why they'll love it or hate it
Listicles: Each episode could be a top ten countdown of different topics, like places to eat in a city or things to do before you go to bed
History: The great thing about this topic is how expansive it is, giving you a lot of opportunities to find a niche (e.g., the history of ax throwing or barber shops)
Local Interests: Highlight things that make your city, town, or neighborhood unique
Finance or Investments: There's two kinds of people in this world—those who know how to read the Dow Jones, and those who don't. Enough said
Fitness: This topic provides a lot of opportunity for exploration and can target both beginners and exercise fanatics alike
Fashion: Review the latest trends for your audience and guide them toward the best deals for online shopping
Starting your podcast with Switcher Studio
After you've selected your podcast topic and you're ready to go, it's time to incorporate a tool like Switcher Studio to give your show the best shot at reaching its audience.
Switcher helps you easily create a video podcast using the gear you already own. You can create live video podcasts, embed content on your website, and even monetize with Gated Content.
Create pro-quality multicamera video
The iOS video podcast app makes it easy to record professional, branded, multicamera episodes.
Invite remote guests and cohosts
Guests, collaborators, and co-hosts can join on any device with our built-in Remote Guests feature.
Embed and monetize episodes
Embed episodes, bonus content, even livestreams on your website. Then gate your content to earn revenue.
Plus, with Switcher Player, you can bypass the algorithms by embedding your video podcasts (and your bonus content) right on your website. Easily create a seamless, white-label video experience on any of your webpages.
You can also upload prerecorded videos to a Switcher Player, then add show notes, sources, and even links right in the video description. Curate playlists of videos to keep your audience on your domain, turning your dot com into your content library. Even stream live to a Switcher Player—it's like having your own Netflix.
Then, when you're ready to scale and earn consistent revenue, Switcher's got you: Augment sponsorships by adding sponsor logos or rolling in prerecorded video advertisements. You can also collect tips and donations within the Switcher Player by adding links to platforms like Venmo and Cash App. And inspire action by displaying built-in platform graphics with your username.
So, what's stopping you from easily taking your podcast to the next level? Give Switcher Studio a try today to amplify your show like never before.


Subscribe to the blog
Sign up to receive notifications whenever a new blog post is published. You may unsubscribe at any time.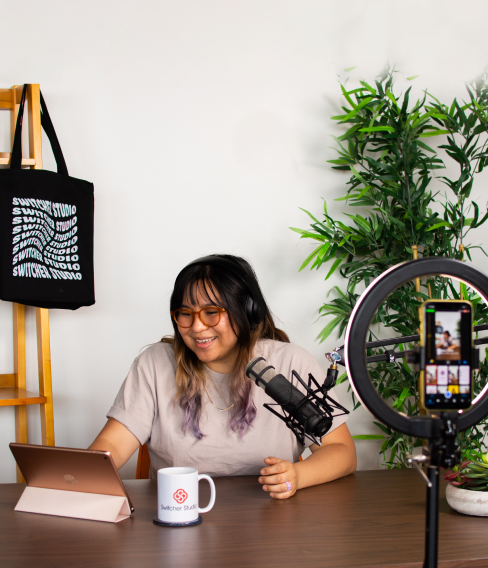 ---
About the Author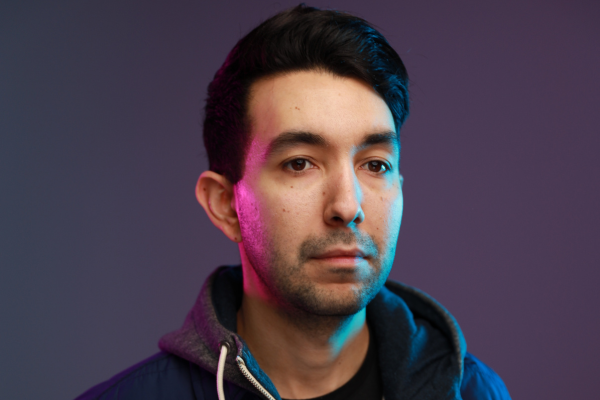 Julian R. Vaca is an actor, writer, and marketer. His work has appeared in The Nerd Daily, Writer's Digest, and more. His debut Young Adult series "The Memory Index" is available wherever books are sold. Connect with Julian on Instagram: @JulianRayVaca