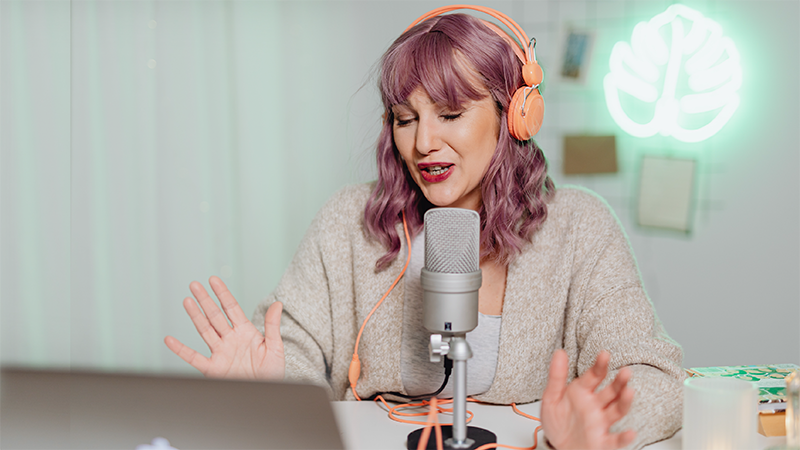 Podcasts have been around since the early 2000s, and their popularity just keeps rising. About one-third of Americans listen to podcasts regularly, and over a quarter of Americans listen to podcasts once a week. New podcasts are being created all the time, and now we even have a new format: video podcasts.
What is a video podcast?
A video podcast is simply a podcast with a video component. These video components range from completely unedited to heavily edited. For example, sometimes video podcasts are merely a livestream of the recording session, released even before the audio-only podcast. In other instances, the video component is completely overhauled in post-production and released after the audio recording goes live.
Why try video podcasting?
The video podcast format is increasingly prevalent. Even formerly strictly audio platforms like Apple Podcasts and Spotify are rolling out video podcasting functionality. So why are video podcasts gaining popularity?
Podcast fans like video podcasts because video is inherently more engaging and social than audio. Depending on the kind of visuals a creator uses, video also allows fans to put a face to a voice and connect more with the podcast creators.
For podcast creators, increased engagement from your audience is an obvious benefit. Perhaps the biggest advantage of video podcasting is an increase in your potential audience. In 2021, YouTube reached 2.5 billion active users, and studies suggest that YouTube is the next big destination for podcasts (even ahead of Spotify and Apple).
YouTube is also the second most popular search engine, meaning the potential for your content to be discovered on YouTube is far greater than on dedicated podcast platforms. Business Insider also points out that YouTube's subtitles feature could potentially help English-language podcasts reach a global audience, which is a significant advantage over audio-only podcasts.
How to create a video podcast
Undoubtedly the simplest way to get your audio podcast on YouTube is by uploading a static image alongside your audio file. This easy method offers some benefits, but it's not really a video podcast. So let's talk about how to create an engaging and entertaining video component for your podcast.
Record your recording session
It seems obvious, but the first step is to get a video recording of your audio recording session. If you're a solo podcaster, this is simple: a single shot is all you need, like a webcam or vlog. If your podcast has more than one host, you'll want a multicamera setup. For example, one camera on each host and another capturing the entire set.
Increase production value with additional visuals
Footage of your recording session is a great start, but adding more visuals can make your video podcast look more professional and increase value for viewers. Here are just a few ideas:
Graphics
Graphics are essential for a video podcast! Use title cards to introduce the show. Keep a logo in the corner of the screen to stay on-brand. Display calls to action and social media handles to encourage new followers. Identify on-screen talent or add contextual information with lower thirds.
Photos
Sometimes when I'm listening to a podcast, I'll pause just to Google something the host mentions. With a video podcast, you can provide context and value for viewers by popping visuals on-screen in real time. For example, if you reference a statistic, you could display a graph or chart. If you reference a place, you could display a photo. Just keep your listeners in mind and be wary of relying on visuals to make a point — it will diminish the audio experience.
B-roll
B-roll refers to any footage that isn't the primary footage (in this case, the recording session). Depending on the kind of video podcast you're creating, b-roll could be a great addition! Just as news programs use b-roll to add atmosphere, context, and depth to their stories, video podcasters can punctuate their audio with footage of places, people, events, and more.
Is a video podcast more work than an audio podcast?
At this point, you may be thinking "adding video to my audio podcast seems like it could be a full-time job," and you're not wrong. Depending on how you go about producing your video podcast, you could be setting yourself up for hours of post-production in a video editing platform. Here's where Switcher comes in.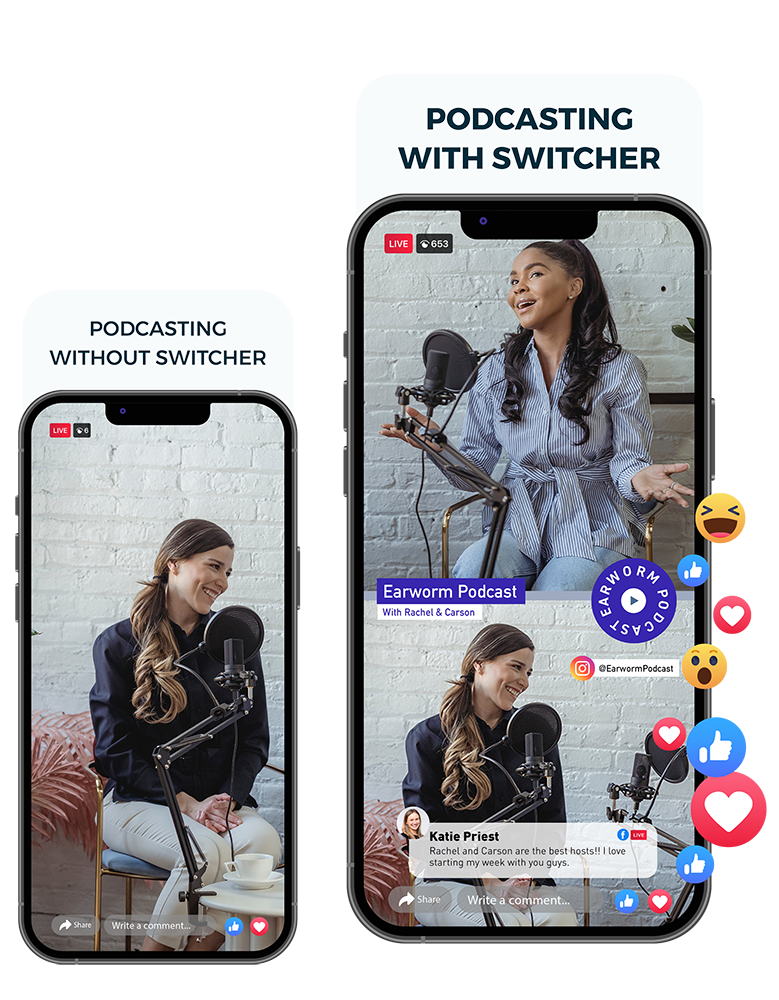 Why a multicamera livestreaming app is perfect for video podcasting
There are a ton of reasons why Switcher is one of the best tools for creating a video podcast. Specifically, for creating a video podcast without dedicating hours of your life (and your life savings) to the project.
You can use the gear you already have
Look up "video podcast gear" and you'll almost certainly find a lot of experts pointing you toward professional gear that will set you back hundreds, if not thousands. In addition to the audio gear you need for recording a podcast, these pros will suggest DSLR cameras, plus post-production software, a computer on which to run that software, and more.
With Switcher, you can stream or record professional videos with the gear you already have — your iPhone or iPad. That means high-quality video with support for up to nine devices. If you record with remote guests, they can join your Switcher production from almost any device, almost anywhere in the world. No fancy cameras, video conferencing, or editing software is required.
There's no post-production time
You read that right: When you create with Switcher Studio, there's no need to spend time editing in post-production. You can connect multiple devices to create multicamera/multisource video, and then edit that video in real time. That means while you're capturing footage, you can also:
Switch between camera angles
Add photos, b-roll, and pre-recorded video
Display customized text graphics, titles, lower thirds, and logos
Even add music and sound effects
All with just a tap in the app.
Using Switcher, you can stream your podcast directly to YouTube, Facebook, or your website — really, almost anywhere — or you can record the session. By the time you're done, you've got a fully produced and edited video podcast, ready to upload to the platform of your choice.
Sharing audio clips on social media? Video clips perform even better
Recording your session on video means a huge increase in potential content with minimal additional effort. Once you have your video podcast recording, you can create short clips right in the app. Reconfigure the layout, add text, and then share directly to any major social media platform. We know social media platforms are prioritizing short-form videos these days, so using Switcher to create reels, stories, and TikToks is a great way to promote your podcast.
It's easy to monetize your video podcast
Creating podcast content is a lot of work! Monetization helps recoup your costs so you can make more content for your listeners (and viewers). Here are some easy ways to monetize your video content:
Have sponsors? Display sponsor logos on the screen, even insert a pre-recorded video "commercial."
Let viewers know how to support you: Customize and display one of our pre-made donation callouts when streaming to social channels.
Make donations seamless for viewers when you stream to the Switcher Player. Either embedded on your website or streamed to a unique URL — the Switcher Player's clickable button overlay is perfect for video podcasters. Add links to your donation platforms, and users can support your content without ever leaving the experience.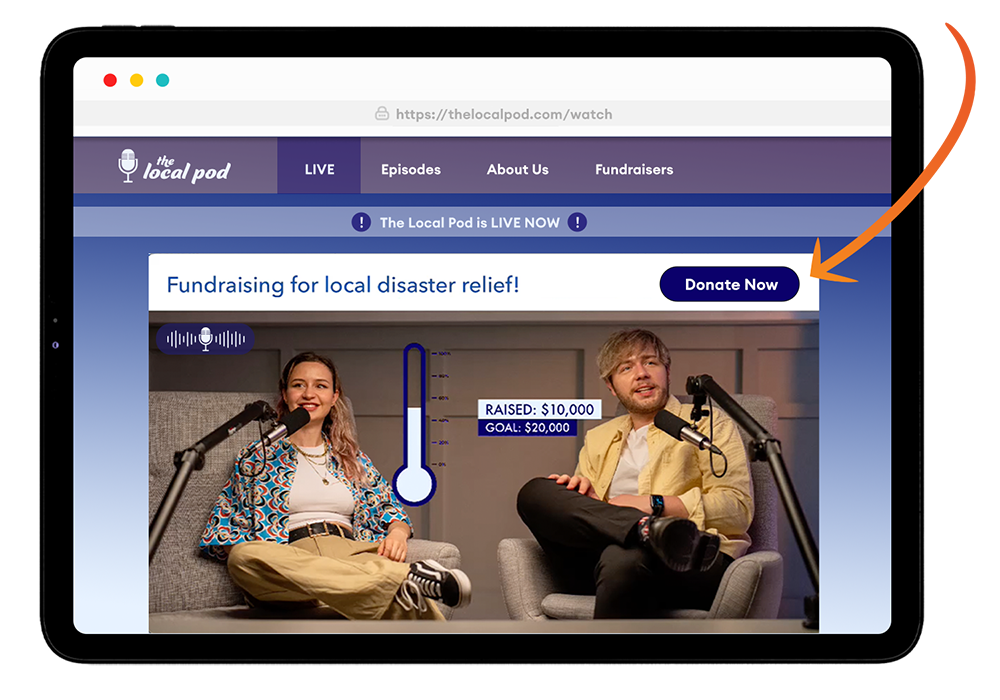 Podcast listeners are livestream watchers (and vice versa)
Perhaps the biggest reason to use a livestreaming app for your video podcast? If you're a podcaster, likely, a significant percentage of your listeners are also consuming livestreamed video content. That means you're creating content that your current listeners will likely enjoy, while also creating content that's likely to garner you some new listeners. Streaming a video podcast is a win-win.
Getting started with video podcasting
So you're ready to take your podcast to the next level? Let's get started.
Decide what kind of video podcast you're going to create
Are you going to use b-roll? Screen recordings? Livestream your recording session? Decide what kind of video production best complements your audio podcast content.
Pick your platforms
Where do you want your video podcast to live? Do you have dedicated listeners and a merch store? You may want to have your video on your website. Is your podcast focused on business? LinkedIn is a destination to consider. Are you trying to increase your reach and grow your audience? Multistreaming to several platforms at once, like YouTube, Facebook, and Twitch, might be the right approach.
Create your video podcast set
Making a video podcast set doesn't have to be a headache — and with a few tweaks, your audio recording space can be suitable for video too.
Start by setting up your cameras
Get into your set space and start making decisions about where you and your camera(s) will go. You should already have a surface for your mics and a place to sit, so try taking video at multiple angles throughout the space to see what perspectives look best on-screen. We've got suggestions for multicamera setups no matter how many hosts or cameras you need to capture.
Consider simple lighting
We're trying to make video podcast creation as low-effort and inexpensive as possible, and lighting is no different. Thankfully, lighting is less about securing the right equipment and more about knowing how to arrange light sources to make the subject pop without looking ghoulish. Check out our blog on lighting setups to see how three-point lighting keeps your video bright without casting harsh shadows.
Add depth and personality
You're probably recording your podcast at home, and that's perfect — your personality should shine through in your video podcast set! The background should have some depth, but shouldn't be distracting. You don't want your background to be messy, but don't be afraid of a little clutter. (I find a curiously empty room more distracting than a cluttered one.) Bookshelves, artwork, trinkets, and even sometimes even screens can be appropriate to have in your background. Start small, add, remove, tweak, and have fun creating a setup that suits your show and style. Remember to stay hydrated, and consider using a branded bottle or mug for your on-screen bevvie.
Turn your episode outline into a run of show
If you know who's going to be on an episode and roughly what topics are going to be discussed, you can easily turn an episode outline into a run of show. This document, with the general content and outline of the episode, will allow you to prep visuals and graphics in advance (if you're using Switcher), or get a head start on plotting out post-production if you're editing later.
And … action!
Your first time doing a video podcast is probably going to be a little intimidating, and mistakes are sure to happen. Just remember that your audience doesn't want perfection, so shake out those nerves and do your thing.
How to promote your video podcast
Promoting a video podcast is a lot like promoting an audio podcast … except easier.
You've got so much content now, it's just a matter of taking what you have and using it to create even more. For even more ideas about repurposing video content for social media, check out our blog post on the subject. However, here are two easy and effective ways to promote your video podcast with the content you're going to be creating
Create and share reels (the Facebook and Instagram kind)
Promoting anything on social media means being subject to the algorithm. These days, Facebook and Instagram favor Reels — short-form video content — over everything. Take advantage of this by sharing moments from your episodes in Reel format. Sharing video Reels instead of audio clips will remind fans and followers when new content is live, and boost your discoverability.
With Switcher's Clips creator, you can edit and reformat clips from your production right in our app. Share directly from Switcher to your Facebook or Instagram accounts, and even add platform-specific interactive elements before posting to boost engagement.
Create and share reels (the blooper, highlight, or sizzle kind)
We love a sizzle reel. If you're appealing to new fans, tell them what you're all about with a video combining your favorite moments, biggest goofs (we all have 'em), or most iconic guests. You can add a landscape version to your YouTube channel, Facebook page, and your website to let newcomers get to know you. Create a portrait version to share to IG and TikTok, and then pin it to your profile.
Go forth, video podcasters!
There are so many ways to create and promote your video podcast. The most important things are being authentic and consistent. Work smarter, not harder so you can keep the content coming! Tools like Switcher are designed to help creators like you — the ones who have big dreams and short timelines. Try Switcher free for 14 days to see how you can create more content with less effort, and then share your world with the world.
Related Posts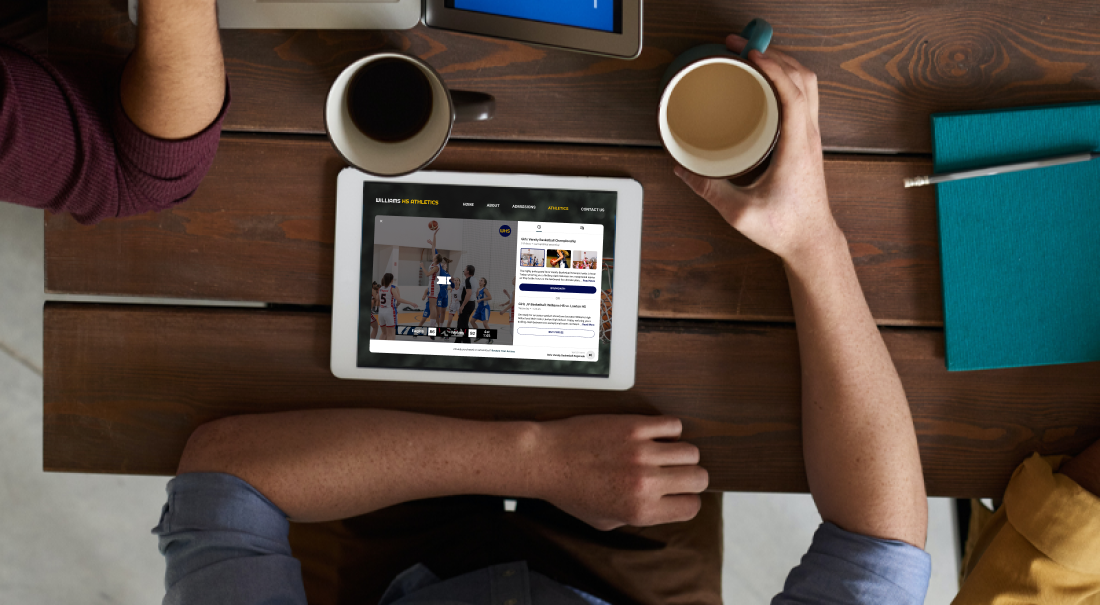 September 22, 2023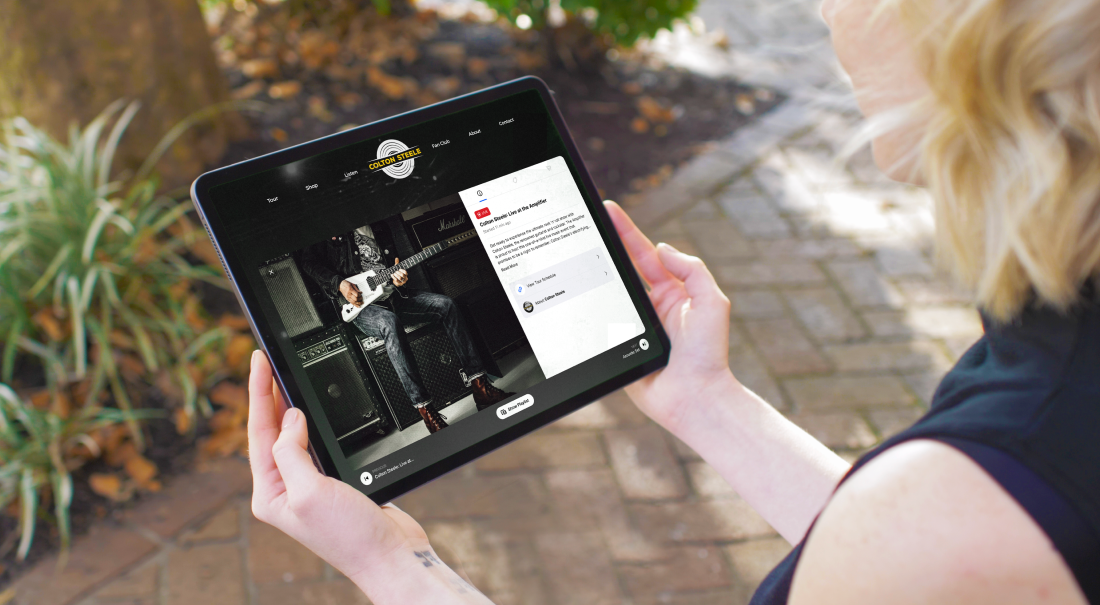 September 22, 2023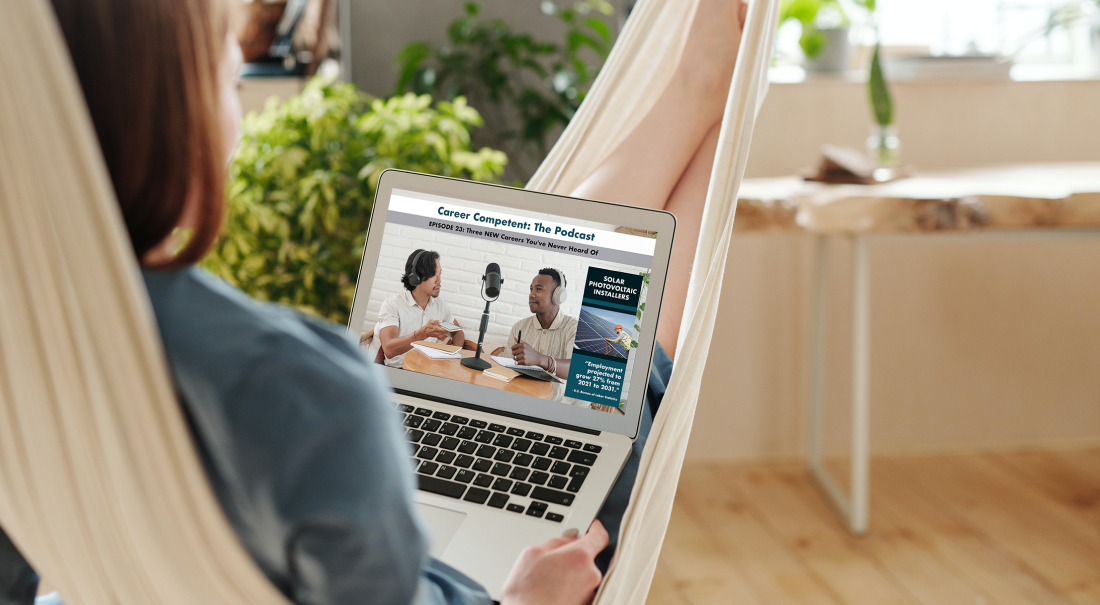 September 14, 2023