Flexible plans to help you create stunning live videos on your iPhone or iPad
Start Your Free Trial
Monthly
AnnualSave up to 25%
Studio
$49
$588
per month
Subscribe Now
Live Production App
Record and livestream video
from your iPhone and iPad
Remote Guests
5 guests
unlimited hours
Cloud Assets
250 assets
up to 100MB per file
Multistreaming
2 simultaneous destinations
Facebook Live, YouTube, and Custom RTMP channels
Cloud Recording
Up to 10 videos
most recent Multistream always available for download
Cartr for Shopify
5% sales fee
Seamless selling on Facebook Live — sign up for Cartr on SHopify
Business
$149
$1,788
per month
Subscribe Now
Live Production App
Record and livestream video
from your iPhone and iPad
Remote Guests
5 guests
unlimited hours
+ private guest chat
Cloud Assets
1,000 assets
up to 100MB per file
Multistreaming
5 simultaneous destinations
Facebook Live, YouTube, and Custom RTMP channels
Cloud Recording
Up to 50 videos
most recent Multistream always available for download
+ pin videos to keep
Cartr for Shopify
3% sales fee
Seamless selling on Facebook Live — sign up for Cartr on Shopify
Compare
Live Production APP
Record and livestream video from your iPhone and iPad
Record and livestream video from your iPhone and iPad
Remote Guests
5 guests unlimited hours
+ private guest chat
Cloud Assets
250 assets up to 100MB per file
1,000 assets up to 100MB per file
Multistreaming
2 simultaneous destinations Facebook Live, YouTube, and Custom RTMP channels
5 simultaneous destinations Facebook Live, YouTube, and Custom RTMP channels
Cloud Recording
Up to 10 videos most recent Multistream always available for download
Up to 50 videos most recent Multistream always available for download
+ pin videos to keep
Cartr for Shopify
Take Switcher Studio for a spin!
Bring your video visions to life with Switcher Studio. Start with a free 14-day trial — no credit card required — and choose a paid subscription or pass as soon as you're ready. Just create an account, download the app, and start streaming today!
Get Started for Free
Core Switcher Features
Every Switcher subscription, pass, and trial comes with the livestreaming tools listed below. Hover over each feature to learn more about what's included.
Live Production App
Mobile productions
Support for up to 9 iOS devices
Wireless multicam switching
Auto-Switching
Remote Guests and Production
Guest screensharing
Production preview window
Remote production function
Destinations and Broadcasting
720p and 1080p streaming
Local recording
Facebook direct integration
YouTube direct integration
LinkedIn direct integration
Twitch direct integration
Microsoft Stream direct integration
RTMP destinations
Facebook crossposting
Scheduled posts
Zoom, Microsoft Teams, Google Meet
Instagram, TikTok, Snapchat clips
HDMI | AirPlay to TV
Graphics and Multimedia
Graphics, logos, and overlays
Prerecorded videos
Sound effects and prerecorded audio
Animated text templates
On-screen comments
Live polling
Scoreboard for sports
Custom content
Video trimming
Card Templates
Brand Profiles
Side-by-side views and PiP
Multicamera, Multisource Video
iPhone and iPad cameras
Screensharing from iOS, Macs, PCs
Remote Guests' cameras
Prerecorded videos
Multiview Templates
Vertical and horizontal video
Support and Resources
Personalized email support
Help Center
Switcher community
Livestreaming resources
Enterprise Offerings
For teams: Get Switcher licenses for multiple team members and get shared access to assets and Cloud Recordings.
For Switcher Partners: Pre-purchase bulk Switcher licenses for resale and bundle them with your current products.
Contact Sales
Get access to Switcher Studio for 7 days
Whether you're livestreaming an event or you want to try Switcher without the watermark, our 7-Day Pass is a one-time $25 charge.
Buy the 7-Day Pass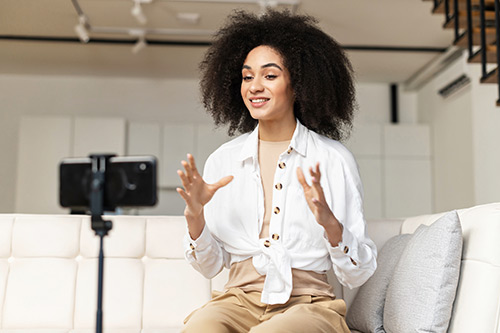 "I know there's not a better product out there to do the variety of work that Switcher does — it's just infinitely the best system on the market."

Graham Walker

Commercial Content Editor, JPIMedia
"Nonprofits often think they have to have something really fancy to tell a story, and the truth is you don't have to have something really fancy. Your iPhone and the Switcher app can make something that is absolutely incredible."

Molly Melia

Marketing and Communications Associate for the Community Foundation of Louisville
Interested in our Enterprise Solutions?
Fill out this form, and we'll be in touch shortly.
Create Your Switcher Account
Once you sign up, you can choose a free 14-day trial (no credit card required!) or the paid subscription/pass that's right for you.