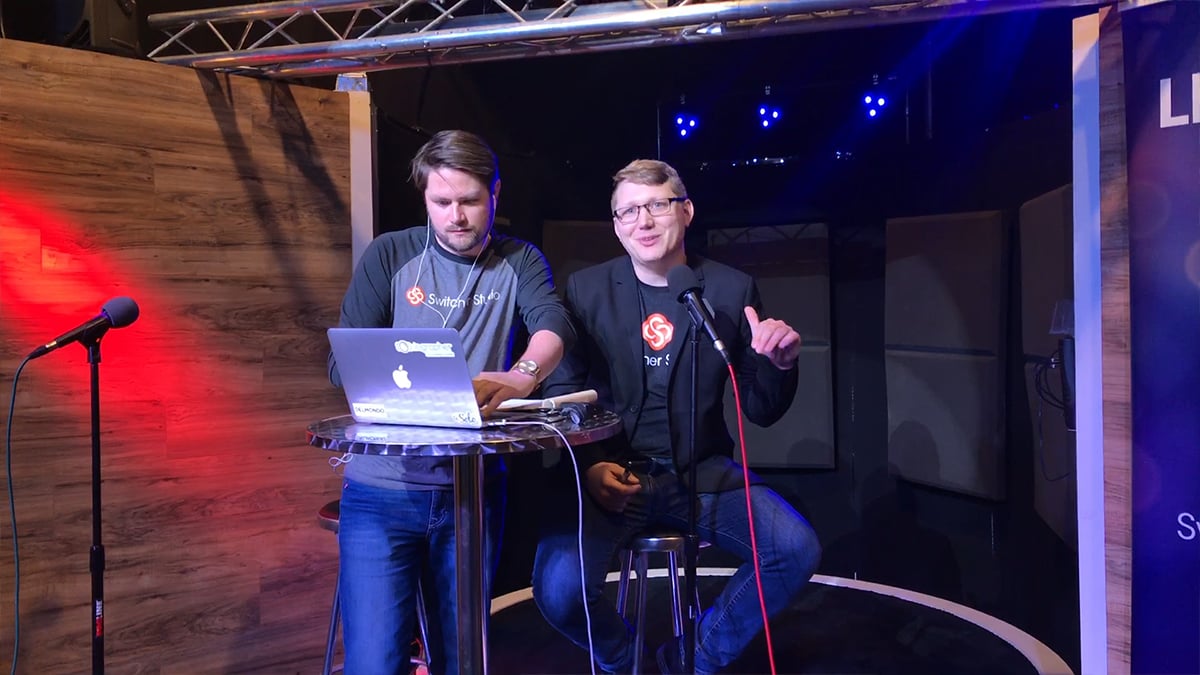 LOUISVILLE, KY (September 22, 2016) – Switcher Studio today announced it has secured $400,000 in strategic investment. Investors include Poplar Ventures, Kentucky Enterprise Fund, Cherub Fund, Sequel Fund, NexStreaming, Pioneer Ventures, and Ed Henson (member of NAB board of directors). This investment represents Switcher Inc's first round of funding; the Company will be closing on additional investments in early 2017.
Switcher Studio is a mobile video creation platform that provides professional-caliber tools for creating video using iPhones and iPads but is so simple to use that anyone can create a dynamic video experience with a TV-style look and feel. Recently, Switcher Studio announced its integration with Facebook Live, enabling users to stream live directly to Facebook. As a result of its partnership with Facebook, Switcher Studio users can easily sync the Switcher Studio app with their Facebook account for single-tap streaming to their Facebook Timeline, Pages, Groups, and Facebook Events.
Since the announcement of the Facebook Live integration, Switcher Studio has added highly visible brands to its roster, including Autodesk, the BBC, DailyMotion, Vice, Taste of Home, AOL, Viacom, The Weather Channel, Discovery, and the Wounded Warrior Project.
"This is a significant event for Switcher Studio; the funding we've received to date will enable us to elevate the visibility of our product and strengthen our ability to extend our technology to new markets. It's also an important validation from a diverse group of business leaders that believe in what we are doing," said Nick Mattingly, CEO and co-founder of Switcher Studio. "And the market timing couldn't be better. With social media giants like Facebook, Twitter, and YouTube pouring tremendous resources into their video capabilities, everyone from Hollywood celebrities and musicians to small businesses and corporate enterprises, to everyday people, are embracing live streaming and mobile video. We're on the threshold of big changes in video creation and distribution."
This first round of funding signals the enthusiasm around this newest trend in video and is reflected in the diversity and deep expertise of the business visionaries who have rallied behind Switcher Inc. "We truly are in the earliest stages of using mobile video to promote brands through the delivery of compelling content", said John Willmoth of Poplar Ventures. "The market potential is enormous and we believe Switcher Studio has the product and team to deliver a solution that makes high-quality video creation easier and less expensive."
Il-Taek Lim, CEO of NexStreaming and Kinemaster says, "I see such opportunity and synergy between mobile video creation platforms like Switcher Studio and our off-line editor, KineMaster. Since KineMaster is the leader in professional off-line editing for mobile and Switcher Studio is the leader in professional live video creation for mobile, the cooperation between our companies and products will result in significant benefits for our common customers in the professional creative community."
Switcher Studio: Strategic Investment Partners
Poplar Ventures is an investment and business advisory firm working with early and growth-stage investors and companies in the mobile, enterprise software (SaaS), and healthcare industries. John Willmoth's deep experience and perspective on mobile and Saas technologies are an invaluable addition to the Switcher Studio team.
NexStreaming is a global player in the mobile video creation space, with offices in Korea, Spain, and the United States. Having captured headlines at IBC 2016 in Amsterdam for Kinemaster, its powerful mobile video editing app for phones and tablets, the team at NexStreaming understands the compelling opportunity for empowering users with quality, professional tools to create and deliver video.
The Kentucky Enterprise Fund is managed by the Kentucky Science and Technology Corporation and provides pre-seed and seed-stage funding and other resources to Kentucky-based companies. KSTC's investment goals are to drive innovation and build successful technology-related companies.
About Switcher Studio
Switcher Studio was started by a team of people who love creating and delivering great video content — from anywhere and from any device. The solution was born from a passion to democratize what was once an incredibly complex and expensive experience, to one that enables anyone — from a high school football coach to a wedding videographer to a professional television station — to create professional-looking video and instantly stream live video to services like YouTube and Facebook. For more information or to start creating amazing multicam streaming events, please visit www.switcherstudio.com.