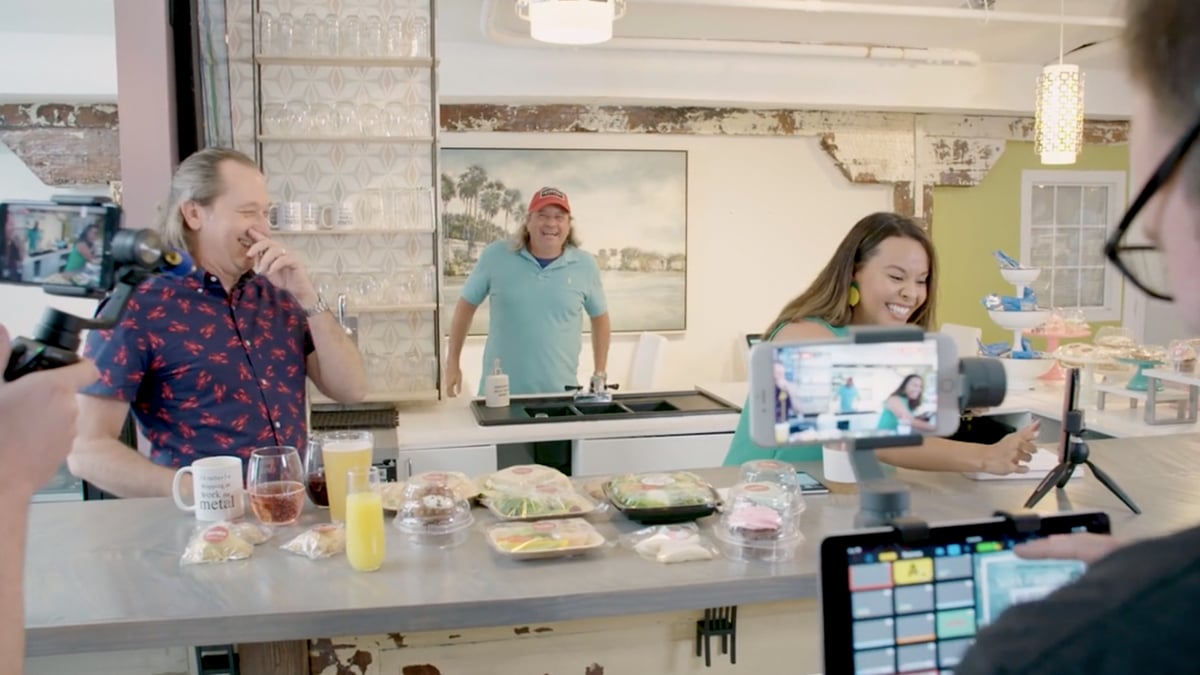 New Switcher Studio V2.7 Also Adds Hardware-Accelerated Video Processing, Battery/Storage Notifications, and Several Under-the-Hood Performance Features
LOUISVILLE, KY (June 22, 2016) — Switcher Studio (www.switcherstudio.com) today announced its integration with Facebook Live, enabling users to stream live directly to Facebook. A major new upgrade to the Switcher Studio video creation platform, this new release — available immediately — enables users to easily sync the Switcher Studio app with their Facebook account for single-tap streaming to their Facebook News Stream, Pages, Groups, and Facebook Events.
The new Switcher Studio v2.7 also adds a host of performance-enhancing features designed to give Apple iPhone and iPad consumers a professional video experience without the hassle and expense of traditional broadcast equipment. In addition, this update takes advantage of hardware-accelerated video processing and significantly improves the quality of wireless multi-camera productions using the Switcher Studio app.
New Features in Switcher Studio v2.7 Include
Facebook Live integration (see instructions);
New SwitcherCast update for enhanced real-time screen sharing;
New hardware-accelerated video encoding/decoding;
Enhanced wireless video quality;
Longer battery life for connected sources;
Switcher Studio v2.7 also adds core feature updates to improve the overall recording and streaming experience:
Ability to monitor battery and storage on all devices with new notifications center;
Add multiple files to the render queue and visualize progress during transfer;
Ability to manage multiple accounts from a single device.
The new Switcher Studio iOS mobile video app adds professional-caliber tools for creating video using iPhones and iPads but is so simple to use that anyone, can create a dynamic video experience with a professional look and feel.
More about Switcher Studio Director Mode
Switcher Studio Director Mode makes the experience of recording and streaming high-quality video with one or more iOS devices that much better.
The new "Director Mode" lets users capture 1080p HD quality content that meets professional broadcasting standards — all from your iPhone or iPad. With "Director Mode", you can:
Assign fixed frame rates to your final composition.
Capture 1080p HD broadcast quality from multiple angles using iOS devices.
Manage advanced settings and record video at bitrates of up to 50MB.
Record only, or broadcast at any quality while simultaneously capturing in HD.
Preview the completed video on your device as soon as you stop recording.
Composite TV-quality video directly on your iPhone or iPad and upload immediately.
Export your compositions to Apple Final Cut Pro X to make additional edits before publishing (special instructions available for exporting to other editing software).
Edit in FCPX knowing all your angles are automatically in sync and cuts/transitions made during production are still intact going into post-production by using "Switcher Media Manager" for Mac.
Pricing and Availability
Switcher Studio is available immediately on a monthly subscription model and is priced at $45.00 per month or for an annual rate of $400.00.
About Switcher Studio
Switcher Studio was started by a team of people who love creating and delivering great content — from anywhere and from any device. The app was born from a passion to democratize what was once an incredibly complex and expensive experience, to one that enables anyone — from a high school football coach to a wedding videographer to a professional television station — to create a multi-camera production studio experience with nothing more than some iOS devices and an internet connection and instantly stream live video to services like YouTube and Facebook. For more information or to start creating amazing multicam streaming events, please visit www.switcherstudio.com.