Switcher Inc returns to VidCon 2017 with some big updates to its Switcher Studio platform. YouTube and Facebook Live creators, social media influencers and anyone looking to improve their social media presence will find value in these new additions. Key features in the new release include:
Brand New Switcher Interface

In-app Facebook Live Comments

Add up to 9 cameras (iPhones, iPads)

Keyboard Shortcuts and HotKeys
Creators new to Switcher will benefit from the intuitive design for quickly adding photos, videos and overlays to their Facebook Live. You can also re-arrange and organize your assets for easy management with the new layout. If you need to display more sources at the same time you can also scale assets to display in a 2, 3, or 4 columns - see below: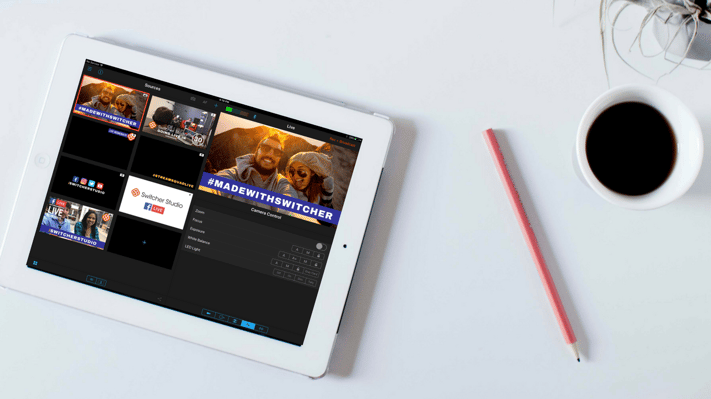 Advanced users can enable the Preview window and use the workspace to enhance their productions. Use the Preview window to adjust camera controls like white balance and exposure before switching to a camera source. Build a muiti-view effect or side-by-side effect then push to live. You can even pair Switcher Studio with the DJI Osmo Mobile gimbal for remote pan-tilt-zoom control of a remote iPhone camera.
In previous versions of Switcher users had to monitor comments from a second device. This update adds the ability to see comments from viewers of Facebook Live broadcasts directly in the Switcher Studio app. This cloud service loads in real-time so you can interact and engage with your audience during your Facebook Live broadcasts.
This update also expands the standard 4 camera setup to allow access to as many as 9 simultaneous camera inputs. By running the Switcher Studio app on multiple iOS devices, users are able to switch between each camera in perfect sync. Cameras appear on the main iPhone or iPad used for video switching in the order they are connected. Remote cameras also show a tag to indicate the number associated with the camera source. This is helpful when managing a crew and the operator or director needs to quickly identify a cameraman or source. You can also pair a bluetooth Keyboard with your iPad and use keys 1-9 to switch between camera sources for faster cuts.
In addition, Switcher Studio 3.3.0 implements a new API call to prevent the "broadcast error" message seen after ending a Facebook Live broadcast. Now Facebook Live videos made with Switcher Studio will appear for replay almost immediately after ending your broadcast.
For more information about Switcher Studio and support visit www.switcherstudio.com