Empower your team with simple streaming
When it comes to engagement, nothing beats live video. But cameras are expensive and complicated, and so is outsourcing production. (No wonder so many companies make like one video per year.) Switcher is not about that life. We think you should be able to communicate through live video all the time. Switcher's Plus plan empowers your organization to do just that: Create and live-edit stunning multicam video from the iOS devices in your pockets. Then stream it anywhere.

Brands streaming with the Switcher Plus plan
Pluses to the
Plus plan
Every Switcher plan is powerful. No matter your tier, Switcher gives you live production tools displayed in a simple iOS platform — letting you switch angles, add text, roll in graphics and prerecorded video, include guest callers, and more, all in real time. So what sets the Plus plan apart?


Equip your people
One Switcher Plus plan account includes Switcher licenses for 3 users on your team, plus you can easily add more.
Standardize your look and feel
Use the Switcher Cloud to upload and organize up to 500 logos, graphics, and prerecorded videos for use in your livestreams, giving everyone on your team instant access to on-brand assets. Ensure consistent branding — no matter who's streaming and no matter where.
Invite more guests
Bring everyone into the conversation with four Video Chat slots. You get double the discussion during expert panels, interviews, meetings, and more.
Get priority support
Got a question? Get it answered quickly. On the Plus plan, you get priority email support for any questions that pop up along the way.
Access exclusive Facebook tools
Generate revenue, partner with influencers, and get extra insight into engagement with Facebook's Branded Content tools, available only on the Plus plan.
Streamline billing
By putting all your users on one account, you can streamline invoicing for your entire company.
Manage permissions
As an admin, you can set advanced permissions on a user-by-user and page-by-page basis, so you control who can stream where.
Get a demo of the Plus plan
Made with Switcher
Check out what other organizations are creating with Switcher Studio.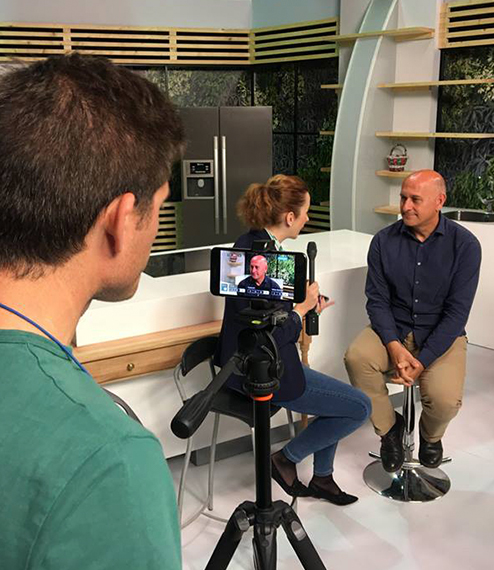 Exclusive Plus plan
add-ons
With a Plus plan account, you also get access to custom support add-ons for your unique needs.
Strategy development
Gear consulting
Hands-on onboarding
Custom graphics packages
Networking troubleshooting
On-site support
Additional user licenses
Tools for every department
Video is customers' preferred medium, and brands big and small are getting on board. From sales to marketing to HR, every department has a use case for live video. Switcher users are livestreaming:
Behind-the-scenes access
Branded content
Community coverage
Company announcements
Education
Employee training
Interviews
Live events
Meetings
Product demos
Storytelling
Talent recruitment
Switcher Shoutouts
We saw [that Switcher] is a way more powerful video tool that we could be using to make these even higher quality than if we were to edit them. It was an opportunity to introduce people to a new platform and make it a little bit more prestigious.

CHRISTINA WATERMAN
Marketing and Partnership Manager at the Shorty Awards
Switcher understands that not everyone is super techy. They have a kind of foolproof guide for anything you want to do, and they'll even do one-on-one conversations with you before an event. They are just super supportive, helpful, and friendly.

MICHAEL LAKE, Recruitment Manager for Global Campus Activation at L'Oréal
We currently have 718,000 page likes, and that is up about 20% since before using Switcher. So we've seen steady growth, and Switcher has been a part of that.

JACKIE STROUSE, Senior Manager of Social Media at Golf Channel
By using Switcher, employees are able to focus on other projects. One or two people can manage a Switcher Studio shoot versus a full five-to 10 person team.

SARAH KELSEY, Senior Manager of Smart Living