Keep employees in the loop with live video for internal comms
From onboarding to announcements, Switcher Studio makes it easy to livestream pro-quality internal comms videos that keep employees informed and engaged. And since it runs entirely on iPhones and iPads, you don't need to outsource production to create branded streams for your company.
Engage employees
6x better
Live video has been shown to be six times more engaging than prerecorded video, which means it's a must-have for organizations looking to keep their employees in the know. Switcher Studio lets internal comms, HR, and other departments stream polished live videos of events, training sessions, announcements, panels, and more.
You can sync up to 9 iOS devices to capture multiple angles, switching angles in real time. Roll in text, graphics, and prerecorded video to add context, information, and production value. Even bring in remote team members, guests, or experts from other locations — right into your stream or video meeting. Plus, save and export your stream in HD for anyone who missed it.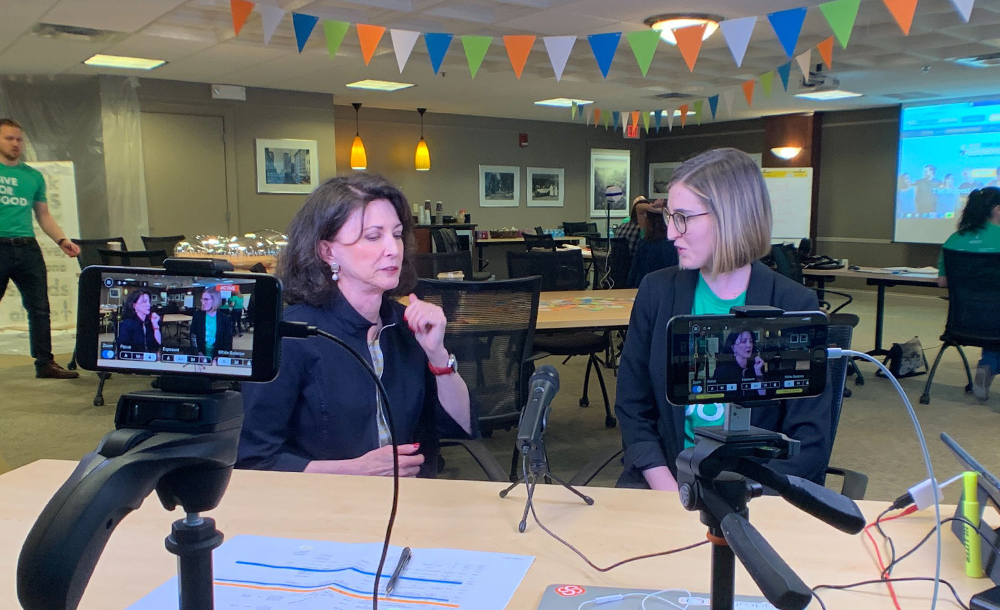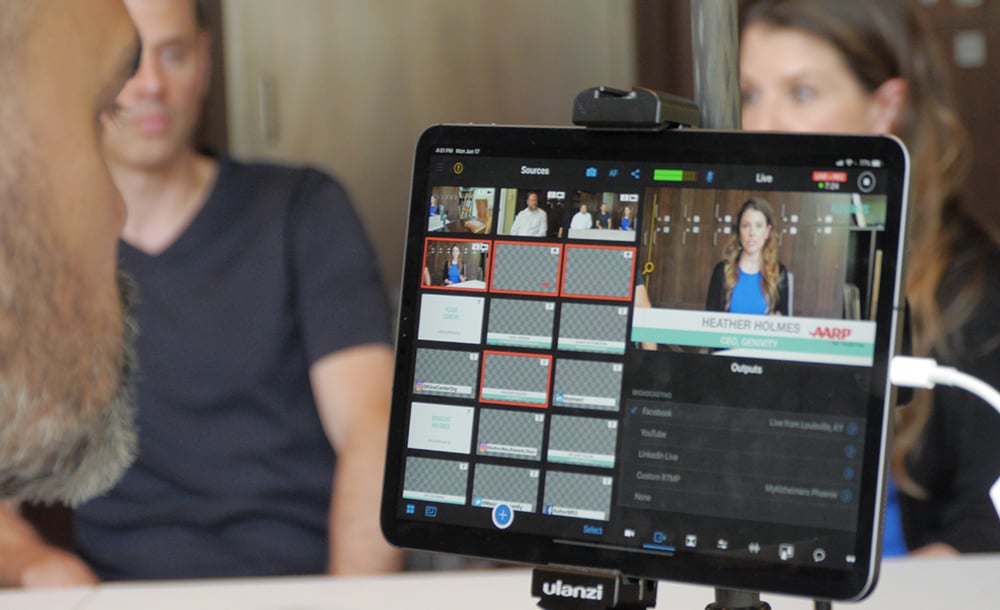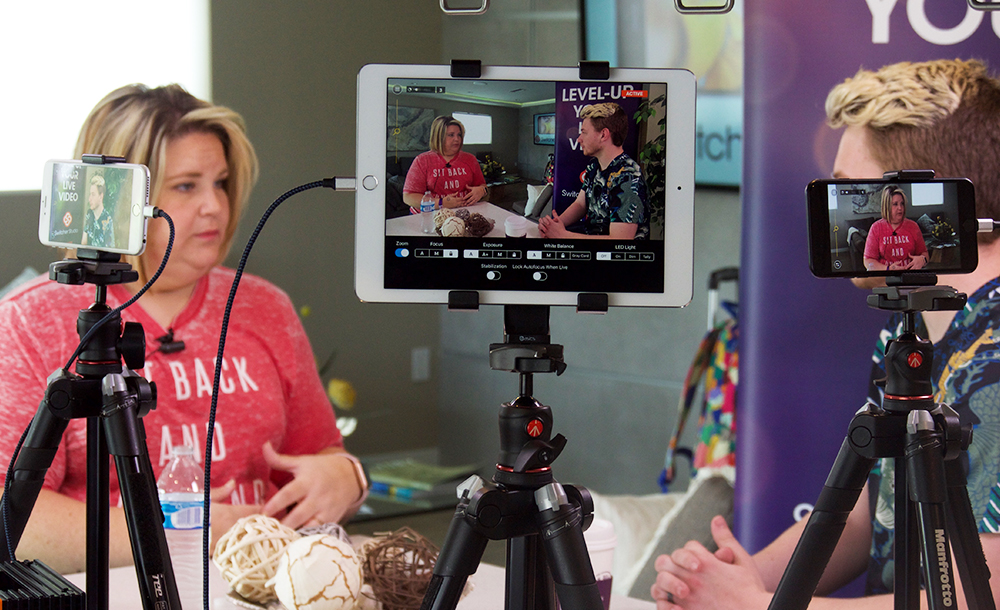 Empower any department to make their own videos
Switcher Studio lets anyone create on-brand videos — no need to involve your marketing department. Here's what makes it a great fit for internal comms:
Connect directly to Microsoft Stream, Linkedin, Zoom, and more
Switcher integrates directly with all the biggest platforms, including Microsoft Stream, LinkedIn, Facebook, YouTube, and more. And with the Switcher as a Webcam feature, you can also output your video to conferencing tools like Zoom, Teams, and Meet.
Stream from iPhones and iPads
Don't hold up your meetings waiting for giant cameras and the contractors who run them. Switcher uses the iOS device cameras that you're already familiar with, letting you connect up to 9 for multicamera streaming.
Brand your stream with text, logos, graphics, and videos
Add text, graphics, and prerecorded videos right into your livestream in real time. You can even store your favorite on-brand assets in the cloud so you and your team can access them at any time.
Invite remote guests to join your stream
Bring team members, panelists, experts, or interviewees onto your stream from anywhere in the world. They can join from any device with a browser and a camera.
Share your computer or phone screen
Bring a presentation, a software demo, or a website right into your stream by screensharing from your Mac, PC, or iOS.
Record and reuse your streams
Save and export your video in HD to use as on-demand onboarding content or meeting recaps for those who couldn't make it.
Switcher Shoutouts
Our company does a weekly live show which reaches out to 600,000 on Facebook every week. We could take shots from around the full showroom and still have the main switching device in our studio. We also ran a competition for 50% off all canvases and took over £65,000 in sales in 5 hours.

ROBERT HAMILTON, Founder at Big Spark Creative
Best compliment from a client to date:"You made a believer out of me." I said, "No, Switcher made a believer out of you." Side note: He [had] just signed me on to do a real estate project with him. I'm responsible for all of his social media. Two weeks later and over 5.6k views on our page and climbing.

ED GARDENER
I love Switcher for my business!

TANYA HAHN, Independent Designer at Chalk Couture
Get a Demo of the Plus Plan
Want a personalized demo of the Plus plan to learn if it's right for your team? Fill out this form, and we'll be in touch shortly.