Boost Sales Online
With Live Shopping
Live selling is the future of e-commerce, and Switcher makes creating a flawless live shopping experience simple. Customize graphics, stream (and multistream) to almost any platform, engage with your customers, and so much more. Plus, with our Cartr app for Shopify, you can integrate your Shopify and Switcher Studio accounts.
Reach your customers with Switcher's live shopping app
Help customers feel as though they've just walked into your store or showroom with an elegantly branded live shopping experience. With Switcher Studio, you can show customers the little details — like how your products are made and what sets them apart — while chatting with them in real time on your favorite livestream shopping platforms.
And because Switcher runs on iPhones and iPads, you don't need to bring in an outside team or buy expensive gear to start or enhance your live shopping setup. You can quickly spin up high-quality live retail experiences! In just a few taps you can stream to Facebook, YouTube, and nearly anywhere through custom RTMP — or even record videos and create clips to share on your social media pages.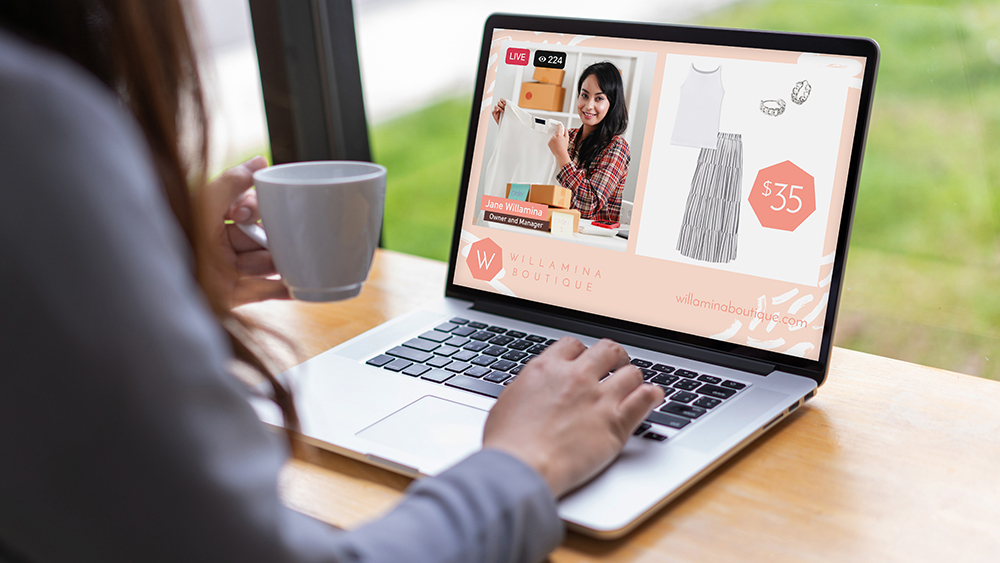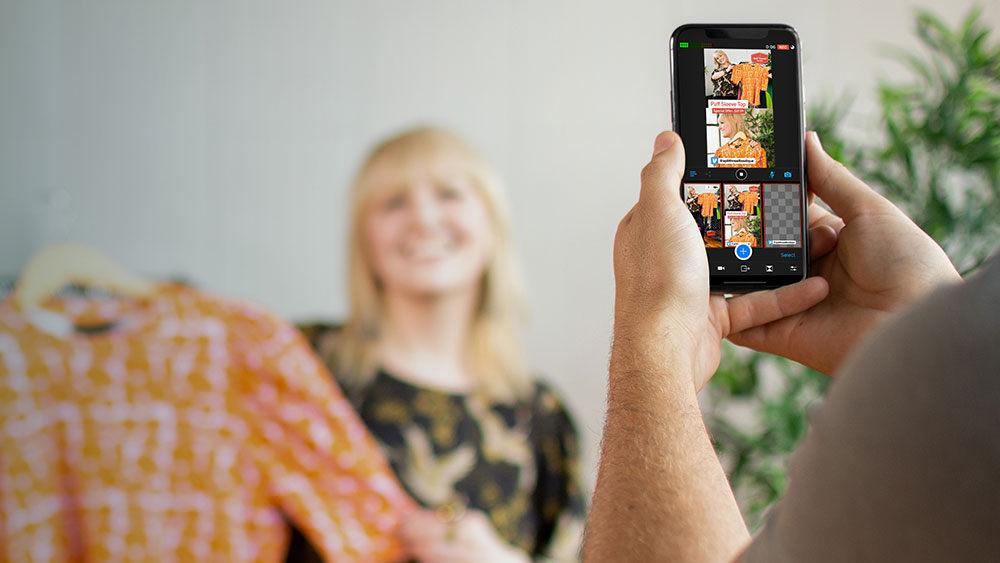 BRING YOUR LIVE SELLING TO LIFE
What if your shoppable livestreams looked as professional and branded as your storefront? Switcher Studio makes it possible with these powerful features:
HARNESS VERTICAL VIDEO MODE:
Choose Vertical Video Mode to stream vertically on Facebook Live (9:16 aspect ratio), or record vertically to create product promos and teasers for vertical-specific platforms like Instagram, Snapchat, and TikTok.
BRAND YOUR VIDEOS:
Use our Live Selling Cards to fully customize your shoppable livestreams — show side-by-sides of your live video feed and products, choose your brand's colors and fonts, and overlay countdown timers to help promote urgency.
TURN RECORDINGS INTO CLIPS:
Take previously recorded productions and turn them into video clips that can be used for TikTok videos, Facebook and Instagram Stories, Instagram Reels, and YouTube Shorts.
SHOWCASE YOUR PRODUCTS, PROMOS, AND BEYOND:
Use split-view layouts to simultaneously showcase video content like your live camera feed, product images, promotional text, product descriptions and details, and more.
SELL FROM ANYWHERE:
Because Switcher runs on mobile devices, you can easily set up shop in your office, studio, showroom, store, trade show booth, and beyond. No heavy gear required!
Meet for Shopify
Shopify merchants who sell on Facebook Live, meet Cartr. Cartr makes live selling and shopping easy:
Integrate and access your Shopify collections within Switcher.
With just a tap, feature a product on your Facebook Live.
To shop, viewers simply comment on your video. Cartr then sends an automated DM to privately walk shoppers through their selection and purchase.
Like we said: live selling — and shopping — made easy.
Explore Cartr
Try Cartr for Free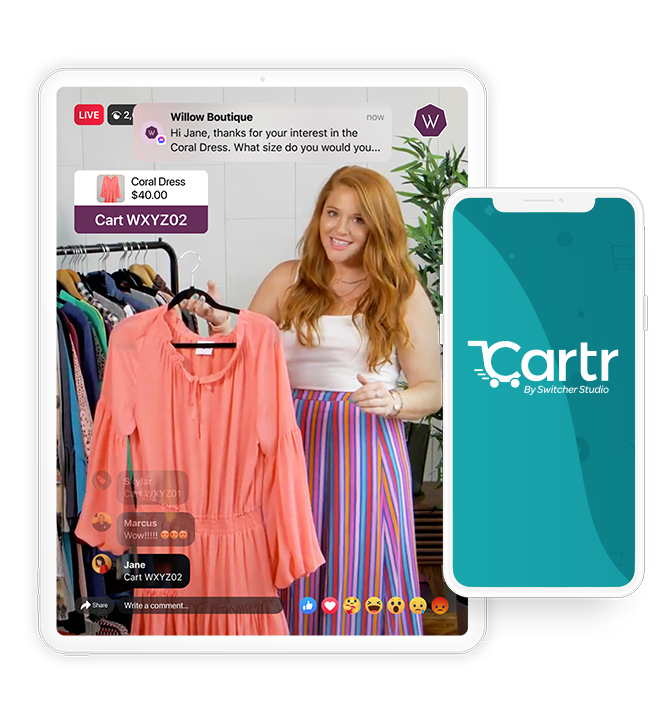 Output live video from Switcher directly into some of the top live selling platforms


Download the Free Live Selling Get Started Guide
Live selling is the next wave of e-commerce, combining interactive live video with the ability to purchase products in real time. Learn how to get started with your own shoppable livestreams in Switcher's Live Selling Playbook.
Get the FREE Guide
Get the Free Guide!
Learn More with our
Live Selling Resources