It's 2023 and if you're a small business — without question — you 👏 need 👏 video 👏.
Covered in this article:
2. GET SMART ABOUT VIDEO CREATION
3. CREATE VIDEO CONTENT THAT STANDS OUT
4. MEET YOUR AUDIENCE WHERE THEY ARE
5. GET CREATIVE TO PROMOTE YOUR VIDEOS
Why do small businesses need video marketing?
Video is one of the most powerful marketing investments that small businesses can make. Here are a few key benefits of small business video marketing: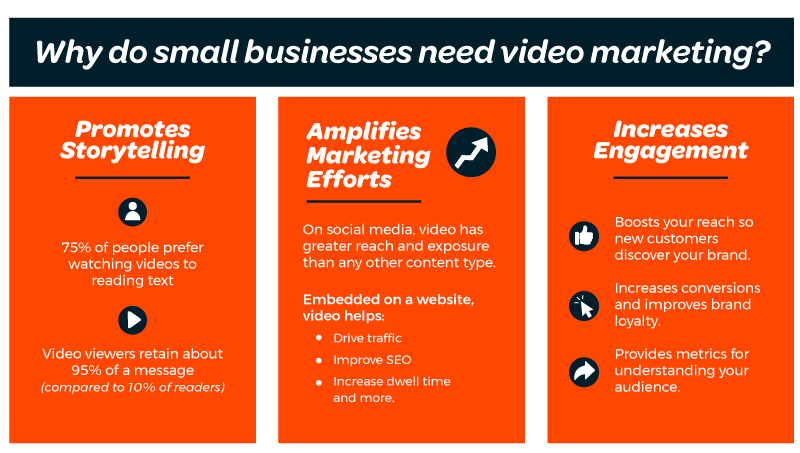 Video helps small businesses tell their story
When you're trying to grow a customer base, you need to communicate what makes your business unique. Whether it's your origin story, a behind-the-scenes video of your operations, a video explaining your product or service, or a testimonial video from a customer — video content helps tell your unique story in a uniquely engaging way.
Your customers agree. According to Wyzowl, most consumers (nearly 75%) prefer watching videos to reading text when learning about a company, product, or service. According to Insivia, a customer watching a video retains about 95% of a message, compared to only 10% of the message when reading.
Video content helps small businesses stand out
Video helps small businesses stand out because it increases visibility — wherever it's hosted. When shared on social media sites, video has greater reach and exposure than any other content type. Embedded on your website, video can help drive traffic, improve SEO, increase dwell time, and more.
Small business video marketing increases engagement
Engagement — e.g., follows, likes, shares, comments, etc. — is vital when using social media to grow your customer base. Increased engagement helps:
Boost your reach so potential customers are more likely to discover your brand.
Increase conversions and improve brand loyalty.
Provide metrics for understanding your audience.
Some sources suggest that video content on social media can generate up to 1200% more shares than text and image content combined. That's a serious boost in engagement for a small business with limited resources! Speaking of limited resources, I bet I can guess your next question … How can small businesses create video content on a tight budget (or a tight timeline)?
Knowing that video marketing is important to your small business, and actually making that video content are two different things. So whether you're new to video marketing or just looking for tips on how to knock your video content strategy out of the park, read on
These are our top five tips for small business video marketing success.
1. Set video marketing goals (and know how to measure them)
Start by defining goals for your video marketing strategy. Success by a variety of different metrics: Engagement with video content is one of the most common and important metrics for video marketers, followed by conversion rates, view counts, click-through rates, and follower growth.
So, what does success look like for you? Are you trying to grow your engagement or follower count? Maybe you're trying to increase sales — or even boost traffic to your website. Establishing your goals informs the type of video you make and where you put that content. It also helps you measure your success and tweak your video marketing strategy to improve performance.
2. Get smart about video creation
Small businesses have a lot of limitations when it comes to video marketing. With a tight budget, a small staff, and a lot of irons in the fire, small businesses need to get smart about video creation.
… But what does that mean? How can small businesses create video content on a tight budget?
Save money by using the gear you already have
Video cameras are expensive. When you add the cost of accessories like tripods, lights, and microphones, (not to mention a computer to process and edit the video you capture) — gear can end up being a huge investment.
Small businesses can save money on video marketing by using the gear they already have: mobile devices. Most phones and tablets today have powerful high-quality video cameras and plenty of memory, so it's possible to record professional video without investing in a dedicated video camera. There are also plenty of apps that allow you to edit videos directly on your device, so you don't need to spend money on a computer or expensive editing software. You can check out all of our favorite tech for mobile video creation in our blog post about gear recommendations.
Save time by editing live
Video producers can tell you that most of the time it takes to create a video is spent in the post-production stage. Clipping together different camera angles, overlaying graphics, adding music — these tasks take hours in editing software like Adobe Premiere or Final Cut.
Live editing is a super fast alternative. With live editing, you can change camera angles, add transitions and graphics, and way more — all in real time. That means post-production is eliminated. You can learn more about live editing in our blog post, What is Live Editing?
Try an all-in-one solution for video production
If you're interested in live editing or using your iPhone to create incredible videos — Switcher Studio is the smart solution. Check out our features to learn more about why we're the video and livestream production choice for thousands of businesses and creators around the world. Or, see for yourself by trying Switcher Studio free for 14 days.
3. Create video content that stands out
Having a video marketing strategy already helps small businesses stand out in a competitive market, but you can maximize your video marketing results with these tips.
Maximize video marketing results with livestreaming
Livestreaming is ideal for small business video marketing, resulting in exceptionally engaging content with relatively low effort. Livestreaming helps small businesses:
Stand out:While the majority of businesses have dabbled in video content marketing, only about a third have created livestreaming content.
Maximize engagement: Livestream marketing is increasing in popularity because livestreams have exceptionally high engagement rates.
Boost reach: Livestreams are often promoted above other kinds of content by platforms like Facebook, TikTok, and Instagram. Plus, increased engagement improves your organic reach.
Save time: Livestreaming typically has a lower production value than videos on demand, but it also saves marketers time in pre- and post-production. You don't have to worry about scripts or direction, and once your stream ends, you're done.
Livestreaming is a great way for small businesses to maximize their results without increasing their effort. And, if you're not comfortable in front of a camera, you can also stream prerecorded content — a smart way to get the benefits of streaming without the nerves of being live.
Increase your video's production value
Whether you're recording or livestreaming, you can increase your video's production value with enhanced visuals. Here are our favorite ways to level up your video:
Add multiple cameras or video sources
Try connecting multiple camera angles or video sources and switching between them. This is a great technique for professional-quality explainer videos, demos, e-commerce companies, interviews, and more.
Include dynamic layouts or transitions
Polish your multicamera, multisource video with dynamic layouts like split screen, picture-in-picture, or grids. Or use transitions like fade and cross-zoom for a professional look when switching between camera angles.
Expand your brand with custom graphics
Video is more engaging when it's informative, and more effective for businesses when it's on-brand. Add your logo to your video, or overlay informational graphics customized with your brand font and color palette.
These are just a couple of easy ways to make your video stand out from the crowd, but enjoy getting creative. Above all, be yourself: Your audience will appreciate the authenticity and unique look of your videos.
4. Meet your audience where they are
When it comes to small business video marketing, there are a ton of platforms to choose from and each one represents a different opportunity to reach your audience. The video marketing goals you've established already and the type of video content you're creating can help inform the platforms you choose.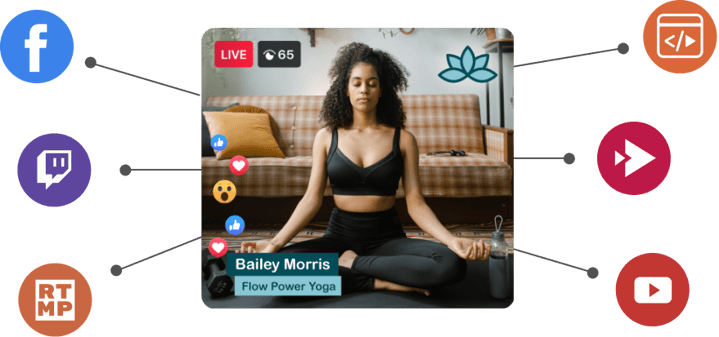 For example, if you're going for short-form vertical video, TikTok, Instagram, or YouTube are good options. If you're a B2B business, try LinkedIn. If your demographic is older, Facebook Live might be a successful platform for you, whereas TikTok is ideal if your audience skews younger. Take time to research platform demographics, find out when your audience is most active, and learn from trial and error to make the best decision about platforms.
5. Get creative to promote your videos
One vital component of your small business video marketing plan is promotion. If you're wondering how you can promote your video content without hiring a marketing specialist, here are a few smart ideas:
Inform your entire audience
Your number one task for promoting your video content is making sure your entire audience knows about it! If you're going live, share the date, time, and location; if you post a video, share the link. That means sharing on every one of your social platforms, in marketing emails, and on your website.
Repurpose your content
Don't let your video content wither — repurpose and reuse your video content. You can clip longer videos to create short-form content, create gifs, transcribe videos to create blog posts, and more.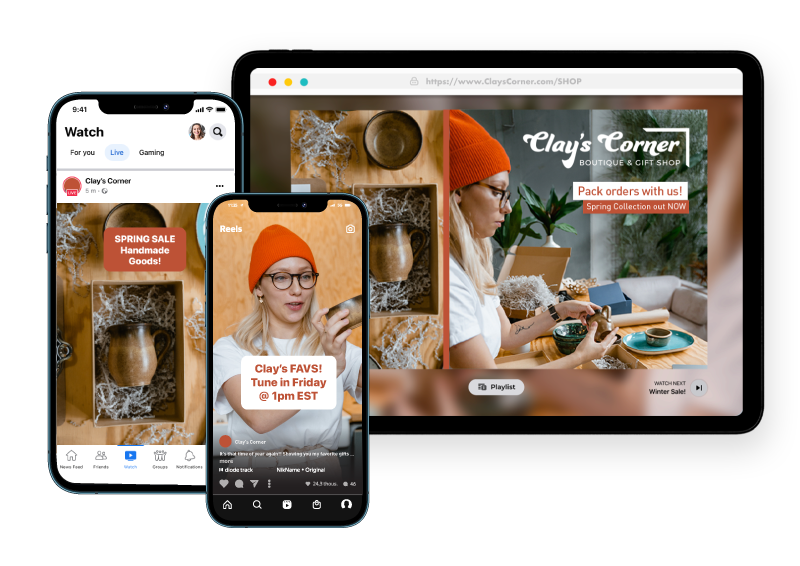 Collaborate to increase reach
Collaboration is another great way to promote your video. You can cross-promote with other small businesses, partner with influencers, or create an affiliate marketing program. Whenever you collaborate, you get the benefit of reaching multiple, potentially completely new audiences.
Create a video content library
As you continue creating videos, you can start compiling your content into playlists. You can do this on sites like YouTube, or you can own your video content library by embedding it on your website. Creating a content library extends the life of your videos, helps build your brand, and keeps your audience engaged with your content long after it's published.
Bonus small business video marketing tip: (Almost) any video is better than no video at all
It's easy to get intimidated and overwhelmed by video marketing, especially when you're a small business with limited resources. However, remember that (almost) any video is better than no video at all.
At the start of this article, I mentioned that storytelling is one of the biggest benefits of small business video marketing, but that doesn't mean creating a cinematic epic. Business storytelling simply means using video as a medium for an authentic, emotional connection between your business and your potential customers.
If you hold yourself to an impossible standard, you might never get a video out the door. So, start small and don't expect perfection — I promise, your customers don't!
Create, share, and monetize your video with Switcher Studio
Switcher Studio is an all-in-one small business video marketing solution. With Switcher, it's easy to:
Create dynamic, professional livestreams and videos using the gear you already have.
Share that content everywhere (even on your website).
Monetize your video with donations and live shopping.
Try Switcher Studio free for 14 days to see why we're trusted by thousands of businesses and creators around the world.
Subscribe to the blog
Sign up to receive notifications whenever a new blog post is published. You may unsubscribe at any time.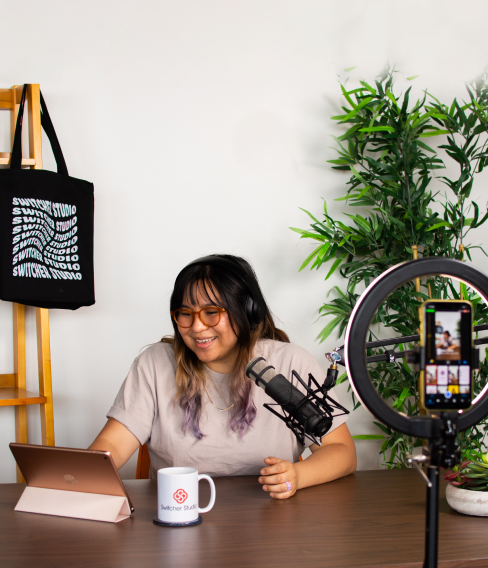 ---
About the Author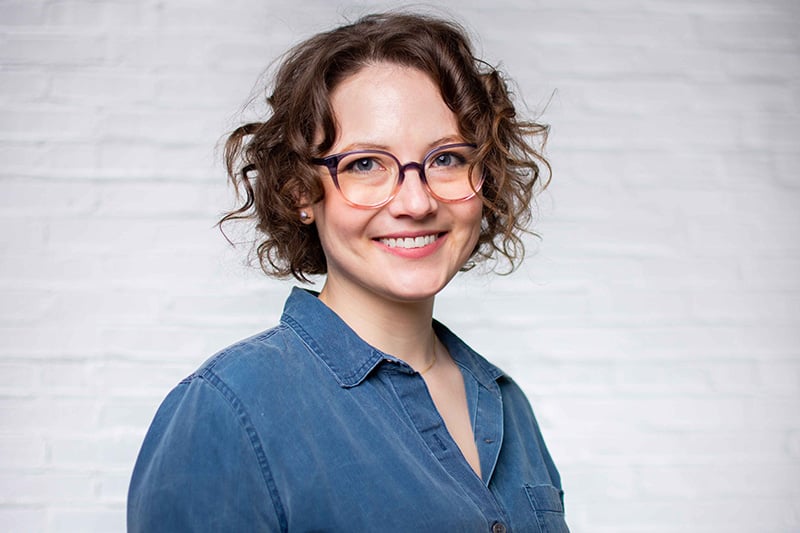 As Switcher's content strategy manager, Maddie inspires users to make the most of our leading-edge and ever-evolving features. With a background in nonprofit and advertising, Maddie loves to share Switcher's potential for using livestreams to create meaningful connections.