When Periscope—the app that popularized live streaming from smartphones—launched all the way back in 2015, who would expect that some streamers today would be earning over $32k a month on their videos? There are many ways to monetize livestreams these days, and one of the most powerful is creating your own live streaming website. If you're curious about how to create a live streaming website so that you can begin to monetize your content too, there is no shortage of opportunities.
At the time of publishing this blog, there are dozens of live streaming platforms, like YouTube Live and Twitch, as well as countless tools to help simplify the experience (like Switcher).
Building a live streaming website could be the very thing you need to pivot from casual live streaming creator to pro.
Launching a site is simpler than you may think! But before we jump in, here's a critical reminder: Creators are consumers first. Long before any of us felt that entrepreneurial spark to pursue live streaming or content creation, we started as viewers! We were—we are—the audience. So keep your audience in mind while you're building your live streaming site. Ask yourself what you would want from a website that integrates streaming content. This will serve you well as you build your following and start scaling your channel.
Why set up a live streaming website?
If you're not familiar with subscription video on demand or transactional video demand, here's a deep dive. But, as a quick refresher, video on demand (VOD) grants paying audiences access to their favorite content and streams—either on a subscription or pay-to-view basis.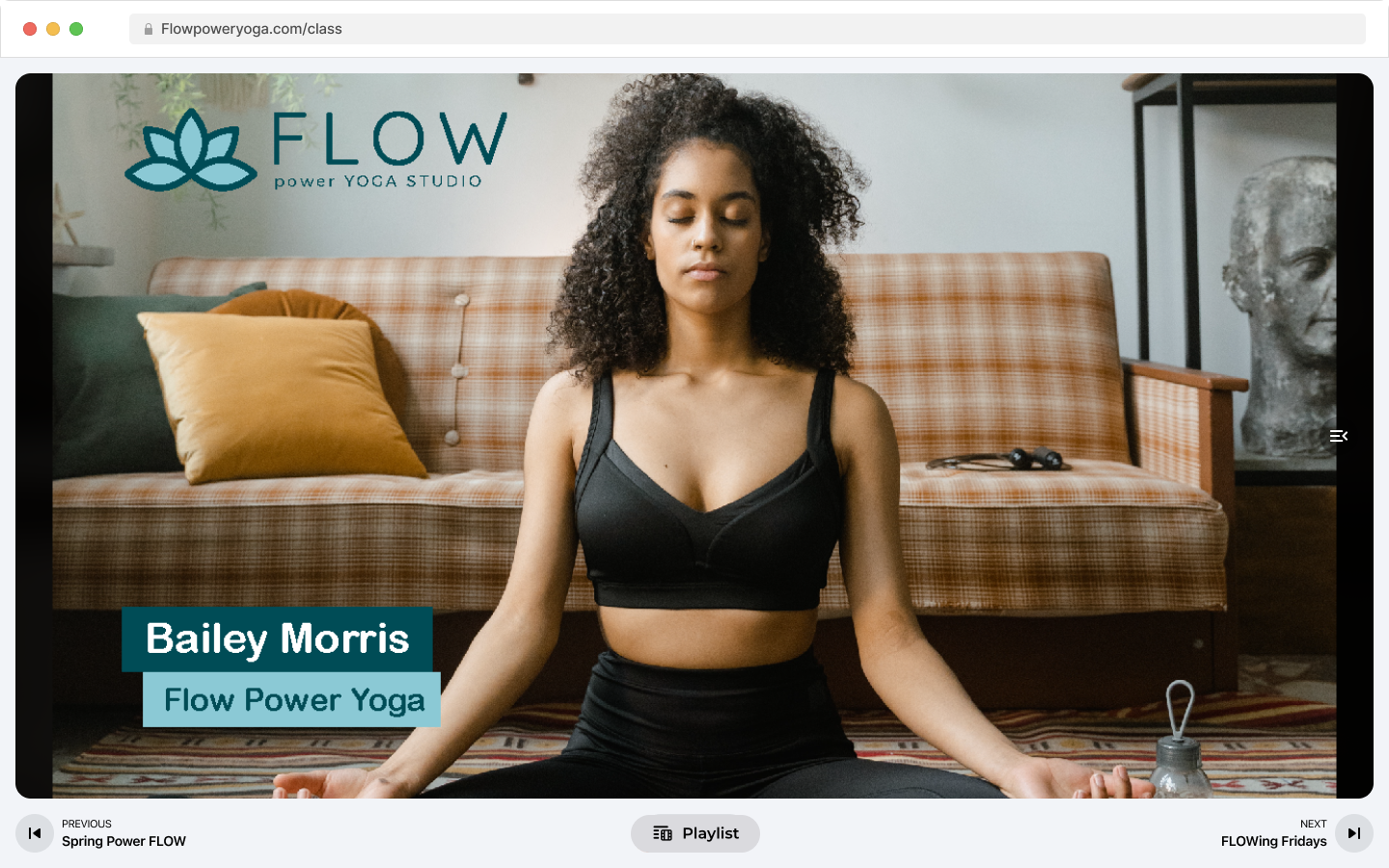 Crafting an entire website around your live streams is a necessary step to increasing audience engagement, maximizing how much revenue you're earning, and scaling the content that you're producing.
Beyond this, having a live streaming website is great for:
Email capture
Give your subscribers a chance to sign up for a simple newsletter so that they can stay "in the know" on upcoming live streams, guest appearances, and general announcements.
E-commerce
Are you selling products on your live streams? Or do you have merchandise, like T-shirts and coffee mugs, centered around your content? Either way, you'll need a website for your online store so that everything is centralized and easy to find.
Archived streams
One of the great things about VOD is that it offers viewers the chance to watch live streaming events after the fact. Life happens, and sometimes a few of your followers will have to miss out on your streams. Having access to old streams allows viewers to catch up on what they missed—and at their convenience. Plus, having video on your website is always a good thing.
Blogs and other content
If you're an e-learning instructor or broadcasting a church worship service, having a live streaming website is a great place to house blogs, opinion pieces, curriculums, resources, calendars, downloadable assets, and more. You'll want to equip your audience with everything they'll need to get the most out of your streams. A website does just that.
In short, having a user-friendly live streaming website for your paid followers will position you to grow a healthy, engaged audience that will sustain you for years to come.
Live streaming website examples
Imitation is the sincerest form of flattery. So, if you're on the hunt for inspiration, here's a handful of some of our favorite live streaming websites:
Beginners looking to dip their toes into the yoga pool will love Adriene's streams.
Students from all over the world can read, draw and interact live with award-winning children's authors.
Stream Broadway plays from the comfort of your couch—what's not to love?
A live, interactive platform that elevates music learning and therapy for advanced and beginner students.
Professional coach Shelly Lynott has created an inviting, intuitive live streaming website for reaching individuals who seek personal growth.
Live streaming equipment and software
All right, that's a lot to digest. Let's move to some practical steps so that you can hit the ground running with your very own live streaming website. Here's a quick list of the equipment and software you'll need to assemble:
1. Camera
Fortunately, most (if not all) smartphones today come equipped with 4k recording capabilities and decent microphones. You may not even realize all the amazing things your phone can do! (Here's the ultimate guide to all the best iPhone settings for video in 2023.)
If you're looking for something a little more advanced than a smartphone, consider purchasing an entry-level DSLR camera.
2. Microphone
Sure, you can get by with the built-in camera that comes with your smartphone or DSLR, but decent-to-great microphones are quite affordable these days. Plus, everyone knows that bad audio can ruin good video! Consider the Blue Yeti mic, or something comparable, to get you started.
3. Setting
True, this is neither equipment nor software, but where you set your live streams is hugely important to the overall tone and quality of your videos. If you're streaming during the day, try to sit facing a window with a thin curtain to diffuse the sunlight.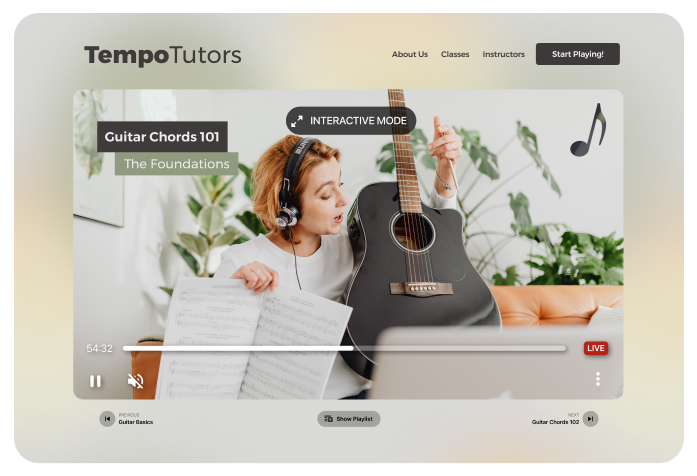 Next, be intentional about what you set in the foreground and background, and make sure any props are consistent with the style of your content. If you're live streaming in the evening, consider some LED tube lights, like these. They're super cool and they come with a ton of useful settings.
4. Software.
Now that you've got your camera, mic, and setting, it's time to pick a software to get your live streams to the right audience. Tools like Switcher Studio are your one-stop-shop for all things live video streams: You can broadcast right from your smartphone and, using Multistream, reach multiple streaming platforms with just one event. In fact, you can select up to 30 destinations when you create a Multistream with Switcher, dramatically increasing your reach without any additional multistreaming software.
Switcher streamlines your streams. Period.
Bonus! If you're not comfortable leading your entire live stream unscripted, consider a teleprompter. This is a tool used by news anchors that reflects their scrolling script off a translucent mirror that's positioned in front of the camera lens. There are plenty of affordable iPad teleprompter rigs out there, like this one, and prosumers love 'em.
Create your website and embed your live stream
Now comes the really fun part—create your website and embed your live stream!
Pick a content management system (CMS), like WordPress or Squarespace.

Select the template that's most in line with the tone of your video content.

Use a tool like the Switcher Player to copy-and-paste a code block and embed a video player on your site.

Start streaming to your audience!
Yes, it's really that simple. CMS software makes building and editing live streaming websites so easy that you don't have to have any coding experience. Plus, you can white label your Switcher players by adding your logo and choosing a color palette for elements like buttons, controls, and more.
It doesn't get easier than this.
Promote your live stream
For some, this last step may be the most difficult one: self-promotion. Yet, some could argue it's the most important step. After all, people can't tune in for your live streams if they don't know about them.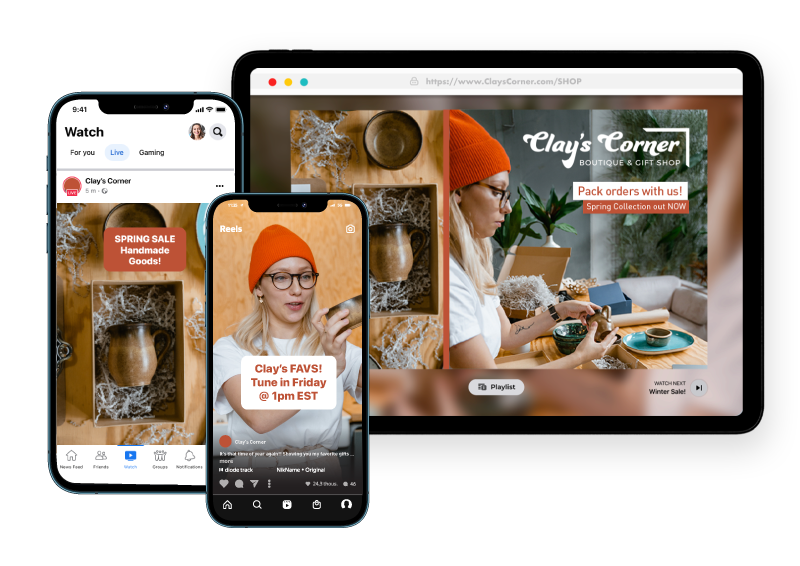 Choose your promotional platforms
First, decide which social media channel you're going to leverage for your content strategy. Hint: It shouldn't be all of them! For some, Instagram is enough, whereas others prefer X (formerly known as Twitter) and TikTok. Regardless, you should pick one or two channels to really lean into.
This is where you're going to commit to sharing content that promotes and redirects your followers to your live streams. And if you're worried about where the content is going to come from, this is a great opportunity to edit down your live stream videos into :15 or :30 shorts, which is optimized for TikTok, YouTube Shorts, or Instagram Reels!
Plan your content
Next, lay out a content strategy or plan. This can be as simple as deciding what days of the week to post, and how frequently. Unfortunately, Meta really favors paid media over organic, but that doesn't mean your content can't make an impact.
Then, you'll want to post regularly and consistently! Obviously you don't want all your content to orbit around your scheduled live streams. But don't be afraid to plug your live streaming website and encourage your audience to set reminders.
Consider livestream giveaways
Lastly, consider a campaign or giveaway centered around your live streams. This can be anything from a Starbucks gift card to a year-long subscription to your site, and it can be awarded to the 100th person who tunes in—or something as equally simple as that.
The point is to generate real excitement and anticipation around your live streams. This is an effective way to promote your live streams because, well, let's face it . . . everyone loves to win free stuff.
And . . . you're off!
So there you have it. You've officially graduated from Creating a Live Streaming Website University! Jokes aside, we hope you now see how valuable—and easy—it is to build and launch a website around your live streams.
And the tools in the Switcher Studio toolkit (like our easy-to-embed Switcher Player) are helping all kinds of creators get their sites off the ground and reach their audiences like never before.
So what are you waiting for? Try Switcher Studio free for 14 days.
Subscribe to the blog
Sign up to receive notifications whenever a new blog post is published. You may unsubscribe at any time.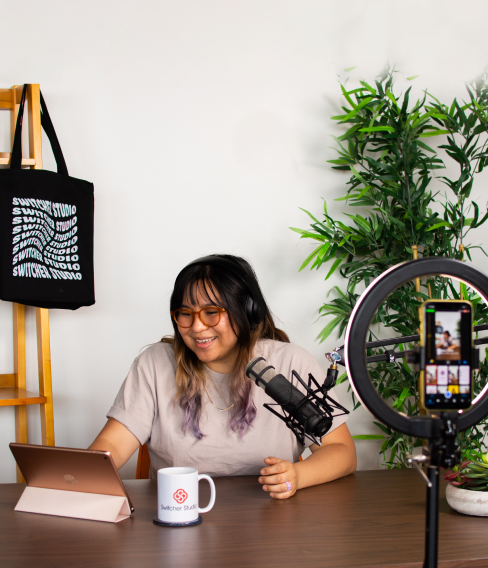 ---
About the Author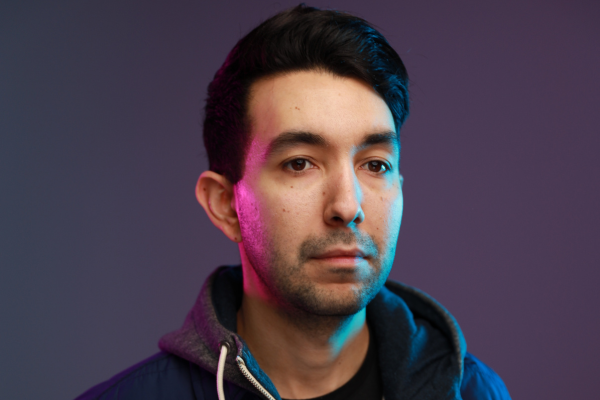 Julian R. Vaca is an actor, writer, and marketer. His work has appeared in The Nerd Daily, Writer's Digest, and more. His debut Young Adult series "The Memory Index" is available wherever books are sold. Connect with Julian on Instagram: @JulianRayVaca