Host Virtual Open Houses On Your Website and Social Media
Show more properties to more potential buyers with video! Switcher Studio makes it easy for real estate agents to create, share, and host virtual open houses and tours. Embed virtual tours on your website, or increase your reach by multistreaming virtual open houses to all of your social media accounts. Use iPhones and iPads to create multicamera videos, add graphics, showcase amenities, and even take questions from potential buyers in real time.
HOST VIDEOS ON YOUR SITE
Increase your visibility, viewership, and more by embedding your live virtual events or recorded videos on your website. The Switcher Player is a white-label HTML5 video player, so it's easy to customize and then embed on almost any webpage. Upload videos, create playlists, and even livestream to your domain.
ENHANCE YOUR VIEWER'S EXPERIENCE
Whether you're hosting a virtual open house or sharing virtual tours of available homes, you can put additional content, links, and more in right in the Switcher Player experience. Your site visitors can sit back and watch your content in theater mode, or explore in interactive mode in real time.
Learn More About Gated Content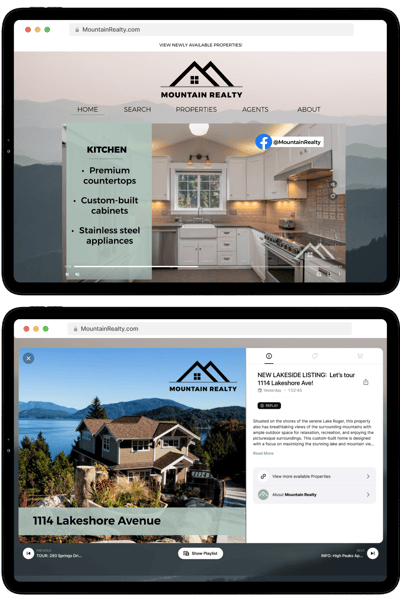 Real estate videos
in real time
You know how powerful photos can be when it comes to garnering interest in a property. Video — and live video, in particular — can show even more of what a home has to offer. And Switcher lets you livestream home showings with your existing gear and your existing skill set. You don't need any production chops to create dynamic videos, just the real estate know-how that you already have!
Switcher's got tons of simple editing tools that help you create the perfect video for each home. You can connect up to 9 iPhones and iPads to show multiple angles inside and outside a space, or you can use a single device. Easily add text to share info about location, neighborhood, rooms, and amenities. Roll in graphics, logos, and CTAs to brand your stream and share your contact info. Or roll in prerecorded video to showcase other nearby perks.
Bypass the algorithm by streaming directly to a white-label video player on your website. Embed prerecorded videos and curate content playlists.
Made with Switcher
Check out what our users are creating with Switcher Studio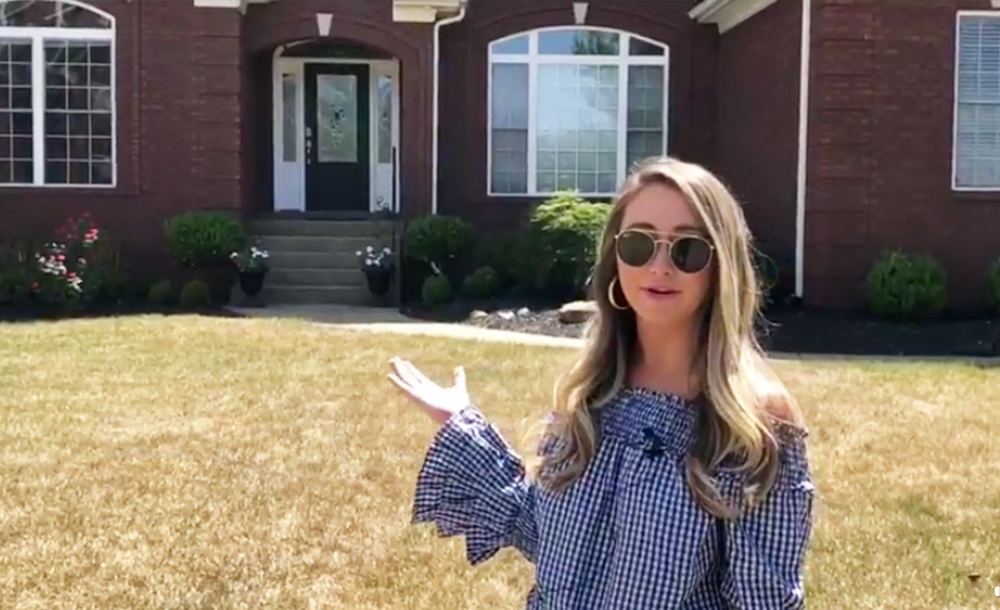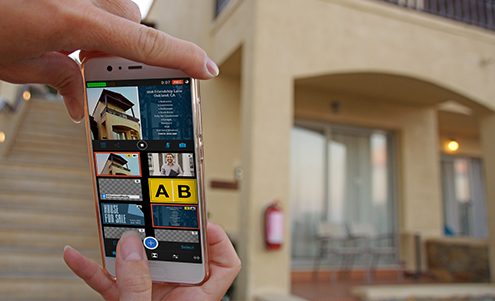 Show more than specs and slides
Here are a few of the features that make Switcher a fit for streaming real estate videos:
Use iPhones and iPads you already own
Don't worry about bringing in a videographer to shoot your streams. Switcher works on the phone in your pocket. Use one device or link up to 9 for a multicamera stream.
Add in text, titles, and graphics to show properties and rooms
Easily add text and graphics to convey addresses, neighborhood information, contact details, home layouts, and more.
Edit your stream with simple taps
Switcher's simple interface lets you tap to change angles, add in graphics and videos, display lower thirds, and even invite remote guests.
Bring in drone footage to show a home from on high
If you want to show off grand backyards or amazing neighborhoods in real time, just connect a DJI drone to bring live drone footage into your stream.
Roll in prerecorded video
Switcher also lets you roll prerecorded videos into your streams. Try hosting a livestream right in your office, rolling in prerecorded clips from numerous listings.
Save and reuse your home streams
Export your video in HD to use it again later! You can even embed or upload streams on your website to give home shoppers instant access to any tour.
Stream to nearly any platform, taking buyer comments in real time
Switcher connects directly with Facebook, YouTube, and more! And when you're streaming to Facebook, you can see comments right in the Switcher app and respond live in your stream.
Switcher Shoutouts
Over the last 6 months, we have used Switcher Studio to work with organizations to bring their fundraising events online. Events don't all need to be canceled. They just need a different approach. In the last 6 months alone, we have helped organizations make their events virtual and raise over $250,000 for their charities.

BERNIE MARTIN, Marketing Strategist, All Day Breakfast - A Creative Agency
Switcher understands that not everyone is super techy. They have a kind of foolproof guide for anything you want to do, and they'll even do one-on-one conversations with you before an event. They are just super supportive, helpful, and friendly.

MICHAEL LAKE, Recruitment Manager for Global Campus Activation at L'Oréal
Our company does a weekly live show which reaches out to 600,000 on Facebook every week. We could take shots from around the full showroom and still have the main switching device in our studio. We also ran a competition for 50% off all canvases and took over £65,000 in sales in 5 hours.

ROBERT HAMILTON, Founder at Big Spark Creative
Best compliment from a client to date:"You made a believer out of me." I said, "No, Switcher made a believer out of you." Side note: He [had] just signed me on to do a real estate project with him. I'm responsible for all of his social media. Two weeks later and over 5.6k views on our page and climbing.

ED GARDENER