Happy Switcher Studio update day! We've been working on the enhancements in today's 4.3 release for quite some time. We're thrilled to introduce asset storage, make our multi-user plan more accessible, bring Video Chat to everyone, and turn a number of your requests into a reality. Below you'll find an overview of the biggest additions and improvements. But before that, we wanted to introduce you to a new plan structure!
It's been a year since we first introduced multiple plan options, and in that time, we've learned a lot — and added several new features. Our new plan structure will better accommodate the myriad ways in which you guys are using Switcher. You don't always identify as "Personal" or "Professional" users, and features can't easily be divided into those categories either. So here's our new approach: Moving forward, every primary feature will be available on every plan — i.e. Video Chat and Switcher Cloud (new!) are now for everyone. As you grow into higher plans, you get more access to those features — more asset storage, more Video Chat minutes and guests, etc.
We're also renaming our plans to better convey their differences: Essentials, Standard, and Plus. As these names indicate, what varies among plans is the level of functionality, not the type of user. This plan structure lets you choose the feature capacity you need for your streams — and the plans grow as you do. (See a complete plan comparison.)
Wondering which plan you're on? Here's how the old plans correspond to the new ones:
If you were on this plan:
You'll be on this plan:
Personal
Essentials
Professional
Standard
Switcher for Teams
Plus
Now for the updates:
Switcher Cloud lets you store assets like graphics, videos, and text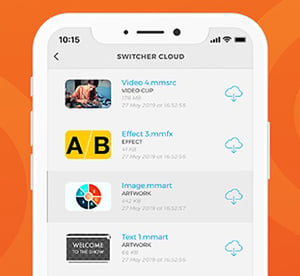 Say hello to Switcher Cloud. We've introduced it as a way to let you store the assets you insert into your videos made with Switcher — like logos, graphics, prerecorded video, text, and overlays. You can upload these assets to the cloud directly from the app or from your online Dashboard.
Once these assets are stored in the Switcher Cloud, you can access them on any device logged into your Switcher account and then sync them so they show up in your Sources panel. That means you no longer need to worry about whether all the assets for your livestream are stored locally on your main switching device. (This also solves the issue some people have run into when trying to add transparent PNGs to Switcher. Now you can just upload your PNG to the Switcher Cloud from your online account in the Switcher Dashboard and then sync it to your device.)
Switcher Cloud storage is coming to all three plans — the Essentials plan lets you store 20 assets; the Standard plan lets you store 100; and the Plus plan lets you store 500 (plus 100 per additional user).
Plus menu gets an intuitive redesign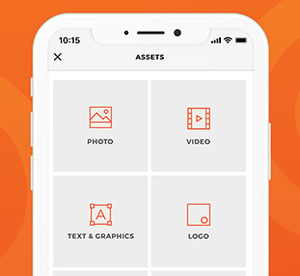 Speaking of assets, we've redesigned the Plus menu to make your assets easier to access within the app and easier to insert into your videos. Now when you tap the Plus button under the Sources panel, simple icons will prompt you to choose the type of asset you want. After that, a folder view will let you choose where you want to access that asset from — be it your Switcher Cloud, your Photo Library, a USB drive (new!), your folder of locally imported assets, or elsewhere. By letting you drill down, this redesign lets you find the right asset faster.
Video Chat now available on all three plans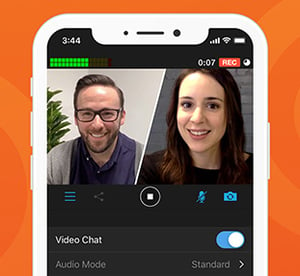 We know you're excited for this one: Video Chat is now available on all three Switcher plans! Video Chat, which we introduced with Switcher 4.0, lets you bring a co-host, guest caller, or interviewee onto your live show. Your guest can join your stream just by clicking a link on their smartphone, computer, or laptop — no special downloads required. The Essentials plan now includes five hours of Video Chat time and the ability to host one guest at a time. The Standard plan includes 30 hours of Video Chat time and the option to host two guests. And the Plus plan includes 100 shared hours of Video Chat time (plus 30 per additional user) and the option to host up to four guests simultaneously.
Bring in your iPhone's telephoto lens
Sometimes you need a closer look, and when you do, digital zoom will only get you so far. (Unless you're on CSI, in which case yelling "Enhance!" will always get you as much digital zoom as you need.) So in 4.3, we've introduced support for the iPhone's telephoto lens — which lets you use optical zoom to get a much clearer, closer look at your subject. You'll be able to access your telephoto lens just by tapping the camera rotation icon that has historically swapped between your rear and front-facing cameras. (The telephoto lenses are built into the iPhone 7+, 8+, X, XS, XS Max, 11 Pro, and 11 Pro Max.)
Invite Video Chat guests entirely within the app
You can now invite your guests to a Video Chat right inside the Switcher app — no more switching back and forth to your email or text apps. You'll still need to log in to your online Switcher Dashboard as the host on another device so that your guests can see and hear you, but once you've done that, a new button in Switcher's Video Chat tab will let you invite your guest via email, text, Slack, etc., without leaving the app. Plus, a simple toggle within the tab will now bring those guests in as sources instantly. Your app's Video Chat tab will also now show how many minutes and guest slots you have remaining on your plan.
New homescreen starts you off right
We've redesigned the first screen you see when you open the Switcher app, and it looks super cool. (We hope it will inspire you to create videos that also look super cool.) Additionally, the homescreen now includes a new shortcut that lets you quickly access your recorded videos from previous Switcher sessions.
Use a spiced-up Scoreboard template
We've added another customizable Scoreboard template to give you greater control over the look of your sports streams. This one is horizontal, taking up less vertical space so that your viewers can see moar sportz. Stick it to the top or bottom of your screen to maintain a nice roomy shot.
Switch between individual and Plus accounts
A bunch of you have asked us if you could link your individual Switcher accounts to a Plus account (formerly Switcher for Teams) — or multiple Plus accounts. (We get it: You're popular.) Well, we made it happen. Now you can:
Upgrade your individual account (Essentials or Standard) to a Plus account
Maintain both an individual account and a Plus account, all with one login
Associate your individual account login with multiple Plus accounts
(great for working with different groups)
Choose which Plus account you want to log into (on the Dashboard)
These options will be super useful for freelancers and consultants. They'll also be especially beneficial for enterprise organizations looking to let more people participate in the creation of video content while standardizing how video gets made across the company.
Upgrade to Plus in your Dashboard
Like we just said, you can now upgrade to the Plus plan right in your online Dashboard — no PDF contract required. (You can also add extra user seats in the Dashboard.) If you have any questions about Plus or want to add more than a handful of additional seats, you might want to talk to our sales team for personalized support.
iPhone interface welcomes Inputs tab
If you use an iPad as your main switching device, you'll be familiar with the Inputs tab (in the tab bar), which lets you add and choose camera sources. In the past the Inputs menu was tucked away in a separate menu on the iPhone interface, which made it take one too many taps to access. We've rectified that and put the Inputs tab in the iPhone tab for quicker and easier access on your phone.
---