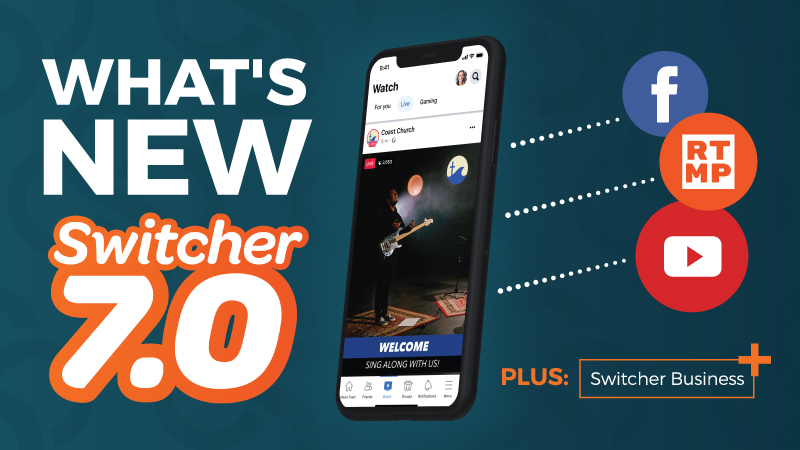 It's time to expand your brand with Switcher Studio 7.0! Updates in this software release make it easy to simplify your streaming workflow, create more content, and reach a bigger audience than ever before. Increase your live viewership with Multistreaming, easily repurpose and repost productions with Cloud Recording, and meet the needs of a growing enterprise with our new premium tier, Switcher Business.
Reach the masses with Multistreaming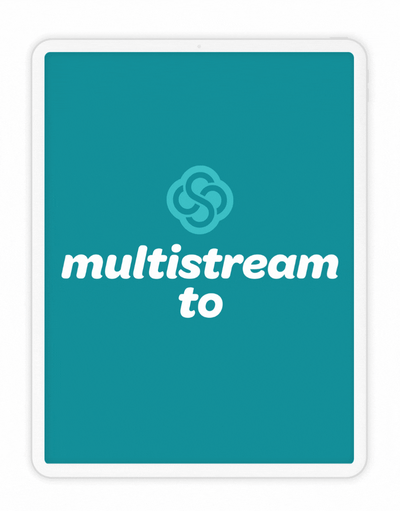 Now use Switcher Studio 7.0 to stream to multiple Switcher-compatible destinations simultaneously! Switcher Studio subscribers can now stream to two destinations at once with no extra fees and no extra steps. Select from Facebook Live and YouTube, or use Custom RTMP to stream to another platform! Plus, if you're used to crossposting to different Facebook pages, you still can — crossposting on Facebook won't count against your total number of destinations.
Access Multistreams on your Dashboard with Cloud Recording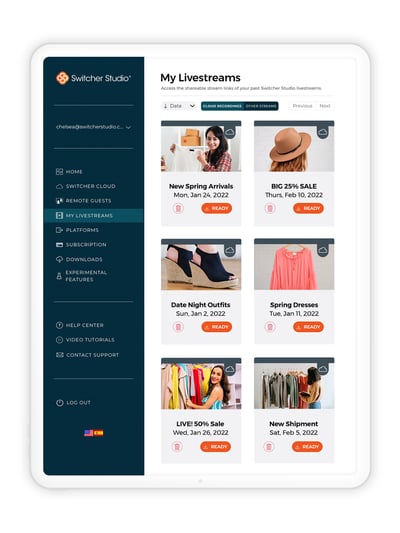 Ready to take your Multistreaming content and make it work even harder? Say hello to Cloud Recording on your Dashboard. In 7.0, Switcher Studio subscribers can instantly access their Multistream recordings in the browser-based Switcher Dashboard once their livestreams end, so it's a cinch to download, edit, and reuse your videos. Plus, your 10 most recent recordings are all housed on the Dashboard, so your productions are saved until you're ready to download them.
Get more of everything with Switcher Business
Need even more from your Switcher subscription? Introducing Switcher Business! This premium tier accommodates content creators and companies who need more Multistreaming destinations, more cloud storage, and more collaborative features. Switcher Business subscribers can now save up to 1,000 cloud assets (compared to the standard 250), ensuring that you always have access to the graphics, prerecorded videos, and other multimedia that you need for your streams.
For Multistreaming, Switcher Business allows five simultaneous destinations, and up to 50 of your most recent recordings are available for download from the Dashboard. Plus, you can pin videos that you want to save on the Switcher Cloud. Your pinned videos won't be cleared for new stream recordings, letting you decide exactly when and how to use your cloud storage.
Switcher Business subscribers can also chat privately with guests within the Remote Guests feature. Simply join your Remote Guest room on a desktop and have your guests do the same. Now you can talk to the next guest in your lineup — or chat with crew members during remote production.
What else is new?
In Switcher 7.0, we also added the option to rotate an external display. That means if you're outputting your Switcher productions on a monitor or TV (for example, if you're keeping an eye on your live comments while multistreaming) you can rotate the display to fill a vertically oriented screen. We also redesigned the UI for remote devices, so when you're streaming in Vertical Video Mode, your remote devices have a new vertical interface.
Want to see 7.0 in action? Team Switcher is going live to demo Switcher Studio 7.0 and answer your questions! Switcher's CEO Nick Mattingly, along with senior software engineer Ernesto Ramos, and head of engineering Matt Hensley will be multistreaming to Facebook and YouTube on Tuesday, February 22, at 1 p.m. ET.