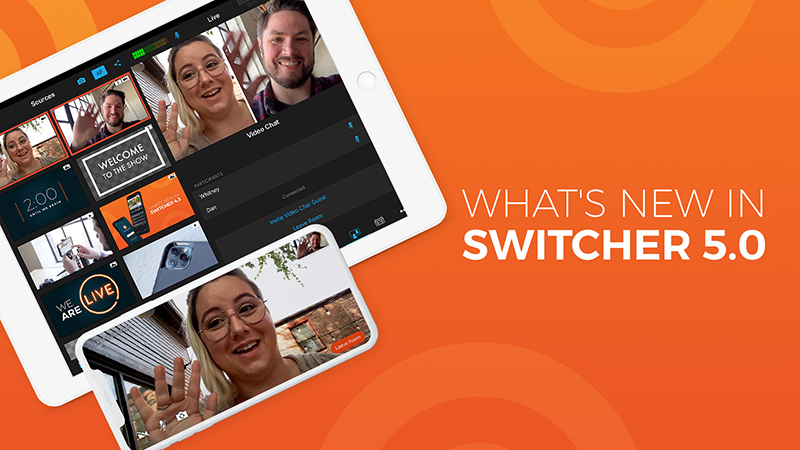 The latest update to Switcher Studio has arrived! Everything in this release is designed to make your experience with Switcher more streamlined. For instance, you can now upload creative assets to Switcher Cloud in batches rather than one by one. Genius, right? And you can turn audio monitoring on and off right inside the app. Bye bye, echo. You can even run Video Chat entirely from Switcher itself. Plus, everyone's getting more Video Chat hours! It's an update so big that it merits a whole new number (or if you wanna get nerdy, which we always do, a new whole number): Switcher Studio 5.0.
Host remote guests and join Video Chat from Switcher itself — even let guests see your stream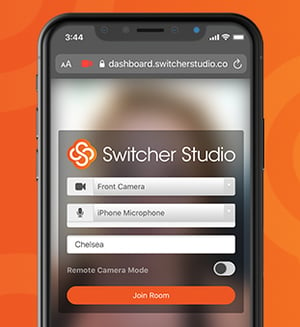 Say hello to in-app Video Chat. (Also, say hello to your remote guests because it just got easier to host them on your streams.) Until now, hosting guests has involved starting and joining a Video Chat from a browser and webcam on a second device. In Switcher 5.0, you can start, join, and invite guests to a Video Chat directly from the iPhone or iPad running Switcher. Do it all from a single device.
Additionally, your remote guests will be able to see your live video feed in real time in the Video Chat room. So whether you're playing a prerecorded video, streaming a sporting event, or covering on-scene news, your guests will be able to see and hear what's happening, making it easy for everyone to provide commentary.
Similarly, because Video Chat is all in-app, you'll be able to hear your guests through your device's speakers or headphones — and mute or unmute guests at any time. We've also introduced echo cancellation so you and your guests can hear each other without duplicating audio (... duplicating audio ... duplicating audio … duplicating audio). Oh, and we've mirrored everybody's camera views to avoid breaking any brains. It's just plain weird to see yourself forward instead of backward.
Chat longer with more Video Chat hours, and stream to more places with Dashboard RTMP
You get more Video Chat hours, and you get more Video Chat hours, and you get more Video Chat hours! Everybody gets more Video Chat hours!
As part of our efforts to give you more access to livestreaming during social distancing, we extended Video Chat hours and in-Dashboard Custom RTMP access from March-June 2020. Well, you guys loved it, so we're hereby adjusting our plans to incorporate these changes. The Standard and Plus plans, which previously had 30 and 100 hours of Video Chat time per month respectively, will now have unlimited Video Chat time. The Plus plan is also getting another remote guest slot — host up to five guests at once. And the Essentials plan, which previously had 5 hours of Video Chat time per month, will now have 120 hours per month. That means you could have a 4-hour Video Chat livestream every 👏 single 👏 day.
Video Chat Access by Plan

Essentials
Standard
Plus
Video Chat Hours
Remote Guests
Video Chat Hours
Remote Guests
Video Chat Hours
Remote Guests
Pre 5.0
5/Month
1
30/Month
2
100/Month
4
Post 5.0
120/Month
1
Unlimited
2
Unlimited
5
Additionally, we're making Custom RTMP setup available in the Dashboard on all three plans. Custom RTMP lets you connect to lots of streaming destinations beyond our direct-integration platforms, including third-party multicasting platforms. So now you can stream to more places more easily.
Control audio monitoring, manage guest audio, and eliminate echo with updated Audio tab
We've also beefed up the Audio tab to give you more control over your videos' sound. A new toggle lets you turn audio monitoring on and off before or during your stream — right inside the app itself. Previously, you had to go into your device settings to control this, which resulted in some people unknowingly leaving it on and then experiencing echo. We suggest turning audio monitoring on before your stream to check audio levels and then turning it off during your stream to prevent echo (or using headphones if you want to keep an ear on things). You can also view each remote guest's audio level right in the Audio tab now, making it easy to mute and unmute as needed.
Use your AirPods or another bluetooth device as your microphone
Speaking of monitoring audio, you've always been able to monitor audio with bluetooth devices, but now you can connect bluetooth device mics to Switcher as well. That means you can use your AirPods' microphone or another bluetooth microphone as the audio source for your production without even introducing an audio mixer.
Stream straight to LinkedIn Events as your company page
Remember in-person events? When we could like … hang out with people? Many of those are still on hold these days (le sigh), but not so for LinkedIn Events, which let you organize gatherings, invite guests, and converse with other attendees online (also in person, once that's a thing again). And now you can stream (as your company page) directly to these LinkedIn Events from Switcher Studio — helping you capture a little more of that in-person feel with real-time video. All you have to do is paste your LinkedIn Event URL into a new field when you're setting up a LinkedIn stream in the Switcher Dashboard.
Upload your assets (including videos!) to Switcher Cloud faster with batch upload in the Dashboard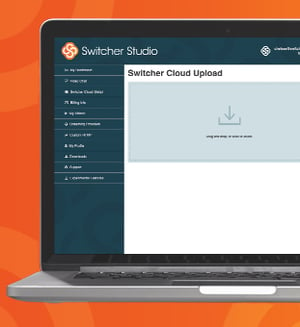 Good things come in batches — like cookies … and creative assets for your videos. (OK, admittedly, all of our other examples were also baked goods.) We've introduced batch uploading in the Switcher Dashboard so that you can drag and drop all your assets into Switcher Cloud storage at one time. So if you get a whole new batch of sweet on-brand creative — think graphics, prerecorded video, or custom lower thirds — you can add all the files to Switcher quickly. And once your assets are in Switcher Cloud, you can instantly access them from the Switcher Studio app and use them in your productions.
Did you spot the other update in that paragraph? Yes, you can now upload prerecorded video to Switcher Cloud storage right from the Dashboard. Previously, to add videos to Switcher Cloud, you had to add them to the Switcher app's Production panel first and then push them to the cloud. Uploading videos from the Dashboard should make it way easier to get openers, b-roll, credits, and more right from your computer into your productions.
Check out the Diagnostic Data panel and CPU monitor
Now for the more technical stuff. If you've ever submitted a support request to our amazing Support team, they might have asked you what app version you're running. We added a new Diagnostic Data panel to the app's main menu to make it easy for you to find that info. In this panel, you'll also see a toggle for diagnostic logging, which, when enabled, automatically creates logs for the next 4 hours while you use Switcher, making it easy to provide Support with information about your app use. You no longer need to remember to turn diagnostic logging on and off each time you stream.
We've also added a CPU load monitor that notifies you when your CPU (or central processing unit for our fellow nerds) gets overloaded. Nobody wants an overloaded CPU. Per usual, we've also fixed some bugs and improved stability.