The internet has changed the game for aspiring and established artists alike. You no longer need expensive classes to hone your skills, a brick and mortar gallery to sell your pieces, or a generous benefactor to support your craft. You can take (or offer!) affordable online art workshops, share and sell your work in virtual galleries, and monetize your work through online sales and fan subscriptions. The stereotype of the starving artist need not apply to those who've found or built online communities for their artwork. And one effective way to build such a community is through regular art livestreaming.
Why create an art livestream?
If you ever go to Montmartre, the arts district in Paris, you'll find dozens of artists with easels set up outside so they can paint and sketch and draw for an audience. They're not just selling their work; they're creating it right in front of you in real time. It's mesmerizing. No wonder passersby often stop and snag originals to take home — or even sit for portraits right there in the town square.
Livestreaming lets you do the same thing with your artwork, even if you can't live in Paris. (Le sigh!)
It's an unbeatable way to grow a following, foster community, connect with other artists and art enthusiasts, and sell your artwork online. And it's growing in popularity for traditional and digital artists alike.
As you get started with art livestreaming, you'll need to consider what platform you want to stream on, what gear and software you'll need for streaming, what kind of internet connection you'll need, and what best practices you should follow for making an art stream. We'll break it all down below.
Best platforms for livestreaming art — from Facebook to Twitch
No single streaming platform is the best for all artists. The best platform for you depends on your goals and your existing audience. Here are a few to consider:
Facebook: Facebook is an excellent platform on which to build an audience, communicate with followers, and, yes, livestream. People typically expect shorter videos on Facebook — think half an hour or less — so in some ways it's not quite as well-suited for lengthy art streams. If you want your streams to be part of a larger presence on one platform, however, it's hard to beat Facebook.
YouTube: Competition for eyeballs is steep on YouTube, but it's an ideal platform for longer content — an hour or more — and you'll find that fans who subscribe on YouTube are some of the most dedicated around.
Instagram: Instagram is a visually driven platform that's great for showing off your artwork, building a fan base, and communicating directly with followers through DMs. Though it does have a livestreaming feature, you can't integrate any third-party software for your lives, which means you're limited to Instagram's built-in streaming features.
Twitch: Though best known as a platform for gamers, Twitch has a quickly growing creative community, with popular categories for both art and makers and crafting. Twitch audiences are accustomed to lengthy streams — as long as 3+ hours — and the site offers multiple ways to monetize your streams with support from viewers. These include tips, cheers, and subscriptions. This site holds a lot of promise for art streamers, and the competition on the platform is not yet as steep as it is on mainstays like YouTube and Facebook.
Picarto: Created exclusively for creative livestreaming, Picarto is a newcomer in the world of streaming platforms. It allows artists to create their own livestreams and follow and subscribe to other artists, although artists must sign up for paid accounts on the site if they wish to receive even half of the profits of subscriptions to their channels. Picarto is geared almost exclusively toward digital artists rather than traditional artists.
Setting up an art livestream
Like your platform, the best setup for your art stream will depend on your goals, the type of artwork you create, and your budget. A budget-friendly art streaming setup could include:
A couple of cameras
Rather than trying to set up one camera at an angle that captures both your face and your artwork, many art streamers like to create multicamera live videos. You can then use a picture-in-picture layout to show both your artistic process and your talking head. But don't go putting any fancy cameras in your Amazon cart just yet. If you have a couple of iOS devices and/or a webcam, you already have all the cameras you need. Of course, if you create digital art, you'll also need a way to cast your screen into your livestream. More on that in a moment.
A microphone
Art livestreams tend to be lengthy, so it's not uncommon for viewers to tune in to a video, put it in the background, and then listen in as they work on other stuff — bringing the video tab back to the forefront from time to time to check in on progress. This is especially true for Twitch viewers, who may tune in to art streams that last for hours. (True story: I'm listening to a pastels video as I write this — so calming!)
Because of this, the quality of your audio is important, and you may want to consider adding a simple microphone to your setup so that you're not relying solely on the built-in mic of your main iOS device. Even the microphone in a pair of EarPods or AirPods can improve your sound significantly.
Lighting
Much like clear audio, good lighting can make a huge difference in the quality of your video. You may want to introduce a lamp or dedicated iOS camera light into your space in order to better illuminate yourself or your artwork. This is especially important if you're streaming traditional artwork rather than digital artwork. In addition to making the artwork itself easier to see, added light will help viewers see texture and technique. If you're streaming crafts, it will also make your movements easier to follow.
Tripods and camera mounts
You may want to use tripods or camera mounts to perfectly position your iOS device cameras. Many art streamers, for instance, like to capture overhead angles to show their pieces as they come to life. Though you could easily rig up such an angle with duct tape and plastic pipes, you may prefer to invest in a phone stand with an adjustable arm, like this overhead stand for phones and tablets.
Art streaming software
Now you just need streaming software to take your artistic process from your canvas to the masses. For this, tons of artists rely on Switcher Studio, which lets you create and live-edit a polished multicamera livestream using iPhones and iPads.
Switcher integrates with nearly every streaming platform out there (except Instagram, which has a closed API), and its simple production tools let you switch angles and add logos, text, prerecorded video, and more to your livestream with just a few taps, eliminating the need for you to babysit your cameras. After all, you have your artwork to focus on.
A screencasting tool for digital artwork
If a stylus is more your style, you're going to need a way to screencast your computer or tablet screen into your livestream. This will let you capture and stream your hand lettering, illustration work, Photoshop prowess, or any other artwork that happens on-screen. Thankfully Switcher Studio lets you screenshare from your Mac, PC, or iOS device right into your livestream through a corresponding app called Switcher Cast.
Network strength
Because you're uploading video content to the internet, you'll need a decent internet connection. When you use Switcher Studio, your cameras also connect wirelessly over Wi-Fi. Generally you want at least 3 Mbps of upload speed for a smooth stream. You can check your upload speed on speedtest.net.
Tips for livestreaming your artwork
It's almost time for you to go full Bob Ross. But, first, here are a few best practices for creating engaging art streams.
Use picture-in-picture layouts: If you're streaming from multiple angles, show them simultaneously with multiview layouts. Many artists like to share their artwork in the main frame and their talking head in a smaller frame in one of the corners.
Engage with your viewers: Follow along with the comments in real time and respond to your viewers! You're trying to build community after all. They may have questions about your technique and where to buy your artwork or supplies, or they may just want to know how your week is going.
Become part of the community: If your commenters also stream their own artwork, be sure to check out their videos — and look for other creators who are streaming on the same platform as you. By supporting other artists, you become part of the community and extend your reach.
Promote your stream ahead of time: Schedule your streams in advance and share the links on your other social media platforms. In addition to sharing the stream URLs, you can share graphics with your upcoming art streaming schedule — what you'll be creating and when.
Brand your videos: Help your streams stand out and make them recognizable by including your logo and using a consistent color scheme and font family. You may even consider creating special video series to ensure viewers come back for more.
Use calls-to-action: Drive viewers to specific action by including CTAs throughout your streams. These could be in the form of text and graphics overlays and verbal prompts. Ask them to follow, subscribe, become patrons, or even hop over to your site to purchase a piece of their own.
Repurpose after the fact: Get the most out of your videos by reusing your footage on other platforms. You can download streams from Twitch and upload them on YouTube, for instance — or clip them into shareable snippets for Facebook.
Now grab your supplies and get to streaming! Start a free 14-day trial of Switcher Studio to create beautiful multicamera art streams, and be sure to use the hashtag #madewithswitcher so we can see your artwork!
Subscribe to the blog
Sign up to receive notifications whenever a new blog post is published. You may unsubscribe at any time.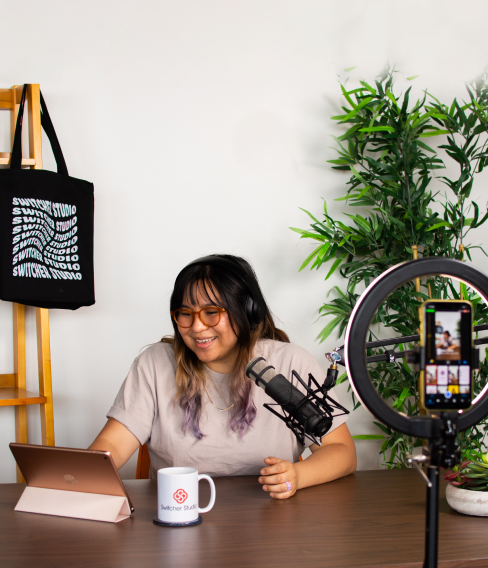 ---
About the Author
As Switcher's content strategy manager, Kate strives to answer the questions of new and expert livestreamers alike. She has spent her career in digital marketing and content strategy and now funnels that experience into helping others plan and create their own video content.