Releases, feature updates, and more — check out all the Switcher product news from Summer 2023.
Livestream with professional video cameras
We kicked off the year by announcing a game-changing collaboration with video production hardware company, Accsoon. Our integration with the AccSoon SeeMo device means you can now use an HDMI or SDI camera in a Switcher Studio production! That means it's finally possible to create mobile, multicamera livestreams using professional video cameras.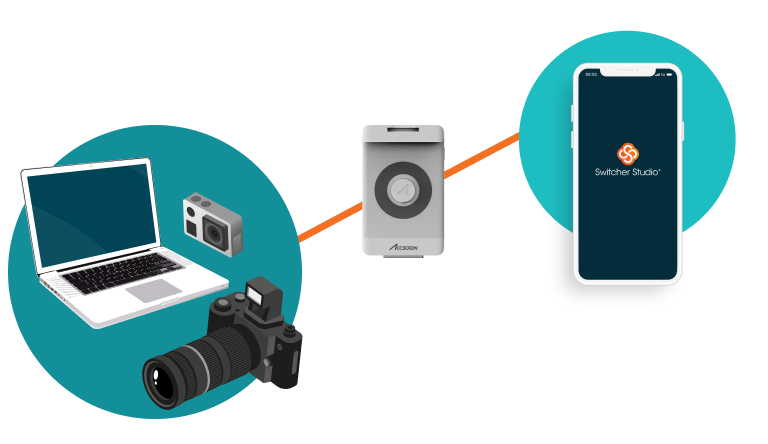 Simply plug your iPhone or iPad into SeeMo, then connect SeeMo to your HDMI camera. You can either connect SeeMo directly to your main Switcher device, or you can add a SeeMo and professional camera to any (or all) of your additional connected iOS devices. That means you could create a multicamera livestreaming setup with up to nine HDMI or SDI cameras.
This professional-quality multicamera functionality is the first of its kind on iOS devices and a huge leap forward for mobile filmmaking and broadcasting. You can also use the SeeMo to connect other sources with an HDMI output, making it simple to bring a console like the Nintendo Switch into your Switcher production. (Be sure to share your Switcher Studio and Accsoon SeeMo setups with us on social, #MadeWithSwitcher!)
Brand-new graphics in the app
Success in video content isn't possible without great creation tools. This year we've brought new graphics, animations, and scoreboard features to the Switcher Studio live video production app, giving users even more tools to make their videos stand out and engage viewers.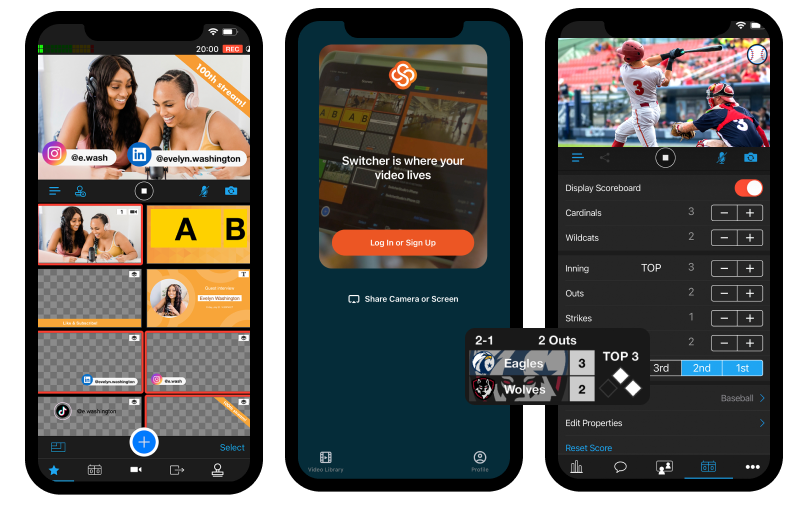 Check out our new titles, lower thirds, and platform overlays. For sports users, a new integrated timer for scoreboards can count up or down, and be adjusted on the fly.
Unlimited embeddable Switcher Players
Last year, we introduced our embeddable website video hosting solution: the Switcher Player. Since then, we've been hard at work refining and adding features and functionality to make Switcher a one-stop shop for online video.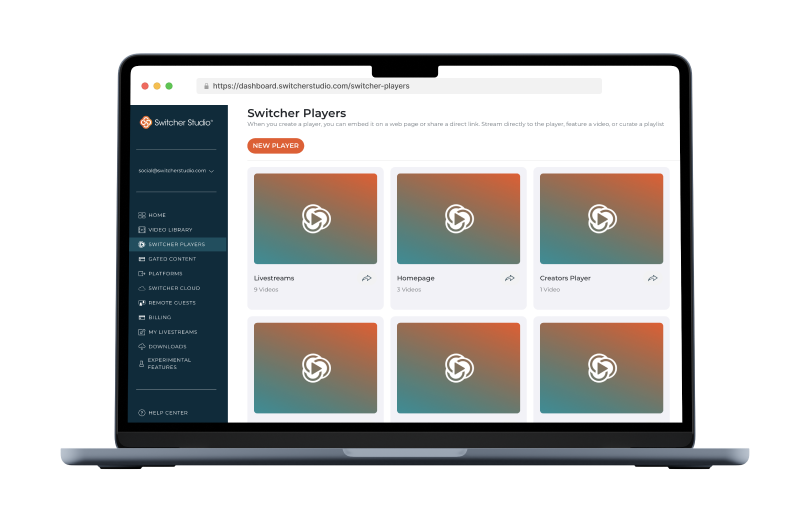 Our users loved how easy it was to embed the Switcher Player on any webpage, and the flexibility of being able to upload videos or livestream directly to their site. But, pretty quickly we saw that just one video player was not enough for you!
That's why we announced that Switcher subscribers can now create as many players as they like, each with unique content and playlists. Embed videos across your site, increasing website traffic and boosting engagement. No matter what kind of videos you're creating, it's even easier to organize and share your content with your followers.
Sell videos with Gated Content
We're simplifying the business of video: In May we introduced Gated Content for Switcher Player. By enabling Gated Content, creators can make their videos pay-to-view by charging a one-time fee for access to video content. Your gated video content can be live or recorded, just one video or an entire playlist.
Sell online admission to livestreamed sporting events, tickets to virtual concerts and shows, a playlist of e-learning content, and so much more. Already, early-adopting Switcher users have made over $12,000 by gating their Switcher Player content.
Earn recurring revenue with Subscriptions
In August, we expanded Switcher Studio's video monetization tools with Subscriptions, letting you charge recurring payments for access to your Gated Content. Get ready to turn your website into your content (and commerce) channel, by embedding exclusive, subscribers-only videos on your website.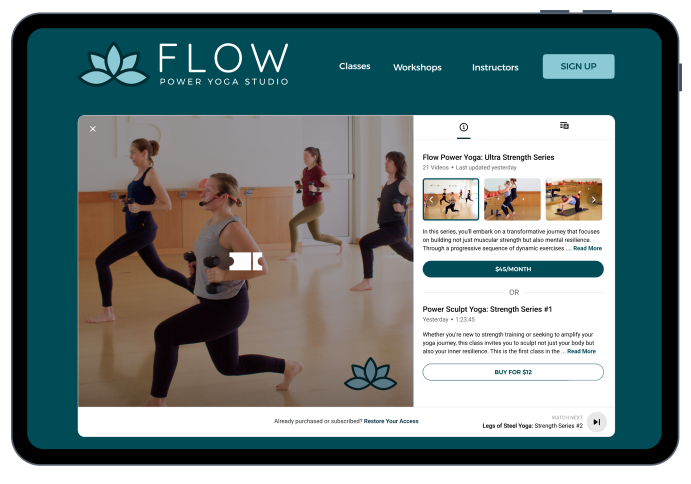 With Subscriptions, your fanbase supports your videos directly so you can focus on content creation. Whether you're offering access to bonus episodes of your podcast, a season pass for your school's sports games, or an online gym membership with guided workouts — video subscriptions turn your website content into consistent cash flow.
You work hard to make your content, and enabling subscriptions makes your content work for you. What kind of subscription are you going to offer? We can't wait to see!
Until next time 👋
That was a lot to recap for Summer Switchback 2023. Make sure to follow us on social and join our mailing list for the latest Switcher Studio news. Thanks for reading, and we'll see you next time!
Subscribe to the blog
Sign up to receive notifications whenever a new blog post is published. You may unsubscribe at any time.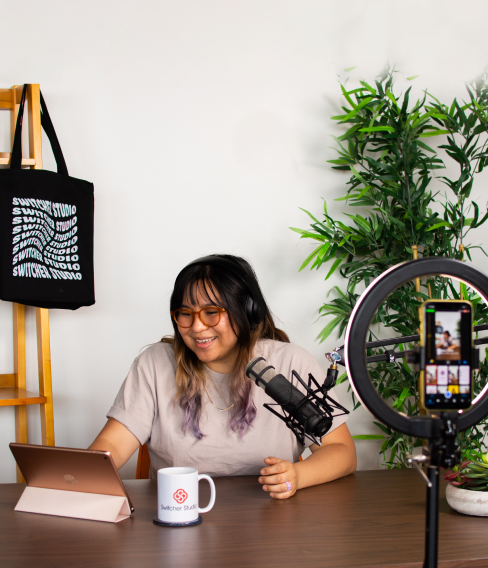 ---
About the Author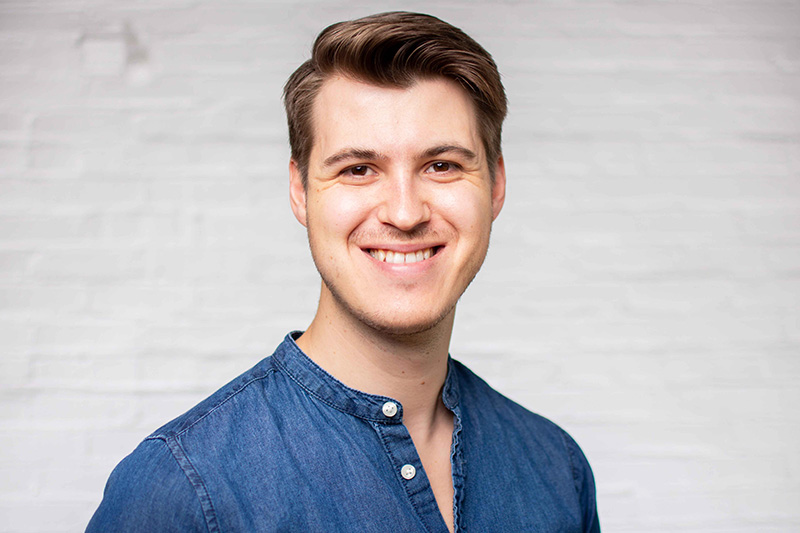 Dan is an Emmy Award-winning video producer who's worked in journalism, TV news, commercial production, and brand marketing. Dan sees nearly limitless potential in Switcher Studio's video tools and is excited to share his experience, expertise, and (sometimes "out there") ideas.