Create marketing your audience will notice
In a world where marketing is everywhere, stand out by taking a fresh approach. Video is one of the most engaging content types you can produce. With video, you can showcase your products, services, and brand in action. Switcher Studio helps marketers create amazing videos with no prior editing experience and no expensive gear, so you can focus on telling your story.
Polished content with no post-production
Creating marketing materials from start to finish can be time-consuming. From briefs and drafts to edits and approvals, well, you'll be 100 before that project is over. Not so with Switcher Studio! Switcher lets you edit videos in real time. Whether recording or streaming, you can create engaging, on-brand marketing content with no post-production turnaround time. Publish branded video on your website and social media, repurpose it for emails, and more.
By letting you connect up to 9 iPhones and iPads, Switcher gives you all the value of a multicam production without the expense and hassle of buying giant cameras and hardware switchers. Plus, you can easily bring in text, graphics, prerecorded footage, and even guests — all with simple taps in the Switcher app. And thanks to the familiar iOS interface, you don't need any video chops to become a pro editor.
With Switcher, you can create evergreen branded video content, save and clip your videos to post on different platforms, or export videos to transform them into other content types.
And if you want to level up your livestream game, Switcher makes it easy. Stream directly to Facebook, YouTube, LinkedIn, Microsoft Stream, Twitch, and more. Plus, engage your audience with polls, on-screen comments — even invite others to join live.
Bypass the algorithm by streaming directly to a white-label video player on your website. Embed prerecorded videos and curate content playlists.
NEW! USE PROFESSIONAL CAMERAS
Want to use a mirrorless camera, DSLR, cinema camera, or GoPro in your Switcher productions? Our direct integration with Accsoon SeeMo makes it easy.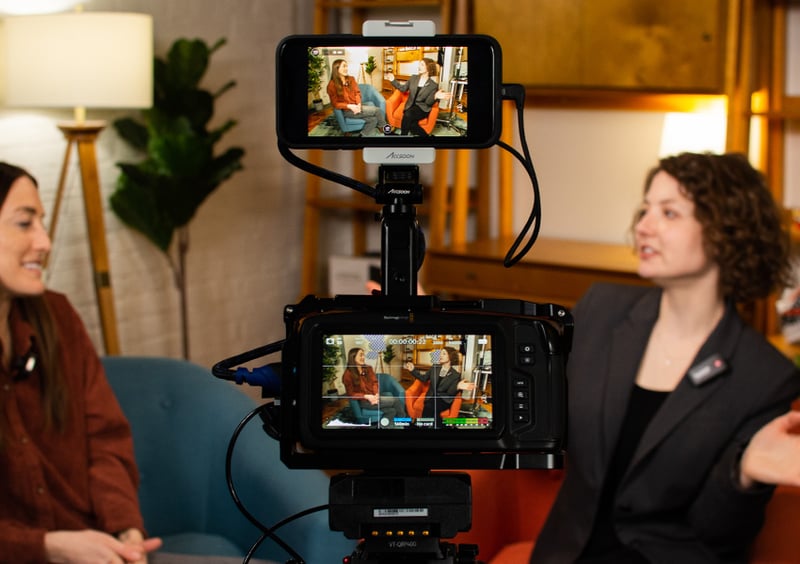 Made with Switcher
Check out what our users are creating with Switcher Studio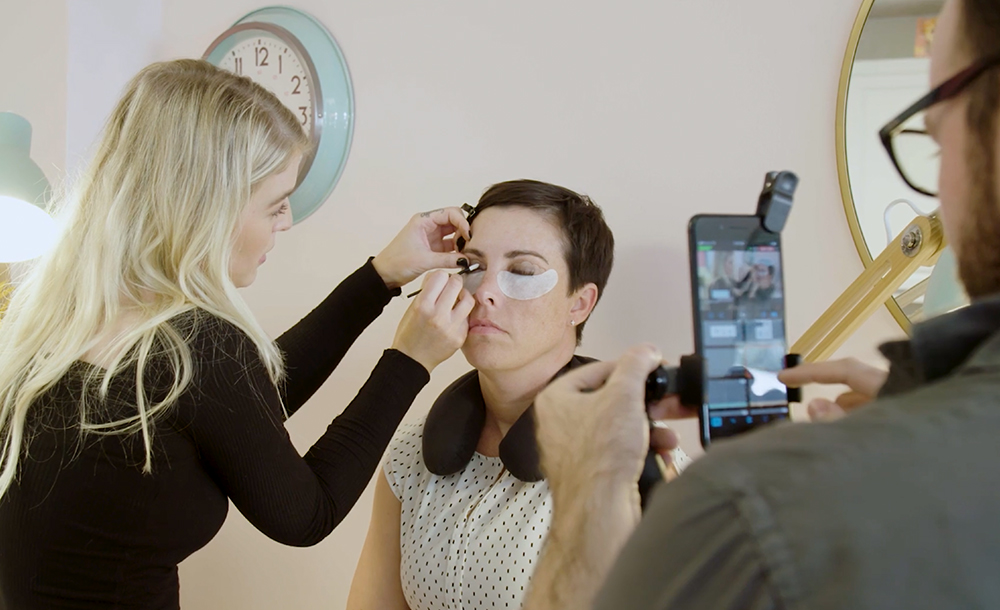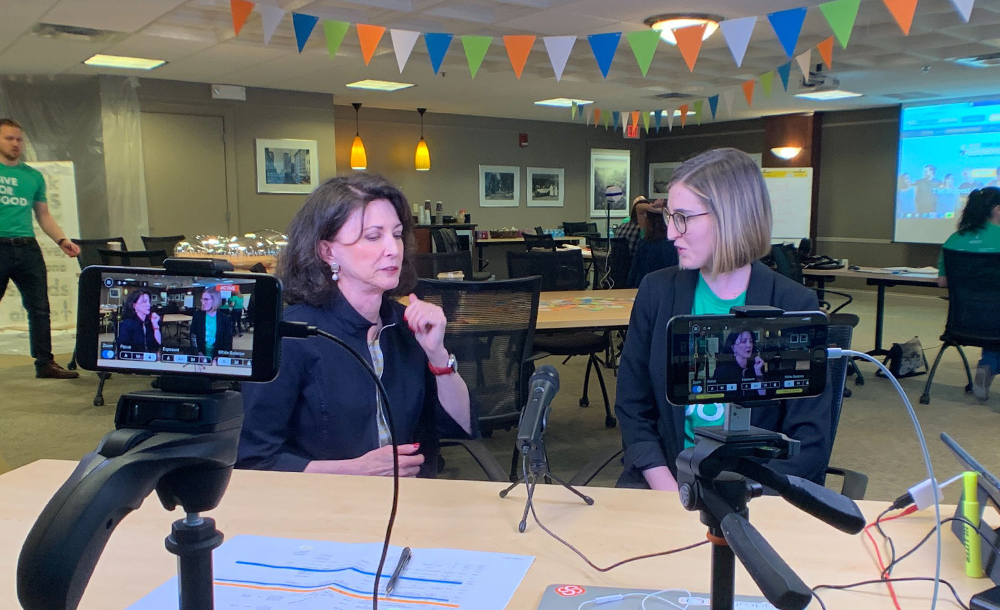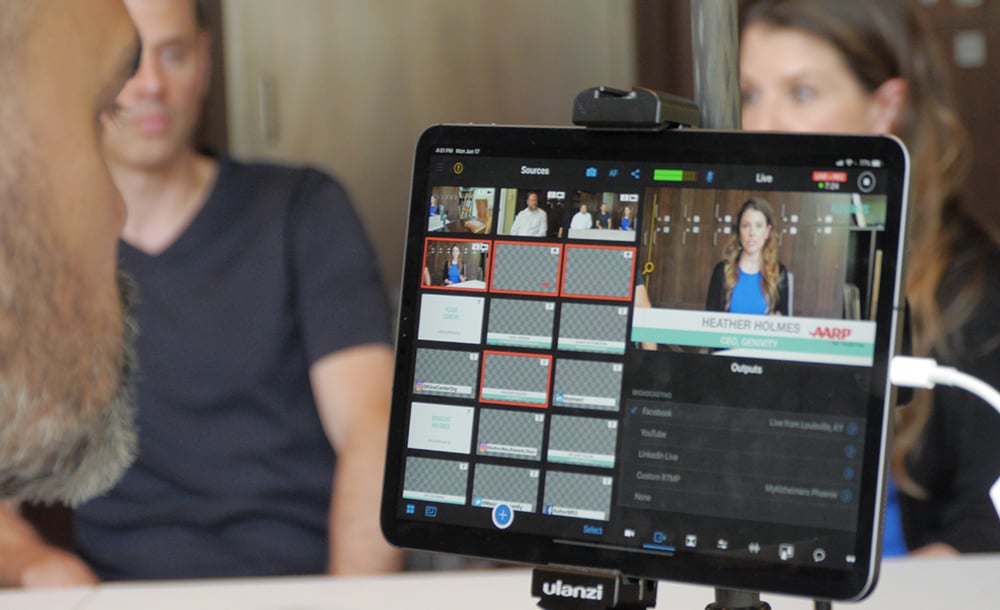 Stunning video can be simple
Switcher lets you easily create branded, pro-quality videos and livestreams for your marketing efforts. Here's why marketers love Switcher:
Record and stream on iPhones and iPads
Don't blow your marketing budget on giant cameras and the contractors who can use them. Switcher uses the iOS device cameras that you're already familiar with, letting you connect up to 9 for a multicamera production.
Brand your videos with logos, graphics, and videos
Add text, graphics, and prerecorded footage into your videos in real time. (Think openers, commercials, or credits.) Use these Switcher features to edit videos as you record. No more dealing with multiple video files or worrying about adding transitions, graphics, or b-roll in post — once you're done shooting, you're done editing.
Record and reuse
Save and export your video in HD, and you've got yourself some evergreen video marketing content. Upload it to your website or repurpose it for your other channels.
Grow your following
Add context and cred by inserting titles, lower thirds, CTAs, and social handles, inviting your audience to follow your brand. You can even customize text elements with your brand fonts and colors.
Choose where to share your videos
Meet your audience where they are by easily uploading your recordings to any platform. Prefer to stream? Switcher integrates directly with Facebook, YouTube, LinkedIn, Twitch, and Microsoft Stream.
Invite Remote Guests to join your stream
Bring panelists, co-hosts, experts, interviewees, or celebrity guests onto your stream from anywhere in the world. They can join from nearly any device with a browser and a camera. Or use your Remote Guest slots as camera sources for completely remote video production.
Share your computer or phone screen
Bring in a website, demo, or deck by screensharing from your Mac, PC, or iOS device right into your stream. Show your audience how they can make purchases, navigate your site, and use your products.
Hear L'Oréal's Switcher Story
Having an eye toward the future has meant realizing recruitment marketing is changing. So L'Oréal is changing with it, using Facebook Live videos as a new recruitment method, creating and polishing those videos with Switcher Studio — and gaining reach like never before.
View Full Case Study
Switcher Shoutouts
Over the last 6 months, we have used Switcher Studio to work with organizations to bring their fundraising events online. Events don't all need to be canceled. They just need a different approach. In the last 6 months alone, we have helped organizations make their events virtual and raise over $250,000 for their charities.

BERNIE MARTIN, Marketing Strategist, All Day Breakfast - A Creative Agency
Switcher understands that not everyone is super techy. They have a kind of foolproof guide for anything you want to do, and they'll even do one-on-one conversations with you before an event. They are just super supportive, helpful, and friendly.

MICHAEL LAKE, Recruitment Manager for Global Campus Activation at L'Oréal
Our company does a weekly live show which reaches out to 600,000 on Facebook every week. We could take shots from around the full showroom and still have the main switching device in our studio. We also ran a competition for 50% off all canvases and took over £65,000 in sales in 5 hours.

ROBERT HAMILTON, Founder at Big Spark Creative
Best compliment from a client to date:"You made a believer out of me." I said, "No, Switcher made a believer out of you." Side note: He [had] just signed me on to do a real estate project with him. I'm responsible for all of his social media. Two weeks later and over 5.6k views on our page and climbing.

ED GARDENER