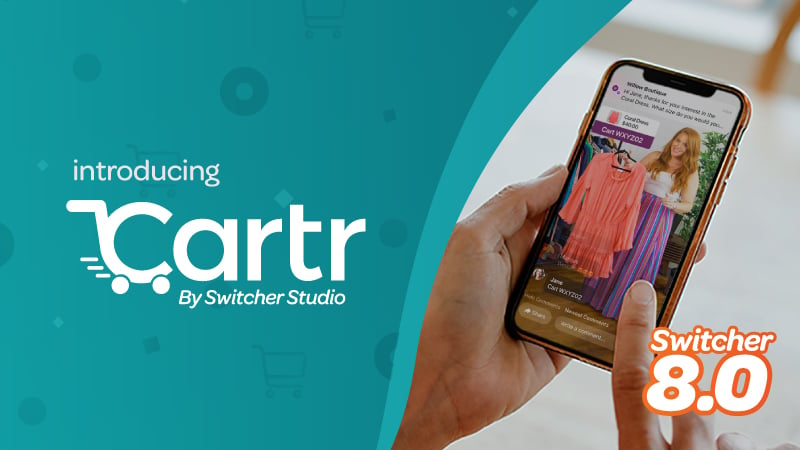 Today we're releasing Switcher Studio 8.0 and announcing our brand new Shopify app, Cartr! From integrating your Shopify products into Switcher Studio to letting shoppers add items to their carts with a comment, Switcher Studio is making live selling on Facebook more streamlined than ever! We have a few exciting features we're rolling out, so let's dive into Switcher 8.0 and see what's new.
Integrate your Shopify store
With Switcher Studio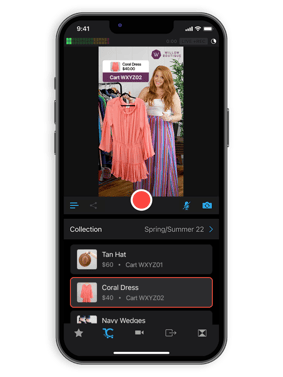 Switcher Studio's new Shopify app, Cartr, creates a direct integration between Switcher and Shopify, combining one of the largest e-commerce platforms in the world with the best live video production app! This Shopify integration makes Switcher's powerful live selling tools accessible to Shopify merchants — letting them sell live on Facebook like never before.
Cartr pairs with the Switcher Studio app, giving Shopify merchants the ability to easily add their collections to Switcher and make their products available for purchase on Facebook Live.
Feature Shopify collections from the Switcher app
Now, Shopify merchants who add Cartr as a Shopify sales channel can easily import their product collections into Switcher Studio and feature their products on Facebook Live. Importing your Shopify collections into Switcher is easy!
Just go to the Shopify app store and add the Cartr app to your existing Shopify store. Then, connect your Switcher Studio account with Shopify. Once your account is connected, click Choose Collections to select and manage which collections you bring into Switcher. 😎
And, unlike other live selling apps, Cartr doesn't require you to create and manage your inventory in multiple systems! Shopify merchants can easily update and manage their product inventory directly within Shopify and access their product collections in Switcher.
To learn more about our Shopify integration, check out our Help Center article on how to get started with Shopify and Switcher.
Let viewers speed up the checkout process with Cartr
Not only can you bring your Shopify collections into Switcher and feature them on Facebook Live, but you can also let your viewers cart items by commenting on your Facebook Live shopping streams!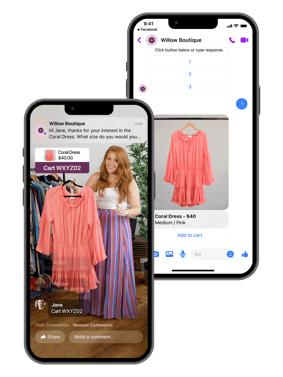 Cartr allows viewers to add featured products from your livestreams to their carts by commenting the keyword "cart" followed by the unique product ID associated with the item (e.g., cart 100). Once a viewer leaves this comment, Cartr will send them an automated DM on Facebook Messenger asking them to finalize their order details, like quantity, color, and size.
After the order details are selected, the viewer is then directed to your website to complete the purchase — creating a smooth and speedy checkout process for your customers that doesn't require them to register or create a new account! 🥳
Shopify merchants, are you ready to test out the Switcher + Shopify integration?! Learn more about how to get started with Switcher and Shopify.
If you're ready to try Cartr:
Install Cartr on your Shopify store.

Create your Switcher Studio account

, or sign in if you're a current Switcher user.

Download the Switcher Studio app

on your iPhone or iPad.
What else is new?
In Switcher 8.0, we also added:
Speech-to-text captions for clips: Automatically generate captions for recorded clips using speech recognition via Siri.
4K Director Mode: Users with iOS 15 can once again record in 4K resolution when using Director Mode.
Safe area guidelines: Identify safe areas for select assets that ensure graphics are always visible to viewers.
RTMP Reconnect (experimental):

More easily recover livestreams after temporary disruptions like Wi-Fi drops.