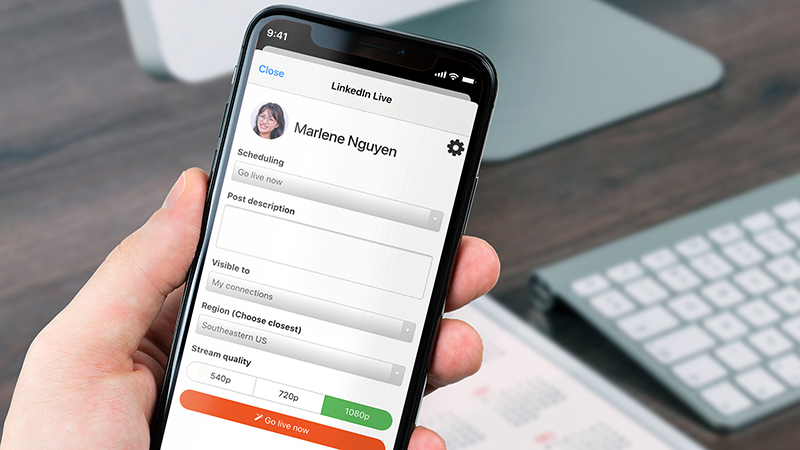 It's no secret that LinkedIn is the top social media platform for businesses and professionals. Whether you're networking, posting a job listing, promoting products, reading industry-related news, searching for a new job, or simply sharing your favorite TGIF meme, LinkedIn offers plenty of benefits for both companies and individuals.
One of LinkedIn's newer features, LinkedIn Live, is already making the platform even more valuable. According to LinkedIn, LinkedIn Live videos get seven times more reactions and 24 times more comments than native videos — making it easy to see why more LinkedIn users are starting to livestream on LinkedIn Live.
What is LinkedIn Live?
In February of 2019, LinkedIn launched the beta version of LinkedIn Live, allowing approved businesses, marketers, and other professionals to livestream. The keyword there is approved. LinkedIn doesn't let just anyone or any organization livestream; members and business pages must first apply and be accepted before they can broadcast live. According to LinkedIn, applications are reviewed, and approvals are then prioritized based on certain criteria, like:
Total number of videos and historical analysis of content creation
Audience reach and engagement rate
Personal account or business page has good reputation
Two-Factor Authentication enablement
If individuals or organizations meet the preferred criteria and are approved, LinkedIn will send out an email and in-app notification to confirm your acceptance. Will you get approved to be a broadcaster on LinkedIn Live? It's difficult to say for sure, but it's certainly worth applying for.
What live video content can you stream on LinkedIn Live?
LinkedIn Live is the perfect place for livestreaming content for businesses and professionals of all industries. If you do get approved for LinkedIn Live, you can livestream many different types of content, depending on your brand, audience, and goals.
Live Q&A sessions
Perfect for creating engagement, Q&A sessions give you the opportunity to answer your audience's questions in real time. Answering questions during livestreams is a great way to show your brand personality as well your authenticity.
Product announcements and demos
Whether you're launching a brand new service, giving a tutorial on how to use your product, or hyping up new features, product-related livestreams showcase your offerings and can entice individuals to join in to see the exciting news.
Conferences and trade shows
Livestreaming is a great way to position your brand as a thought leader in your industry. Streaming keynote speakers or presentations or even going live from your virtual or physical trade show booth can provide great value to your live viewers.
Guest interviews
Interviewing colleagues, special guests, and subject matter experts is a great way to educate and entertain viewers through relevant, industry-related topics. Plus, inviting guests onto your livestreams can help expand your reach, especially if your guest can help promote the livestream to their own social pages.
Company culture
Showcase why your company is a great place to work, and give viewers a glimpse of a day in the life at your office, studio, or virtual work environment. This can not only give your audience a positive view of your company but also help you attract potential future employees.
Why should you go live on LinkedIn Live?
No matter what industry you're in, LinkedIn livestreaming can help you reach your goals and give your brand a boost.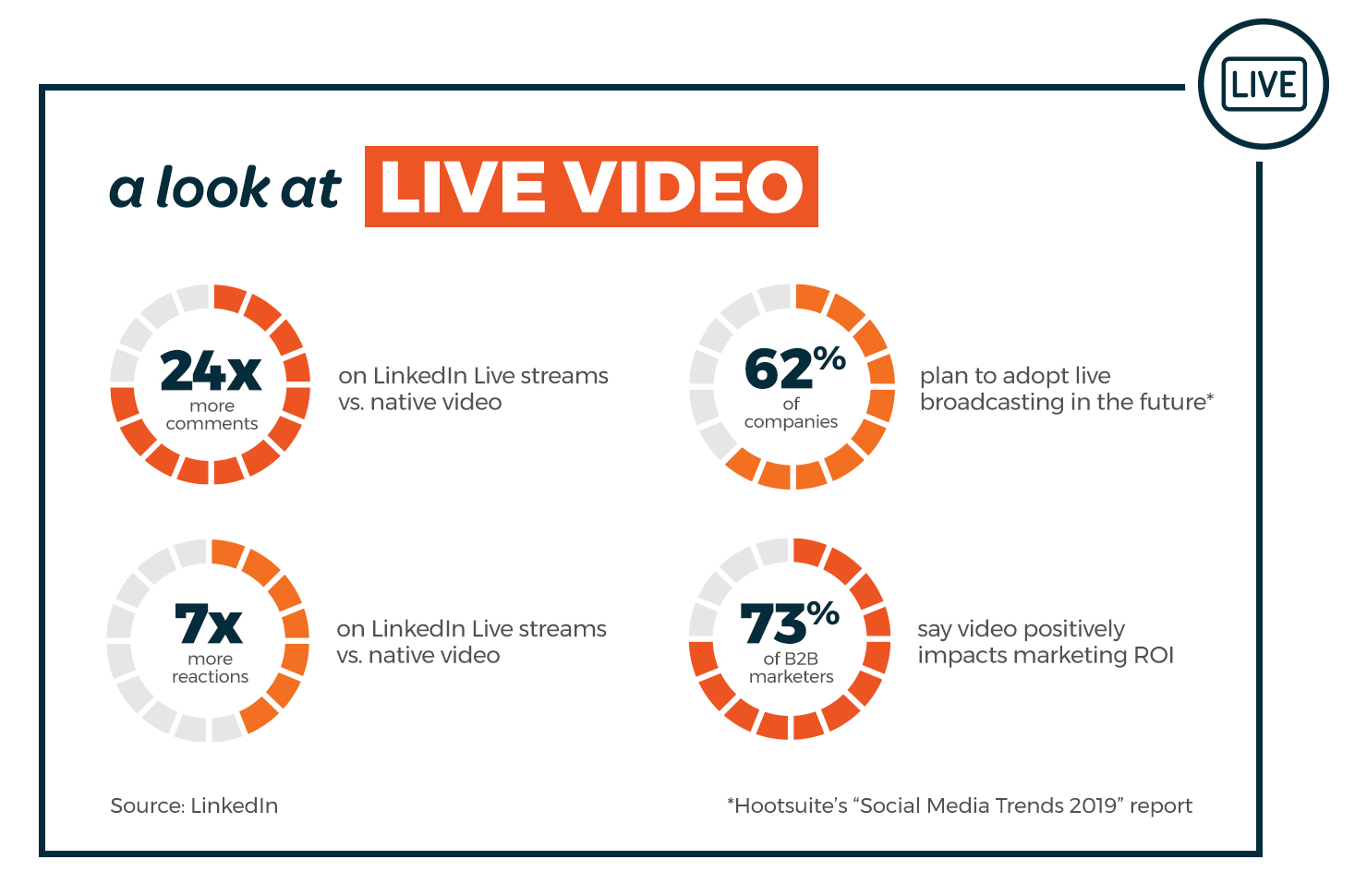 Selling more products
Isn't this the goal that everyone is always trying to reach? There are several ways you can use LinkedIn Live to sell more of your products or services, including by demonstrating the benefits of your products or services, showcasing your brand personality, establishing yourself or your company as a thought leader, and more.
Increasing reach and engagement
Livestreaming video content is a great way not only for more consumers to get to know your brand but also for them to engage with your brand. Likes, shares, and comments help show that the content you're creating is valuable to your audience.
Building brand loyalty
By producing valuable livestreaming content, you can increase the positive associations consumers have with your brand, which can ultimately make them more likely to engage with your livestreams and even purchase your products or services over your competitors'.
Attracting top talent
Highlighting your company values and culture through livestreams can show that your business is an attractive place to work and entice potential candidates to join your team.
How to go live on LinkedIn Live
If you've been approved for LinkedIn Live, you're almost ready to start livestreaming! In order to livestream on LinkedIn, you'll have to choose a third-party livestreaming platform. Luckily, Switcher Studio is one of the select few LinkedIn Live Preferred Partners!
The benefits of using Switcher to livestream on LinkedIn Live
Switcher Studio lets you create polished and professional livestreams. With Switcher, you can:
Livestream from anywhere
Stream directly from your iPhone or iPad no matter where you are — your home, office, studio, shop, trade show booth, conference, etc. Switcher lets you maximize mobility, so you don't have to worry about carrying around heavy cameras and gear every time you want to livestream.
Stream live video from 9 camera angles
Sync up to 9 iOS devices to show different perspectives of the action during your livestreams. Using multiple camera angles is perfect for demonstrating how your product works or even giving a guided tour of your office space or facilities. Picture-in-picture layouts also let you show multiple camera angles at once.
Auto-switch camera angles
With auto-switching, you can set specific durations for how long you want camera angles to show before switching to the next angle. This hands-free feature is perfect for those who are typically using their hands during their livestreams.
Brand your broadcasts
Give your live broadcasts a professional look by easily adding in media assets like logos, graphics, prerecorded video, images, and more. You can set graphics to be full-screen or choose from one of eight alignment options to ensure your graphic is placed exactly where you want it.
Edit text in real time
Overlay and edit text, titles, lower thirds, and CTAs in real time — giving your livestreams a polished look that provides more context on products, guests, and more for your viewers.
Invite remote guests
Invite guests from around the world to join your livestreams. Bring in a colleague to discuss your newest software release, interview a thought leader to forecast upcoming marketing trends, have your co-host join you to chat about the latest in the health and fitness industry, and more. Guests can join your livestream using any smartphone, tablet, or computer with a camera.
Schedule live video
As a preferred LinkedIn partner, Switcher is one of only a handful of livestreaming platforms that offers a scheduling feature that allows you to preschedule your livestreams. Prescheduling also lets you promote the link to your livestreams in advance.
Using Switcher to livestream on LinkedIn Live
Before you can livestream on LinkedIn Live using Switcher, you'll need to make sure your Switcher and LinkedIn accounts are connected. You can stream from a personal profile or your organization page depending on which you prefer.
To set up a livestream on LinkedIn Live using Switcher
Open Switcher Studio on your iOS device and navigate to the Outputs tab.
Tap LinkedIn Live.
Select when you want your livestream to start.
Add a description for your livestream, select your audience, and your region. (We recommend choosing the region closest to you.)
Choose your stream quality based on the strength of your Wi-Fi. (Remember that streaming in HD requires a very strong internet connection.)
Tap the orange Go live now button. (If you scheduled your livestream, please note the orange button will say Schedule for later.)
LinkedIn Live outlook
Although still relatively new, LinkedIn Live is already helping businesses and individuals reach their goals by creating authentic and engaging livestreaming video.
If you're interested in livestreaming to LinkedIn Live, remember that the first step is applying. If approved, you'll then need to choose a third-party livestreaming platform. As a Preferred Partner of LinkedIn Live with direct LinkedIn integration, Switcher offers an easy-to-use and mobile-friendly solution that can help you take your LinkedIn Live streams to the next level.
Related Posts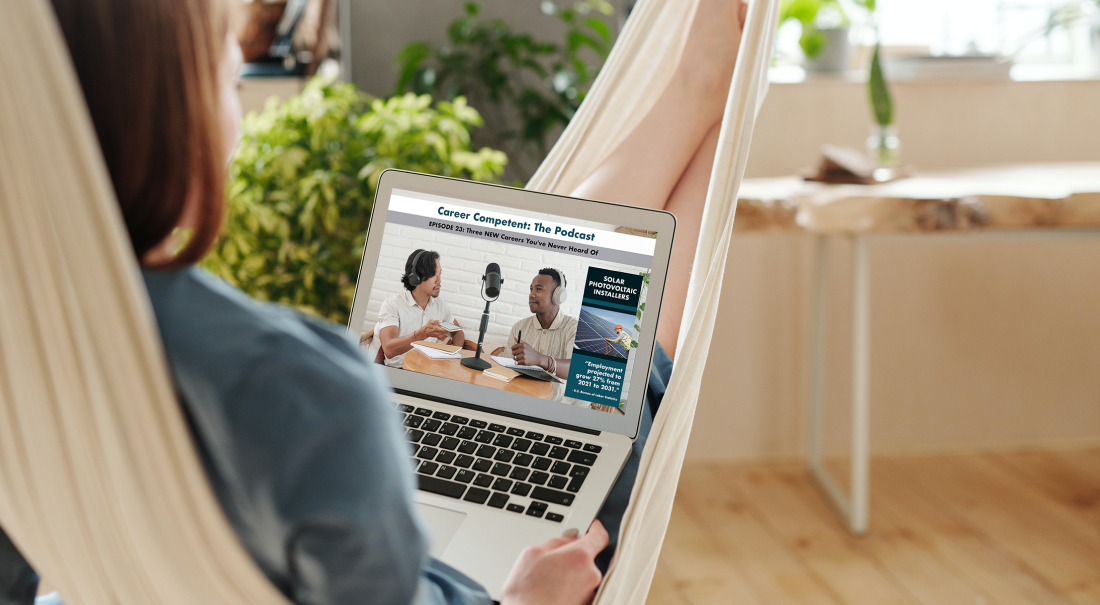 September 14, 2023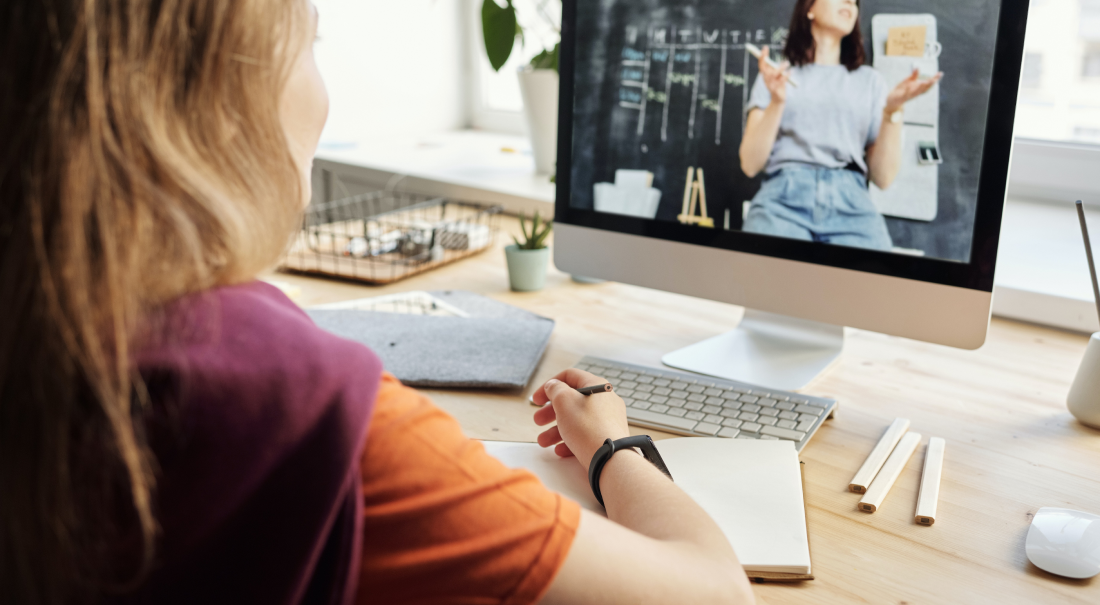 September 12, 2023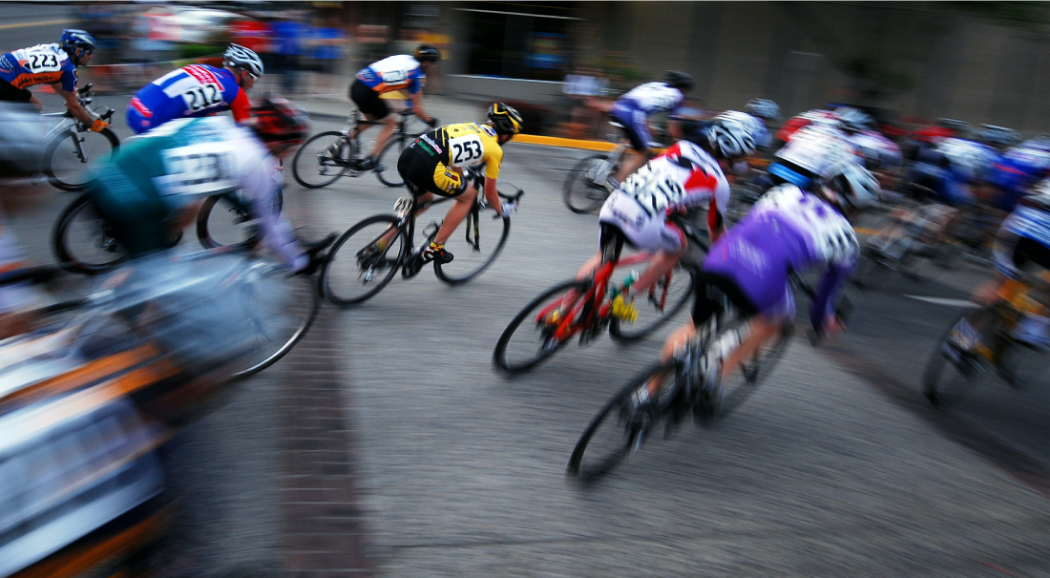 September 7, 2023