Game-changing streaming software for YouTube Live
Create professional YouTube streams with Switcher Studio. Switcher lets you connect up to 9 iPhones or iPads for multicam YouTube Live streaming — think gear reviews, beauty tutorials, video podcast interviews, cooking shows, or whatever you dream up! Stream your videos straight to YouTube, no follower count required.
Why Stream on YouTube?
YouTube is the second-biggest site in the world, helping you reach new audiences with your streams.
YouTube gives you lots of control over your streams: share them publicly, make them private, or embed them on your own website.
YouTube streams are evergreen — engage in real time while streaming and watch the views roll in after the fact.
And thanks to Switcher Studio, streaming to YouTube Live has never been easier. Switcher turns your iOS devices into a professional livestreaming encoder, and using Switcher's direct YouTube integration, you can go live to YouTube with just a single tap on your phone.
You get robust YouTube Live streaming software and the power of a broadcast production studio without the expense and hassle of giant cameras and hardware. No wonder musicians, creators, business owners, and YouTubers of all stripes rely on Switcher to stream their YouTube shows.
Made with Switcher
Check out what our YouTube users are creating with Switcher Studio.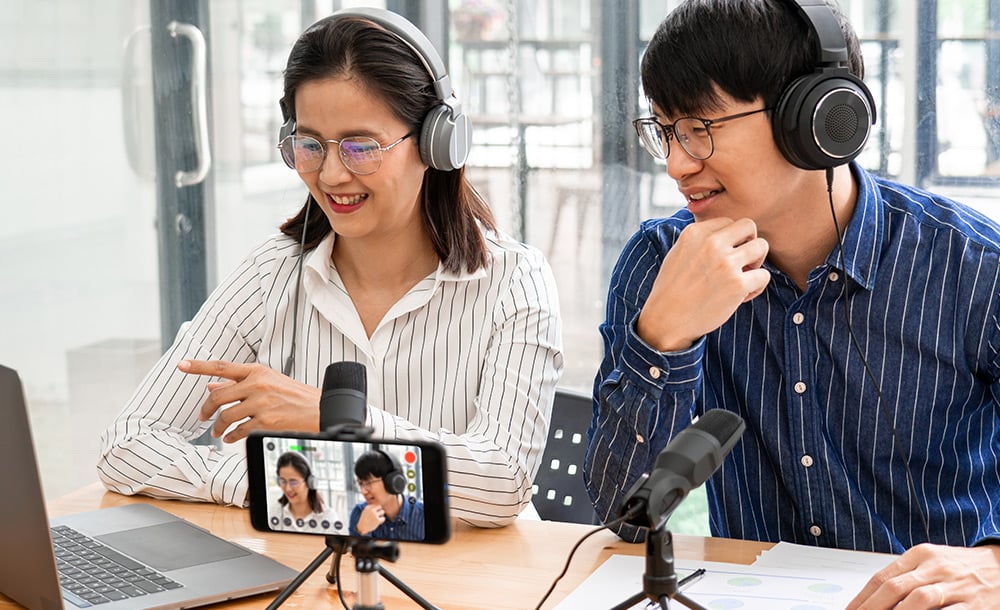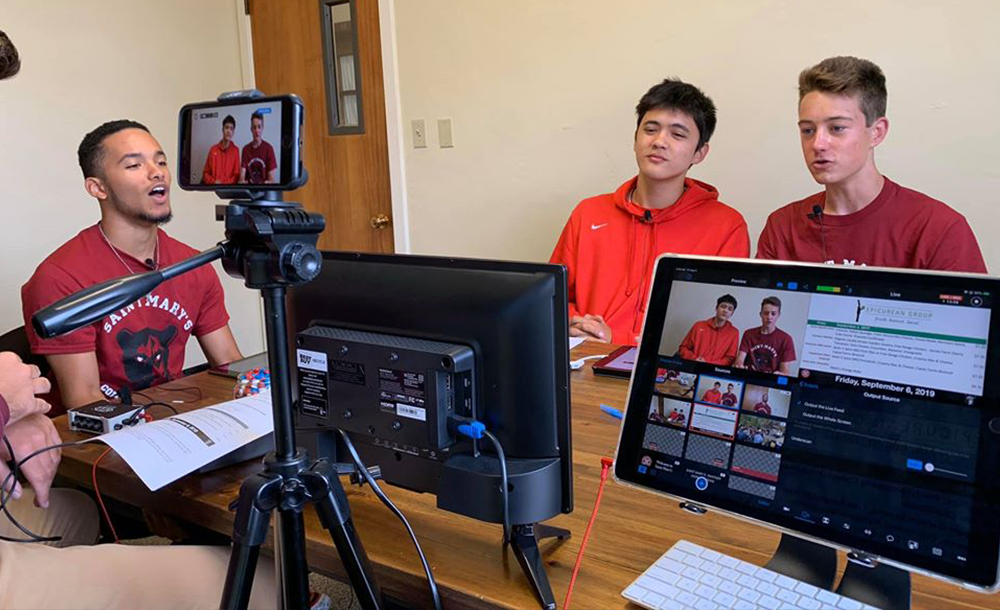 Go live on YouTube from your phone
Here are just a few of the features that make Switcher the best livestreaming software for iPhones and iPads:
Capture every angle with multicam streaming
Easily link up to 9 iOS device cameras to capture every angle. Switch angles in your stream with a single tap or show multiple at once with Switcher's myriad multiview layouts.
Invite remote guests or co-hosts to join from anywhere
Collaborate with other YouTubers or invite guest co-hosts, experts, or callers onto your stream. They can join from any device with a browser and a webcam — and don't even need a Switcher account.
Polish your video with graphic and text overlays
Create a professional-looking livestream by adding your logo, custom graphics, text and title overlays, or lower thirds. These give your viewers context and help brand your streams.
Roll in an opener or prerecorded video
Open your shows with a prerecorded intro, insert a previously filmed timelapse, or roll in an earlier interview. You can easily upload prerecorded videos into your Switcher production and stream them with a tap.
Share your Mac, PC, or iOS screen in real time
Whether you want to stream a tutorial, live gaming, or a website or app, Switcher lets you screencast your Mac, PC, or iOS screen right into your livestream! Even your remote guests can share their screens.
Monetize your livestream with donation overlays
Make money livestreaming by highlighting sponsors, adding donation overlays (Patreon, PayPal, Cash app, and more!), or displaying CTAs throughout your streams.
Repurpose your streams for other platforms
After your stream, export your footage in HD to repurpose it for other platforms and grow your following.
Switcher Shoutouts
"Switcher saves us the cost of hiring outside teams to produce graphics. ...We can use Switcher ourselves — it's intuitive."

JACKIE STROUSE, Senior Manager of Social Media at Golf Channel
"By using Switcher, employees are able to focus on other projects. One or two people can manage a Switcher Studio shoot versus a full 5- to 10-person team."

SARAH KELSEY, Senior Manager of Smart Living
"We can create quality content with Switcher that's on par with content people are making with these several-thousand-dollar setups, and the phones are getting better and better, which means Switcher can just keep getting better and better."

ALEXANDER SOSA, Associate Pastor and Worship Leader at Life Church
Grow Your YouTube Channel
What is content optimization? How do you use YouTube Studio? We sat down with Dale Gaughan, manager of multi-platform insights and analytics at ViacomCBS, to discuss how to create effective YouTube content, how to understand Youtube analytics, and how to grow your YouTube channel.
WATCH THE LIVESTREAM