Widely considered one of the top journalism schools in the country, Arizona State University's Walter Cronkite School of Journalism takes a "teaching hospital" approach within its newsroom. This means experimenting with the latest tools — going beyond what even many commercial newsrooms have tried — to find transformational technologies that help reporters find, cover, and disseminate the latest news.
In a recent blog post on the school's Knight-Cronkite News Lab website, professor Frank Mungeam detailed a few of the tools they've embraced, among them:
CrowdTangle, a social-listening tool for discovering what's performing well
Tagboard, a social curation tool for turning posts into visual narratives
iOgrapher gear, equipment for mobile reporting from smartphones
ClickUp, a platform used to track story pitches and development
Groundsource, a text-message platform used to solicit audience input
And, of course, Switcher Studio, a live-video editing tool for iOS devices
A mobile platform, Switcher Studio lets broadcasters report live from anywhere, sans the typical production booths. It lets users sync up to nine iPhones or iPads for multicamera shooting, and roll in text, graphics, B-roll, and more — all in real time. Using these tools, reporters can create a fully produced news segment in the field while also streaming it live. And, using the Video Chat feature, they can bring an on-site correspondent into their livestream or video from anywhere in the world.
As Brett Kurland, director of sports programs at Cronkite News, said in the blog post, "'Switcher Studio enables us to step out of our studio and produce a full show remotely, from anywhere, and all we need are a couple of iOS devices, a tripod and microphones.'"
The journalists at Cronkite School aren't the only ones using Switcher to untether themselves from the production booth and bulky cameras. More and more broadcasters are using it to expand their coverage: Golf Channel, for instance, is using Switcher to livestream golf tournaments, and Corus is using Switcher to livestream their radio shows.
Media organizations are embracing the tool not only because Switcher productions take fewer hands, thereby expanding the bandwidth of small teams, but also because Switcher solves a problem inherent to mobile journalism. Historically, what mobile journalism offered in immediacy, it lacked in production value. But with Switcher, that's no longer true. Mobile journalists can now achieve the polish of a studio production from anywhere — and they can stream it live.
Subscribe to the blog
Sign up to receive notifications whenever a new blog post is published. You may unsubscribe at any time.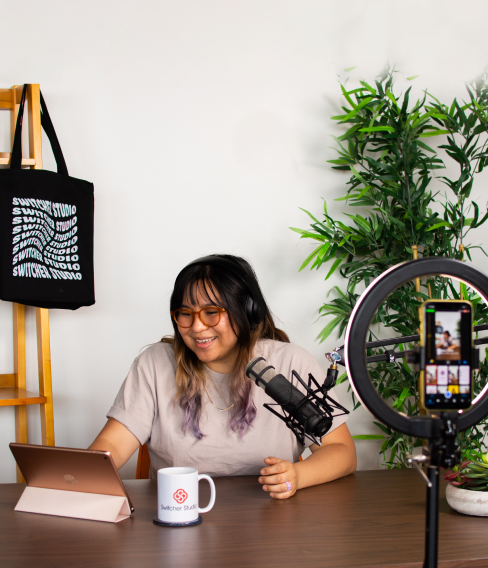 ---
About the Author
As Switcher's content strategy manager, Kate strives to answer the questions of new and expert livestreamers alike. She has spent her career in digital marketing and content strategy and now funnels that experience into helping others plan and create their own video content.