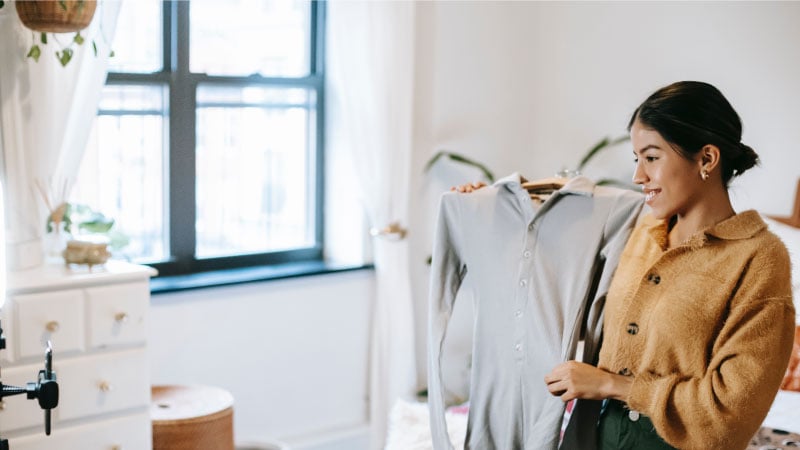 There are so many things to think about when you're getting started with livestream selling. Depending on your role (or personality type) you might be thinking either "Who is going to host this?" or possibly "How am I going to host this?" 😰
Whether you're finding a key opinion leader to host your stream or trying your hand at being a livestream shopping host, it's helpful to see how it's done — when it's done well. We've compiled four brand X livestream host collaborations to learn from, with plenty of suggestions for knocking your shoppable livestreamed event out of the park.
Taobao Live X Viya Huang
Any list of livestream shopping hosts must include Viya Huang. Viya is arguably China's most prolific and successful livestream shopping host. Her daily livestreams are watched by a mind-boggling number of fans: One article noted that Viya "can draw more viewers – 37 million this May (2020) — than the finales of Game of Thrones, Breaking Bad, and the latest season of The Bachelor, combined."
Viya streams on Taobao Live — a C2C shoppable livestream app from Alibaba Group. From beauty products to rocket launches, Viya sells a huge range of items and drives millions of sales. So what can you learn about being a successful livestream host from Viya Huang?
🤝 Be on the shoppers' team
Viya isn't selling her own products; she earns her salary through commissions. So although she has an incentive to drive sales, she has even more incentive to build trust with her fans. Her team hand-selects and tests products before she promotes them and Viya acts as an advocate for her viewers by responding to comments (and even complaints) in real time.
Cultivate a mindset of being on the same team as your audience. Of course, you want to believe in the product you're selling, but even small things can break down trust, like ignoring questions, negative reviews, or viewer feedback.

(Image source: YouTube)
💁 Be informative (but not salesy)
As Viya told reporters in 2019, she positions herself as someone who helps the customer make a decision. It's not about convincing the audience to buy, it's about informing the audience about the product. Always share the who, what, where, when, and why of a product to give shoppers the chance to virtually try before they buy. Once you show off the product, you can let the viewer decide on their own.
👋 Connect with the audience authentically
A huge part of Viya Huang's success is her down-to-earth and approachable persona. She dresses casually, her streams are unscripted, she chats with her team off-screen. If you're selling your own products, take off your "business-owner hat," relax, and relate to your audience as a person first.
Bloomingdale's X Sandra Choi
Bloomingdale's is an established luxury department store chain with over 150 years of history. So it's inspiring to see Bloomingdale's live e-commerce develop through regular shoppable livestreamed events. One particularly successful event was hosted by Sandra Choi, creative director at high-end shoe designer Jimmy Choo.
Bloomingdale's live e-commerce doesn't have the same level of viewership as Taobao Live, and Sandra Choi hasn't hosted a fraction of the streams that Viya Haung has, but there is plenty to learn from this collaboration.
🧑‍🏫 Recognize the value of expertise
You don't have to fit the concept of an "influencer" to host a successful shoppable livestreamed event: expertise is valuable. Sandra Choi is a businesswoman, not a professional entertainer, but as the creative director of Jimmy Choo, she certainly qualifies as a key opinion leader in the fashion world. Sandra knows her stuff, and as we've established, information can drive sales in live selling streams.
💐 Get creative to make streams special and on-brand
Bloomingdale's is a luxury department store, so it stands to reason that Bloomingdale's live e-commerce would be equally luxurious. For this event, the team got creative to make the stream feel elegant and exclusive. Viewers who signed up in advance were sent complimentary macarons to enjoy during the stream.
For your streams, get creative to make the audience feel special. That can mean anything from sending ahead cocktail recipe kits to simply thanking viewers by name during the livestream!
⏲️ Plan ahead to optimize your time
For this particular shoppable livestreamed event, the Bloomingdale's team planned to drive sales and engage the audience: The first 50 people who purchased a pair of Jimmy Choo shoes during the stream were given a unique personalized fashion sketch as a special thank you. To keep the audience tuned in, the team also planned a gift basket and gift card giveaway for those who watched until the end of the broadcast.
The key takeaway here is that planning can help you maximize your event. Before you go live, map your run of show, including special segments or sales. This will help you to keep the audience engaged by teasing upcoming content and driving conversions at key moments.
🤫 Sneak previews build excitement
We've talked in other posts about how to build excitement in live retail. Sandra hit the nail on the head when she took a page out of "FOMO Marketing 101" and gave her viewers a first look at Jimmy Choo's upcoming summer collection.
Letting your audience know that tuning in can mean sneak peeks and product reveals can help grow your viewership and promote an exciting stream.
Walmart X Gabby Morrison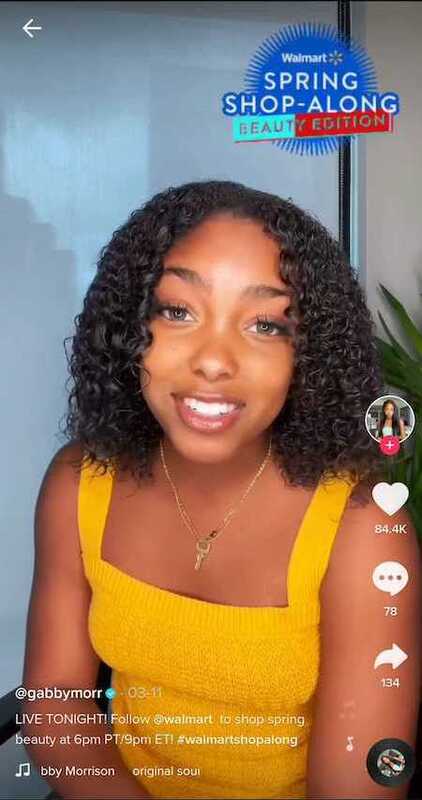 Retail giant Walmart is all-in on social retail: In December of 2020, they produced the first-ever retail-hosted livestream event on U.S. TikTok. This inaugural "Shop-Along" event was fashion-focused and featured TikTok creators unboxing and trying on Walmart clothes and accessories. In March of 2021, they took to TikTok LIVE again, partnering with creator Gabby Morrison for a "Spring Shop-Along: Beauty Edition." For this livestream, Gabby used Walmart skincare and makeup products to do tutorials and demo products, while the audience could tap to shop live.
So what can you learn from Walmart's TikTok LIVE strategy?
(Image source: TikTok)
📈 Test and iterate to improve your livestreams
Walmart has done a good job of seeing what works, getting user feedback, and iterating on the process. As Walmart's CMO explained to Glossy, they've learned to:
Play to creator strengths, giving their influencer partners room to bring their personality and flavor to the streams;
Provide a dynamic experience to keep viewers engaged;
Show their products and items in action so viewers can "try" before they buy.
These are good live shopping tips across the board, but the point is there's no single formula that's going to work for every brand or livestream shopping host. Pay attention to sales, viewer and engagement numbers, and audience feedback to find what works best for you.
🤳 Meet your audience where they are
As you probably know, social media audience demographics vary by platform. It's more challenging to find older fans on TikTok, and younger fans aren't as likely to be on Facebook.
Walmart is trying to reach millennials, young families, and Gen Zers. About 80% of TikTok's estimated 80 million active monthly users are between the ages of 16 and 34, so TikTok is the perfect platform for their target demographic. They did the research and focused their energy.
They also selected a Gen Z influencer, Gabby Morrison, who already creates beauty content. That means her over 3.5 million followers were ready to tune in when she went live with Walmart for their Spring Shop-Along.
Tommy Hilfiger X Manuela Frey
Premium clothing brand Tommy Hilfiger jumped on the live retail bandwagon early in 2020 with a livestream shopping experience hosted by model Manuela Frey. The 30-minute live shopping stream was heavily interactive and focused on the viewer experience and engagement. What can you learn from this Tommy Hilfiger livestream?
💃🕺special guests boost the energy
What's more interesting: one person delivering a monologue or two people having a conversation? Manuela Frey served as livestream shopping host for this Tommy Hilfiger livestream, but she was joined by several special guests including actress Zoë Pastelle, model Leomie Anderson, and model Noah Luis Brown.
Adding co-livestream-hosts (or special guests) is great for boosting energy and engagement. If you can't find a guest to join your stream in-person, a platform like Switcher will allow you to bring in guests remotely (and manipulate the layout of your feed to show everyone at once).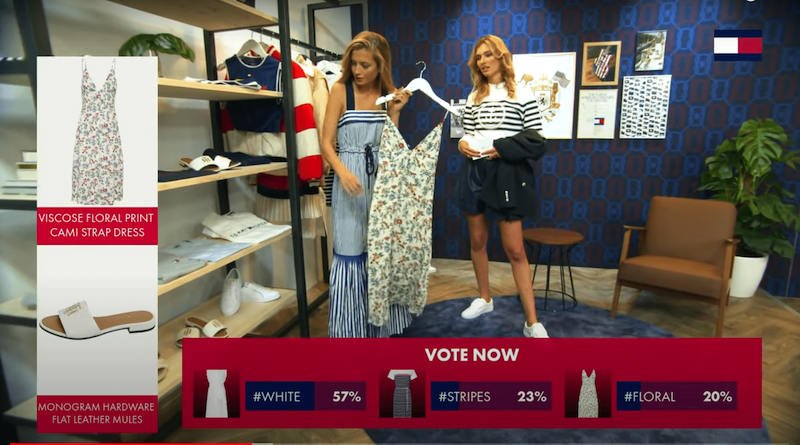 (Image source: YouTube)
👍❤️😂Interact with your audience to keep them engaged
During the Tommy Hilfiger livestream, while viewers shopped, they could also interact with Manuela and her guests. Viewers asked questions, voted on styles, and answered pop-up trivia questions.
This kind of interactivity is what makes livestream shopping unique. Give your audience every opportunity to engage. Encourage questions and answer them in real time, or turn the tables and poll your audience!
Now it's time for the (livestream host) student to become the (livestream host) teacher
Now that you've seen four livestream shopping collabs to learn from, it's time to put that knowledge into practice! Take these tips and create your own incredible live shopping experiences.
⏫ Switcher can take your streams to the next level
If you want to level up your live selling, Switcher Studio can help. From on-screen graphics to Remote Guest functionality, to split-screen templates allowing for multicamera, multisource streams — Switcher was designed to bring livestreams to life. Try Switcher free for 14 days and see how easy it is to create stunning and dynamic video content from your iOS devices.
Related Posts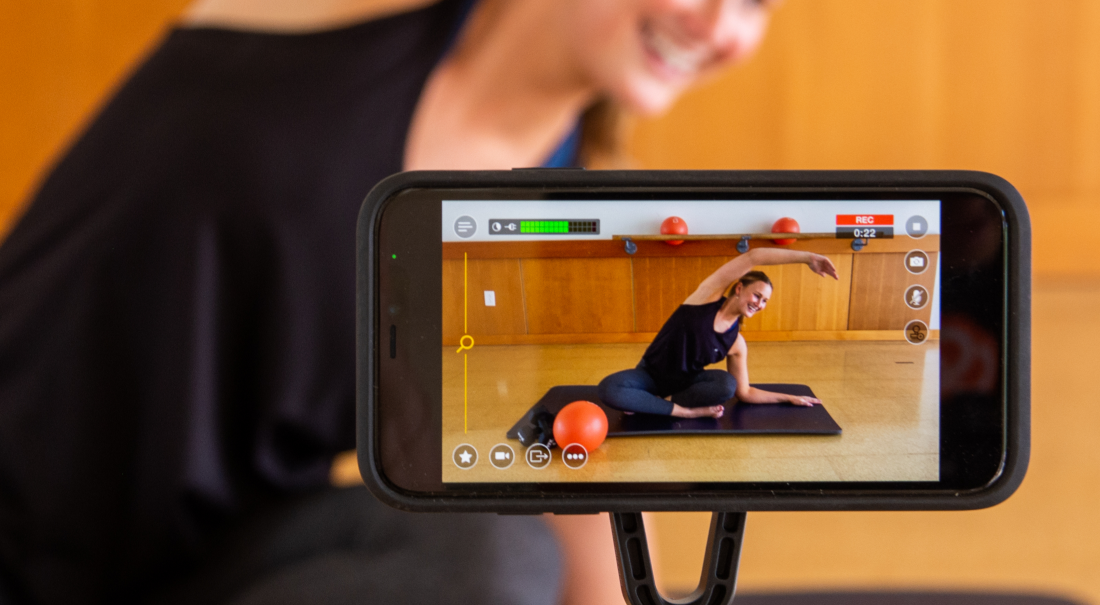 May 17, 2023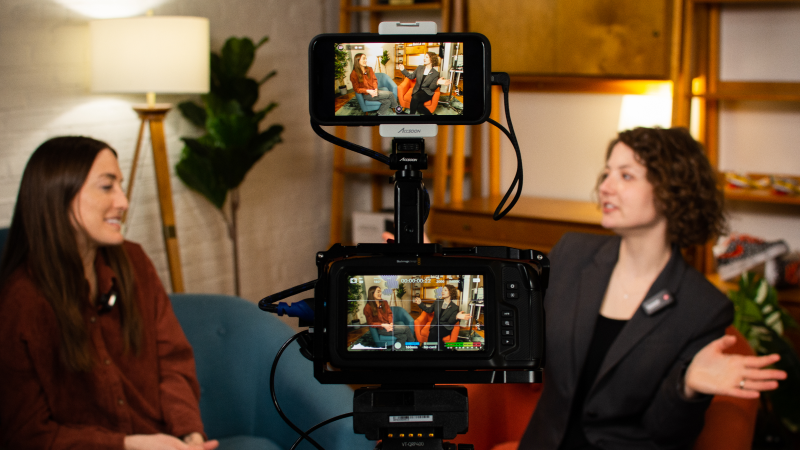 April 14, 2023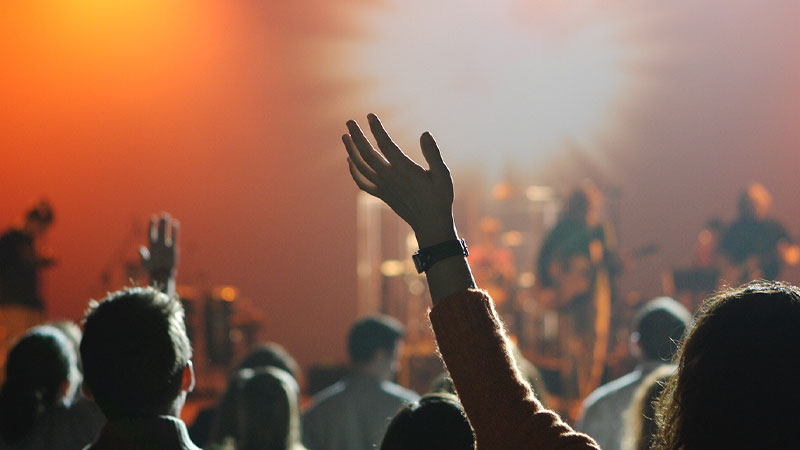 April 3, 2023