Creating TV style productions is a big operation. Lots of equipment, lots of people, lots of time. World Wrestling Entertainment, Inc. (d/b/a WWE) is an entertainment company and the largest professional wrestling organization in the world. Since its inception, they have amassed a global audience of over 36 million.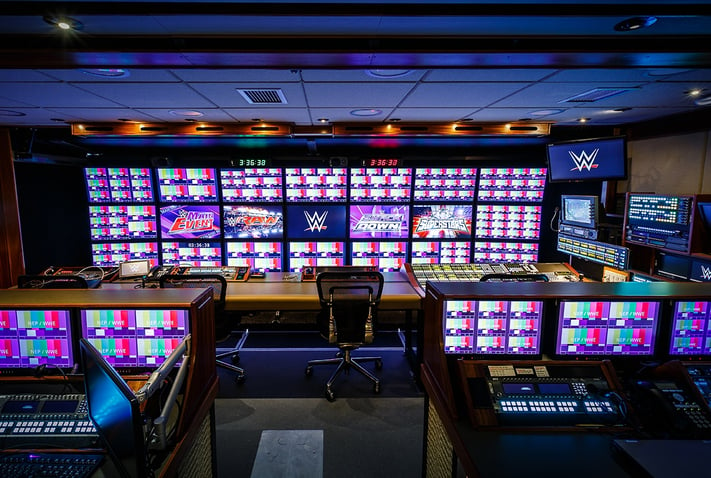 Each year WWE televises over 100 events via its SmackDown, WWE RAW and Pay-Per-View events. That doesn't include the hundreds of arena shows that the organization books in venues around the world.
"Putting this show on in one day is no small feat. Our shows begins load in typically around 4:00 AM Everything must be up and ready for production by 2:00 PM. We travel everything from the Lighting, PA, Screens, Back Stage Sets, Television Production Facilities, Generators, and Satellite Transmission Facilities, down to the Catering. We could not do this without all of the incredible professionals on our team. Everyone knows precisely what to do and how to get it done."

- Nick Smith, WWE Corp, Director, Remote IT and Broadcast Engineering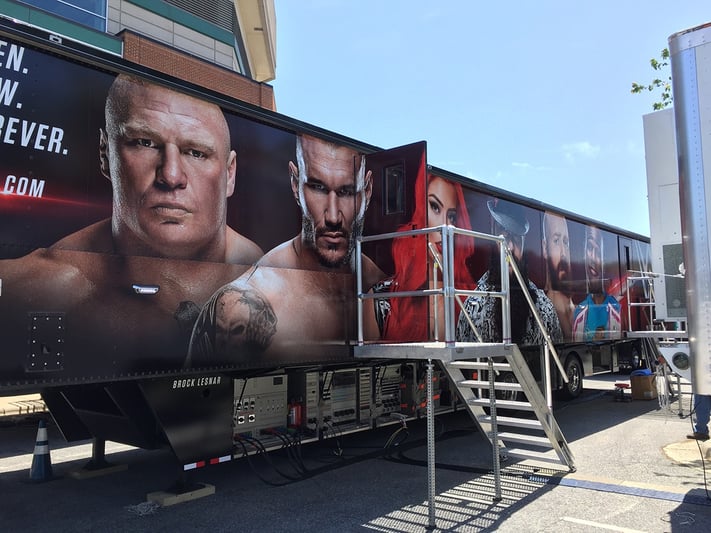 Now the WWE is experimenting with a new format for the some 300 events it hosts currently not captured on video. The goal - to see if using Switcher Studio with a few iPhones and iPads can achieve TV style results. A key part of testing has been defining workflow using mobile devices while meeting WWE's high standard of quality. One of the first requirements was moving beyond the four-camera setup. As a result, our team produced a special version of Switcher that allows unlimited sources. The only limitation is network bandwidth.

"We were seeking a low cost solution to capture more content for our viewers. Switcher stepped up to the plate and has provided solutions to solve those challenges."

- Nick Smith, WWE Corp, Director, Remote IT and Broadcast Engineering
Adding more cameras was an untested challenge. The App Store version of Switcher Studio already pushes the best iPhones and iPads.
To help prevent bottlenecks over the local network, we lowered the resolution and bitrate on preview video feeds
. We also hardwired the primary iPad used for switching using Apple dongles.
Using the "Director Mode" function in Switcher Studio, WWE then triggered a recording on all devices
.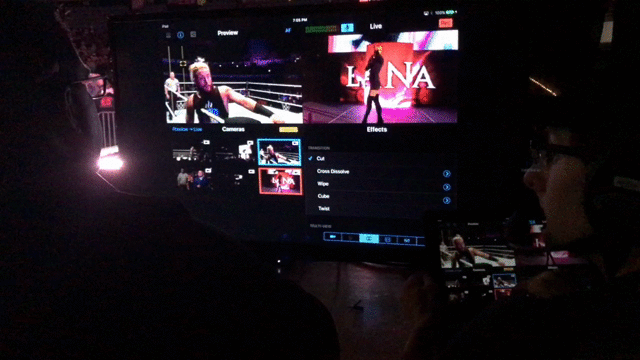 For the first test using Switcher Studio, the WWE had a Director and Operator at the main iPad. The video from the iPad was output to an external TV monitor using Apple's AirPlay. This workflow allowed the Director to see a live video feed from all sources. They were also able to talk with the camera crew and "direct" the operator when to cut to each camera.
"We were impressed how much Switcher was like the broadcast gear we are familiar with down to the little details like tally lights, graphics and playback."

- Nick Smith, WWE Corp, Director, Remote IT and Broadcast Engineering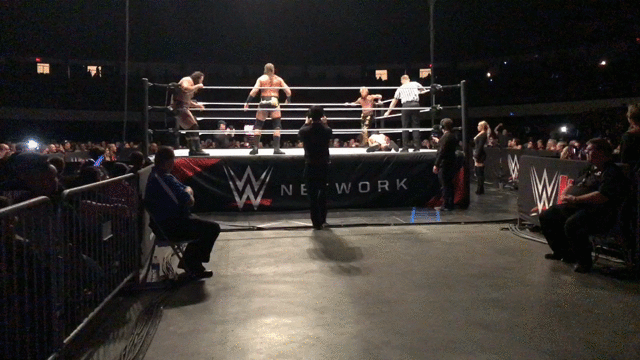 The WWE crew had three camera operators from their TV productions to run iPhones in and around the ring.
To ensure the devices had enough power to make it through the four-hour long event, iPhones
were attached
to batteries
. Meanwhile, two camera operators captured wide shots of the ring. Another camera operator captured performer entrances and crowd reaction shots.
WWE setup a local WiFi network for the event to
wirelessly
sync cameras. The Operator made edits in realtime to generate a line cut. After the event the line cut and a ISO from each angle
was sent
to the WWE post-production team in the United Kingdom.
Watching the full TV workflow WWE produced using Switcher is a testament to how far the product has come. Moving forward, we plan to make further improvements to the post-production workflow. This will be especially helpful for editors, using tools like Adobe Premiere or Avid.
If future tests prove successful, WWE could use this new
mobile
setup to provide more content to their fans--building new revenue streams along the way.
"Switcher has provided a solution to acquire more content at events that we are already producing in a more economical way."

- Nick Smith, WWE Corp, Director, Remote IT and Broadcast Engineering
Here is a segment pulled from the final result:
Subscribe to the blog
Sign up to receive notifications whenever a new blog post is published. You may unsubscribe at any time.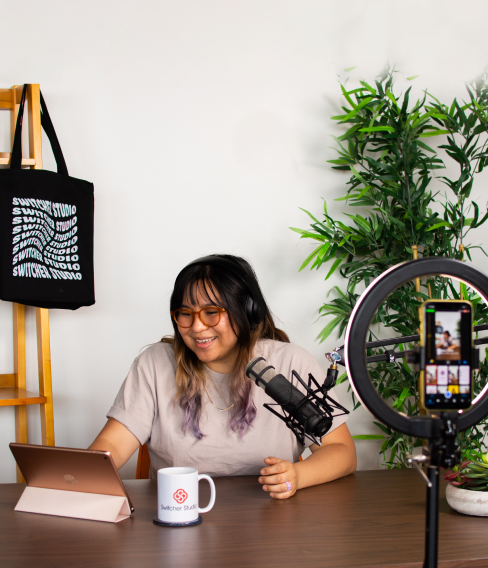 ---
About the Author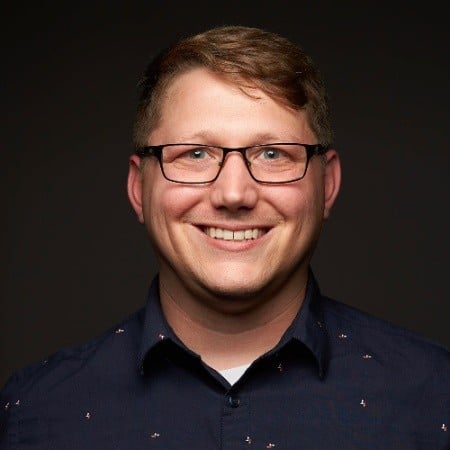 Nick is a livestreaming and social video expert and leads the Switcher Studio team as CEO and co-founder. Since 2014, he has led the company to partnerships with Facebook Live, LinkedIn, Microsoft Stream, and beyond and has garnered features in TechCrunch, USA Today, Inc. Magazine, and BBC. Nick is also a member of the highly competitive Endeavor Entrepreneur network.