There are many live video platforms on the market today. Facebook Live. YouTube. Periscope. Twitch. YouNow. It can be hard to decide where to stream to and why.
Many content creators have an audience on many platforms.
Someone with 3000 subscribers on YouTube and 2500 fans on Periscope will have a difficult time deciding where their stream should go
. One way or another, a huge chunk of their audience will miss their stream.
With some platforms like Facebook and YouTube, a creator could always upload their broadcast as an on-demand video
.
Yet, that eliminates the same opportunity to engage with your audience that live broadcasts permit
.
Luckily, there are a few options available for simulcast streams.
These services will allow you to select
multiple
platforms to stream to at the same time, eliminating the need to split your audience
.
With ReStream.io, setting up simulcast streaming is quick and easy. You can create an account for free by going to their website, and then you are able to add the platforms that you desire. Adding platforms is as easy as clicking on the one you want, and logging into it.
ReStream has many platforms already listed to choose from. These include Twitch, Livestream, YouTube, and more.
You can also choose "Custom Platform" and enter in the Custom RTMP information for a platform not listed
. This will allow you to stream to anywhere that provides RTMP information.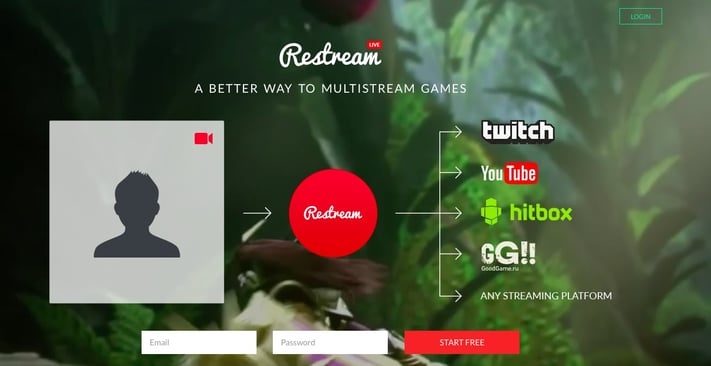 You are only able to stream to one channel on an individual platform with ReStream's free service (one YouTube channel, one Twitch channel, etc.).
However
, for $4.99/mo, you get the option to stream to two channels on an individual platform.
Custom RTMP will also cost you $10.99/mo to use.
After you have selected your platforms, ReStream will provide you with
their
server's RTMP information
.
You will then be able to enter this into your streaming software, such as Switcher Studio, OBS, or XSplit Broadcaster
. When you go live via your software, your stream will
be sent
to ReStream. ReStream will then send your stream out to your selected platforms.
---
What's The Sitch With SwitchBoard?
SwitchBoard (
formerly
known as JoiCaster) is also a popular solution for multi-platform streaming. You can choose from a free account or a paid account for $25.00/mo. The option that is best for you depends on your individual streaming needs.
Both plans offer unlimited streaming. You can have up to three platforms for the free account. The paid account offers up to five.
Remember that ReStream allows up to eight platforms, making social media kings and queens have more options
.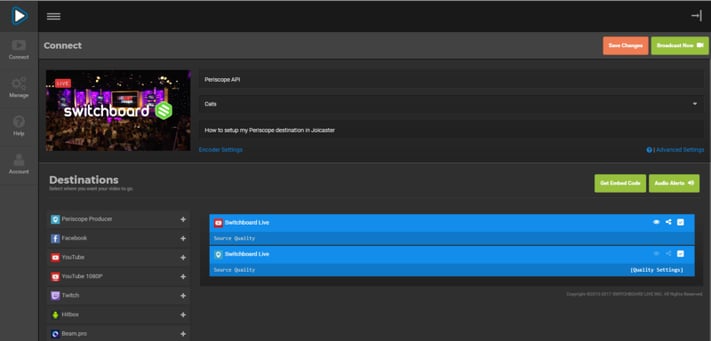 Still, both the paid and the free version of SwitchBoard allow you to stream to more than one on the same platform (i.e. To two YouTube channels at once)
. You can also schedule your broadcasts up to 10 days out. This means that you can set things up in advance to ease the last-minute prep for your stream.
SwitchBoard also allows streaming of up to 3000kb/s, whereas ReStream can cap those values around 1500kb/s
. As a downside, using Custom RTMP values costs $10/mo
on top of
your $25/mo paid service, making this feature a pricy option.
Just
like ReStream, SwitchBoard will provide you with
their
server's RTMP information. You will then be able to enter this into your streaming software.
When you go live via your software, your stream will
be sent
to SwitchBoard, and your stream will then
be distributed
out to your selected platforms
.
Can You Simulcast With Facebook Live?
Facebook does not currently support simultaneous streaming to multiple platforms.
Facebook Live partners like Switcher Studio are prohibited from being able to include this feature with their software
.
(UPDATE: In May 2018, Facebook announced Live Crossposting, which is essentially simulcasting to different pages exclusively within Facebook's social platform.)
To simulcast to multiple platforms including Facebook, you will need to use Custom RTMP information for your Facebook Live stream
. This can
be accomplished by
pre-scheduling your broadcast.
To schedule a stream, visit any Facebook Page for which you have Admin permissions. Select Publishing Tools from the menu on the top-left of the screen. Once you're in Publishing Tools, select Video Library and then Live. You will now see the Custom RTMP information for the stream.
Copy down the provided information (a Stream Key and a Server URL), and
finalize
your broadcast.
Now, go into ReStream/SwitchBoard and add a custom RTMP platform. Insert this information, and you will then be able to simulcast to Facebook.
Remember that this is a paid feature for both ReStream and SwitchBoard. Still, using the custom RTMP information will make simulcasting with Facebook Live possible.
For added help in adding your ReStream/SwitchBoard setup to Switcher Studio, please follow the steps in this guide
. You will be live on
all of
your chosen platforms in no time.
#GetOut. #GoLive. #BeAwesome.