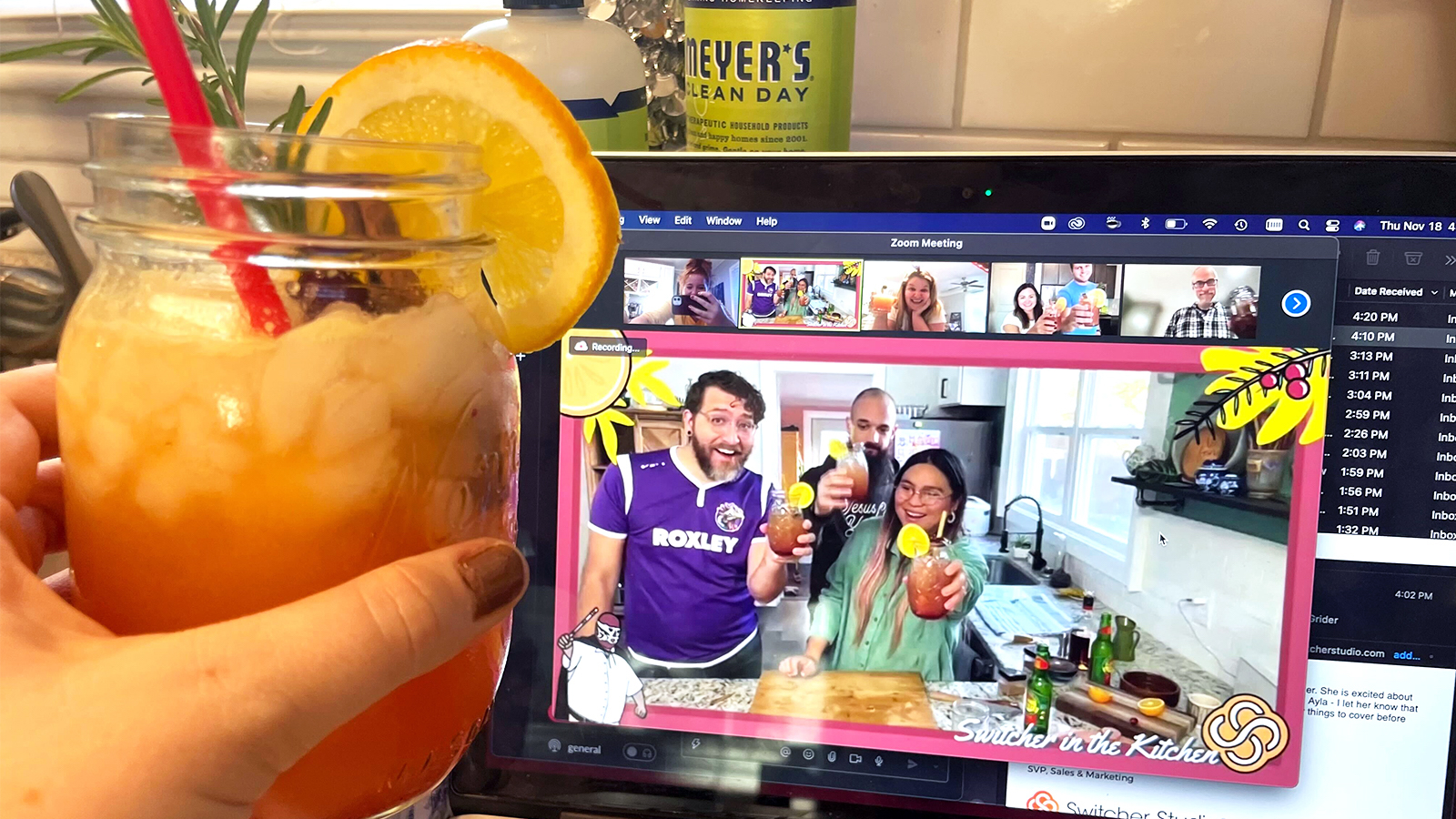 Virtual team building: the new normal
Remote teams aren't new, but 2020 dramatically altered the landscape of where work gets done. Technology smoothed the sudden transition to working from home, and many will agree that the shift to remote work has been mostly positive. Productivity, work-life balance, mental and physical health, environmental benefits, and more — remote work has plenty of positives.
Even so, there is one aspect of in-person work that has been difficult to replicate for remote teams — "water cooler chat." Impromptu, casual conversations with colleagues that happen around the office help promote company culture, team bonding, and more. Now, companies that relied on proximity to foster their work culture are thinking about team building in a completely different way.
Employee-led social committees
There are about a billion articles online about increasing employee engagement (this is the one billion and first), and many of them recognize that employee engagement efforts are often most successful when they're driven by employees with support from leadership. Not just because parties thrown by the boss have major "How do you do, fellow kids" vibes — employee-led social committees foster collaboration, increase buy-in from staff, and demonstrate leadership's respect for and trust in employee input.
At Switcher, we owe our social committee (aka the Party Parrots) a lot of credit for keeping fun and connection a priority for our team. We like to think we've got a pretty great company culture, even with a distance between us. And with part of our team scattered across the U.S. and Canada and part of our team in Switzerland … the distance is sometimes pretty significant. So how do we do it?
Hosting great online get-togethers for team engagement
Online get-togethers are easier than ever before. Plus, virtual team building events are more scalable, affordable, and environmentally friendly — so there are lots of benefits to taking your team get-togethers online. Not sure where to start? We've got some experience: From virtual classes to Zoom games for large groups, Switcher's internal social committee plans events for our team every month. I asked our head Party Parrot (and senior visual designer) Chelsea for her take on creating solid online get-togethers that aren't weird, awkward, or uncomfortable.
Here are her top tips.
Tip #1: Take a successful in-person event online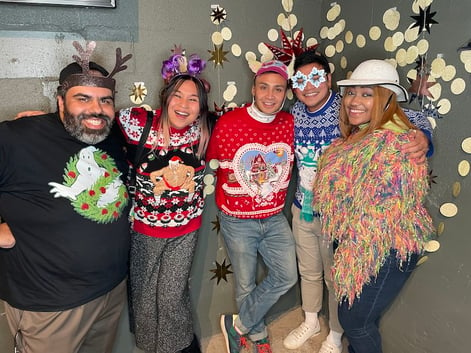 In the "Before Times," our Louisville-based Switcher HQ team had a yearly office holiday party with a white elephant gift exchange, but in 2020 we took it online! We used Zoom to connect, and a white elephant website to facilitate our gift exchange. It was great to replicate our office party even though we couldn't be together in person, and it was extra nice because we were able to include the Swiss team. It worked so well that we kept our white elephant gift exchange online even in 2021 when we felt more comfortable getting together physically.
There are a ton of tools for taking in-person events online. A little research will help set you on the right path to replicating your favorite in-person experiences virtually.
Tip #2: Balance structure and fun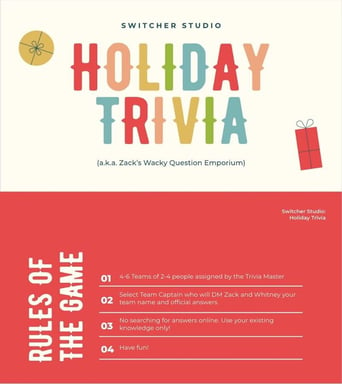 As we mentioned, part of what online get-togethers aim to do is create an atmosphere that leads to the casual, low-pressure, impromptu convos you might have in an office setting. That said, we've found it helpful to plan enough structure for an event that it feels like there's a reason to be there. (For example, the first year we did a remote holiday event, our Party Parrots created a slide deck so the team could play trivia on Zoom.)
In other words, you can totally have "an optional meeting with no agenda" (which is a real suggestion we saw online) but we like to have a little something planned. Even something as simple as an icebreaker game can set the tone and get people laughing.
Plus — we typically measure the "success" of an event by the headcount and engagement, and which sounds better to you:
Optional meeting with no agenda
Virtual I SPY
Yeah, we agree.
That said, don't feel like you need to plan things down to the minute — whatever is on the agenda, keep it casual enough that the team can chat at the same time.
Tip #3: Make it painless to participate
"Employee-driven with support from leadership" means that leadership prioritizes and sees value in virtual team building. When leadership supports social events, it's easy and painless for employees to participate.
Consider scheduling events (or at least some events) during work hours, so employees don't have to coordinate childcare or miss out on time with family.
Make team social events a priority for everyone and avoid scheduling meetings at the same time as the team get-together.
Support social events with a stipend. This helps cover takeout if you're playing Zoom games around lunch, drinks if you're doing a virtual happy hour, or ingredients if you're doing a virtual cooking class. It's good for morale, makes the team feel valued, and improves attendance.
Tip #4: Don't work too hard
An employee-led social committee is a way for employees to have fun together — it shouldn't be an extra job you have to do. Some of our events, like trivia, take a lot of planning, but sometimes we just set up a video conference and play games. If every online get-together required a ton of prep work, it wouldn't be sustainable or fun.
How can Switcher help?
Our live production app for iPads and iPhones can't help you prioritize fun, or win at Among Us, but we can definitely help you create a great virtual experience.
Switcher as a Webcam
You have plenty of options when it comes to webcams, from your computer's built-in webcam (🥔) to linking up a DSLR camera (💸). A great option for creating virtual events is using Switcher as a Webcam. Switcher as a Webcam lets you output your Switcher Studio production in place of your webcam in video conferencing platforms like Zoom, Teams, and Meet. That makes it easy to elevate your online get-together or virtual team-building event.
For example, our teammate and creator Asia (in the Kitchen) has hosted a number of virtual team-building events for us and uses Switcher to keep us on-task. For example, in her cocktail classes, she uses Switcher to display the recipe card and instructions on-screen so the rest of us can follow along (or so we can see what step we should be on.) She also uses the Auto-Switching feature to rotate between her multicamera setup so we can see what she's doing.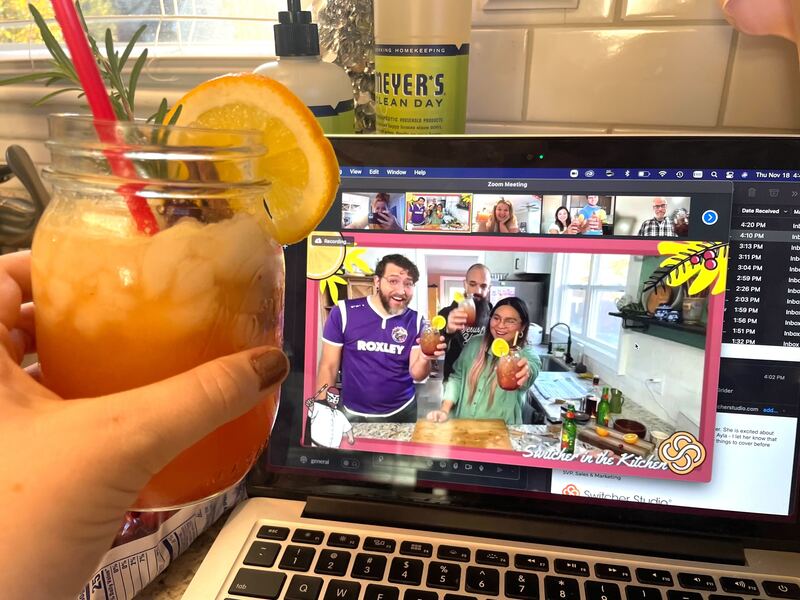 Switcher makes it easy to increase production value with multimedia, graphics, and more. It's not just about making video productions that look better — it also makes it easier to participate and be engaged in an experience.
Go forth!
Online get-togethers and virtual team-building experiences are fun and beneficial for your team. No matter what kind of event you're hosting, you can amp up the experience with Switcher! Take Switcher for a spin by starting a free 14-day trial today.
Related Posts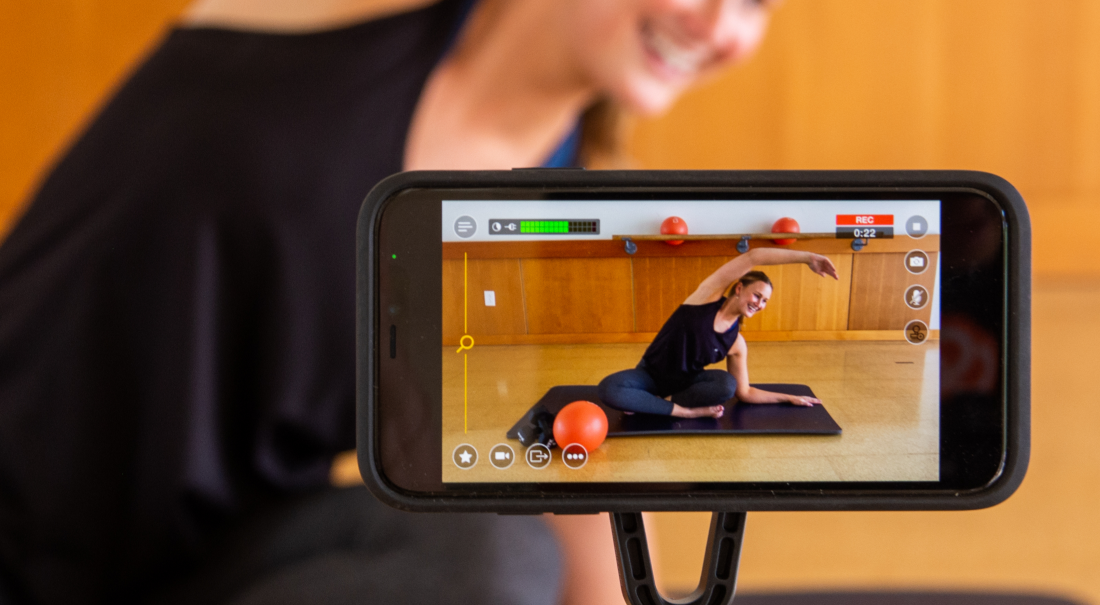 May 17, 2023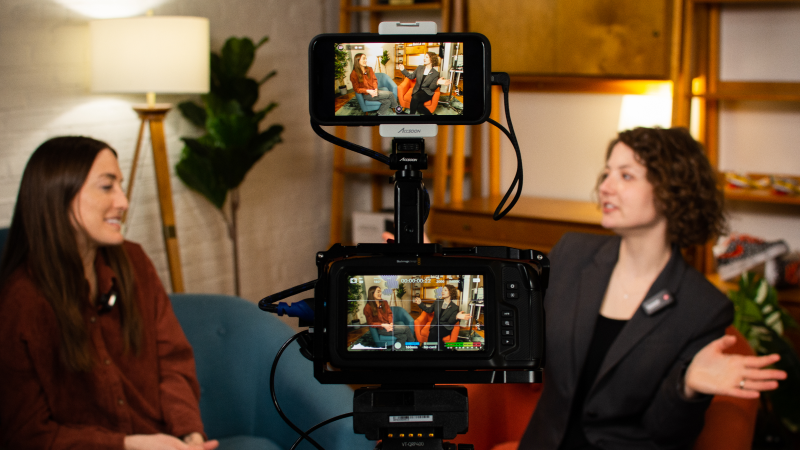 April 14, 2023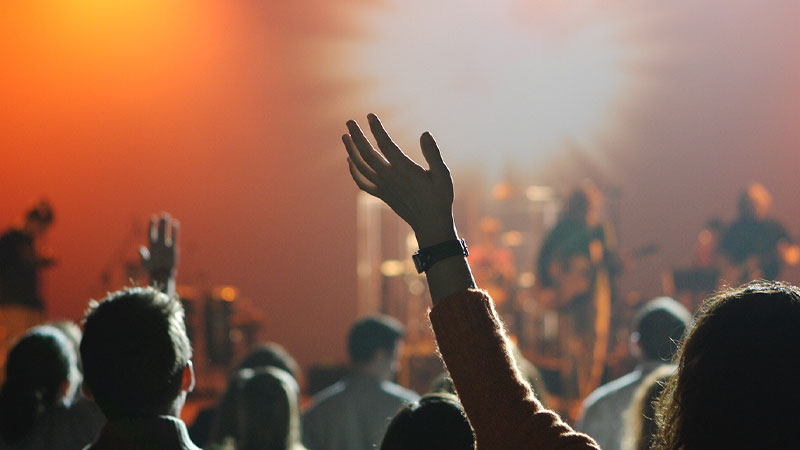 April 3, 2023