Department store chain Macy's recently launched its new weekly livestreaming e-commerce shopping experience, Macy's Live. From children's toys and board games to women's apparel and makeup, Macy's is trying its hand at one of the fastest-growing e-commerce trends.
Macy's isn't alone either. Big brands like Walmart, Nordstrom, The Home Depot, and more are all experimenting with live shopping, as are small and medium-sized businesses all around the country.
While live shopping continues to gain popularity in the U.S., China is setting the standard. According to Coresight Research, livestream shopping in China is estimated to be worth more than $300 billion by the end of 2021. With such huge success in China, many businesses in the U.S. are asking the same question: Is live shopping the future of e-commerce?
In this blog post, I'll answer that question, and we'll also take a look at the history of live shopping and how it's evolved into what it is today.
What is live shopping?
Live shopping is an e-commerce trend that combines live video with the ability to purchase products in real time. Live shopping differs from online shopping in a number of ways.
The first difference is the ability to see products live and in action. Instead of looking at still product images or watching recorded product videos, live shopping viewers have the opportunity to see products live and on display. Seeing products in action can help you better visualize what that product might look like on you, in your house, etc.
The second difference is the engagement component. Most live shopping streams happen on platforms like Facebook, Instagram, and Amazon. During the livestream, viewers have the ability to ask questions about products and gather information that can help them ultimately determine if they want to purchase that product.
Live shopping vs. home shopping
When I was younger, I remember channel surfing and landing on networks like QVC and HSN. Whether it was seeing a vacuum miraculously clean up a dirty rug or watching a non-stick skillet in action, I couldn't help but check it out.
In many ways, live shopping has its roots in-home shopping. The entertainment aspect of seeing live hosts demo products and offer flash sales certainly overlap, but there are also several key factors that make live shopping different from the QVC-style shows that became popular in the early 1990s.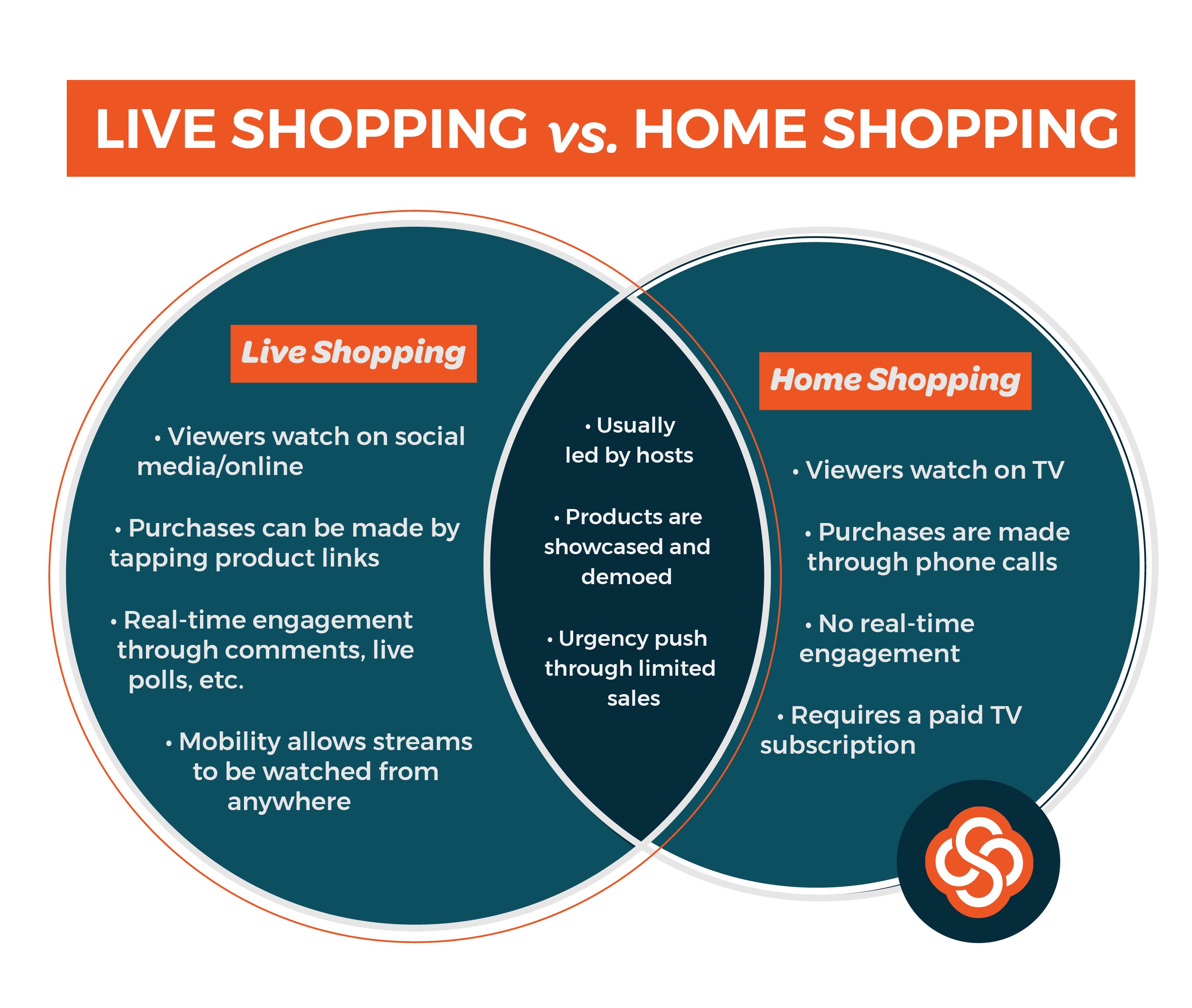 Live shopping can happen anywhere, anytime
As long as you have a smartphone, live shopping can happen anywhere and at any time. Unlike home shopping shows on QVC and HSN, there's no need to be in front of a television, place a call, and then wait on hold until someone is able to take your order.
With live shopping, users can easily pull out their smartphone, tune in to a desired live selling stream, and make a purchase directly from their device. The mobility of live shopping creates convenience for consumers and opens up more opportunities to shop and make purchases.
Live shopping creates opportunities for engagement
Don't get me wrong, QVC hosts can make their shows entertaining, but unless you're able to be a featured caller, there isn't an opportunity to engage with the QVC host and ask questions. Real-time engagement is a big factor that sets live shopping apart from home shopping.
The ability to ask questions and engage with hosts, guests, and even other shoppers in the comments section provide valuable insight that can help viewers make more informed purchasing decisions. Spending time answering viewers' questions and getting their feedback on products can benefit businesses by helping them establish a relationship with their audience, rather than just exposing them to the sales portion of your broadcast.
Live shopping lets you reach your audience on a variety of platforms
One of the major drawbacks of live shopping shows on QVC and HSN: not everyone watches those channels or even has access to them. Live shopping lets you reach your audience where they already spend their time, social media.
According to Backlinko, 70% of the U.S. population uses social media, with Facebook leading the way with 2.9 billion active monthly users. Expanding your audience is a key factor to getting more e-commerce sales, and live shopping streams help ensure that your products are being seen by as many people as possible.
Livestreaming e-commerce started in China
Although some aspects of live shopping originate from TV networks like QVC and HSN, where did the idea of promoting and selling products online through live video come from?
The concept of livestreaming e-commerce first began in China in 2016 with social retail giant Taobao. Taobao developed a fresh idea that completely changed e-commerce: mixing the social component of livestreaming video with an e-commerce store that allowed viewers to tune in and make purchases in real time.
Taobao livestreaming enabled merchants to feature a variety of products and make them available to purchase in a matter of moments. This new idea of mixing live video and e-commerce helped usher in a new era of online shopping. In 2020, Taobao sold $7.5 billion worth of merchandise in just the first 30 minutes of their presale for Singles' Day — which is an unofficial Chinese holiday and the world's largest online shopping event. Through quarter two of 2021, Taobao and their sister company, Tmall, have approximately 828 million annual active users.
Much of Taobao's livestreaming e-commerce success can also be attributed to the streamlined nature of the app, which makes the shopping experience convenient for users. Shoppers are able to choose from over 2 billion product listings from the storefront of their choice, easily make purchases, and track their orders all in the same place. This level of convenience and user-friendly live shopping experience is something that big brands like Facebook and Amazon have taken note of.
Livestreaming e-commerce in the U.S.
As I mentioned earlier, big brands in the U.S. are starting to make livestreaming e-commerce a big part of their marketing and sales efforts. With the onset of the pandemic, many consumers found themselves making more online purchases, which ultimately led to a boom in the e-commerce market. With the growth of e-commerce sales, companies like Facebook saw an opportunity to help businesses while also expanding their capabilities to be more of an end-to-end e-commerce platform.
In May 2020, Facebook CEO Mark Zuckerberg announced Facebook and Instagram Shops, which are essentially digital storefronts on Facebook and Instagram that business owners from all industries can use to list, promote, and sell products. Merchants also have the ability to feature their products on livestreams and add tappable links that direct users to specific products listed on their Facebook or Instagram Shops, where viewers can ultimately make purchases if they wish.
"It's still obviously early, but we now have more than 1 million active Shops, and more than 250 million people actively interacting with Shops every month. So, I think the progress in terms of being able to ramp up some of this stuff and all of the different tools that now exist — it's really amazing." — Mark Zuckerberg, Facebook CEO
During a Clubhouse discussion in March 2021, Zuckerberg said, "It's still obviously early, but we now have more than 1 million active Shops, and more than 250 million people actively interacting with Shops every month. So, I think the progress in terms of being able to ramp up some of this stuff and all of the different tools that now exist — it's really amazing."
How Switcher Studio fits into the live shopping equation
As platforms like Facebook, Instagram, and Amazon build live shopping into their functionality — as well as major brands creating their own live shopping platforms — Switcher Studio has created features to support live sellers and businesses who want to create videos to help with e-commerce sales.
Brand your live shopping streams: Turn your live shopping streams into branded experiences that help you stand out from the crowd! Easily add logos, graphics, custom fonts and brand colors, and more.
Go Vertical: Enter Vertical Video Mode to stream vertically to Facebook or YouTube and give your audience the viewing experience they prefer. You can even record vertically to create video content for platforms like Instagram, Snapchat, TikTok, and beyond.
Create Video Clips: Create bite-sized clips to use as promotional and teaser content for social media Stories, Shorts, and Reels. Clips also give you the ability to repurpose previous live selling streams to embed as product videos, explainers, testimonials, and more on your website.
Showcase your products in a variety of ways: Show a side-by-side of your livestream with a still image of your product or even a recorded video showing your product in action. With Switcher's Live Selling Cards, you can easily control and customize the layout of your content.
Start your free 14-day trial, and try Switcher's powerful live selling features out for yourself.
What's next for livestreaming e-commerce in the U.S.?
With the growth of platforms like Facebook and Instagram Shops, Amazon Live, and more, livestreaming e-commerce will continue to grow in the U.S. According to Coresight Research, livestreaming e-commerce in the U.S is expected to reach $25 billion in sales by 2023. Although this number isn't quite on par with China's live shopping market value, it's still a massive number that's trending up year-over-year.
Now, back to the question I said I'd answer at the beginning of this post: Is live shopping the future of e-commerce? I think it's safe to say yes. 😀
Subscribe to the blog
Sign up to receive notifications whenever a new blog post is published. You may unsubscribe at any time.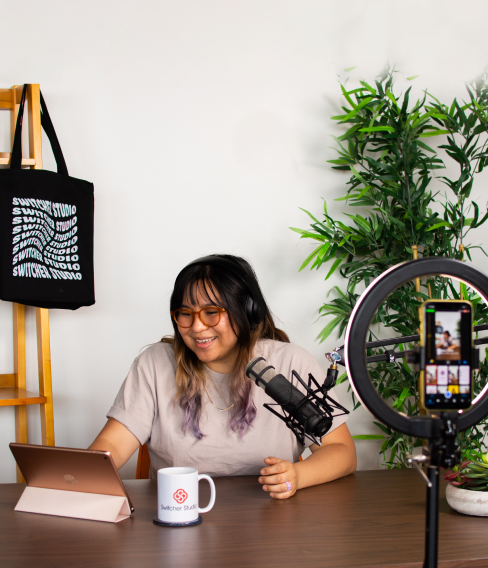 ---
About the Author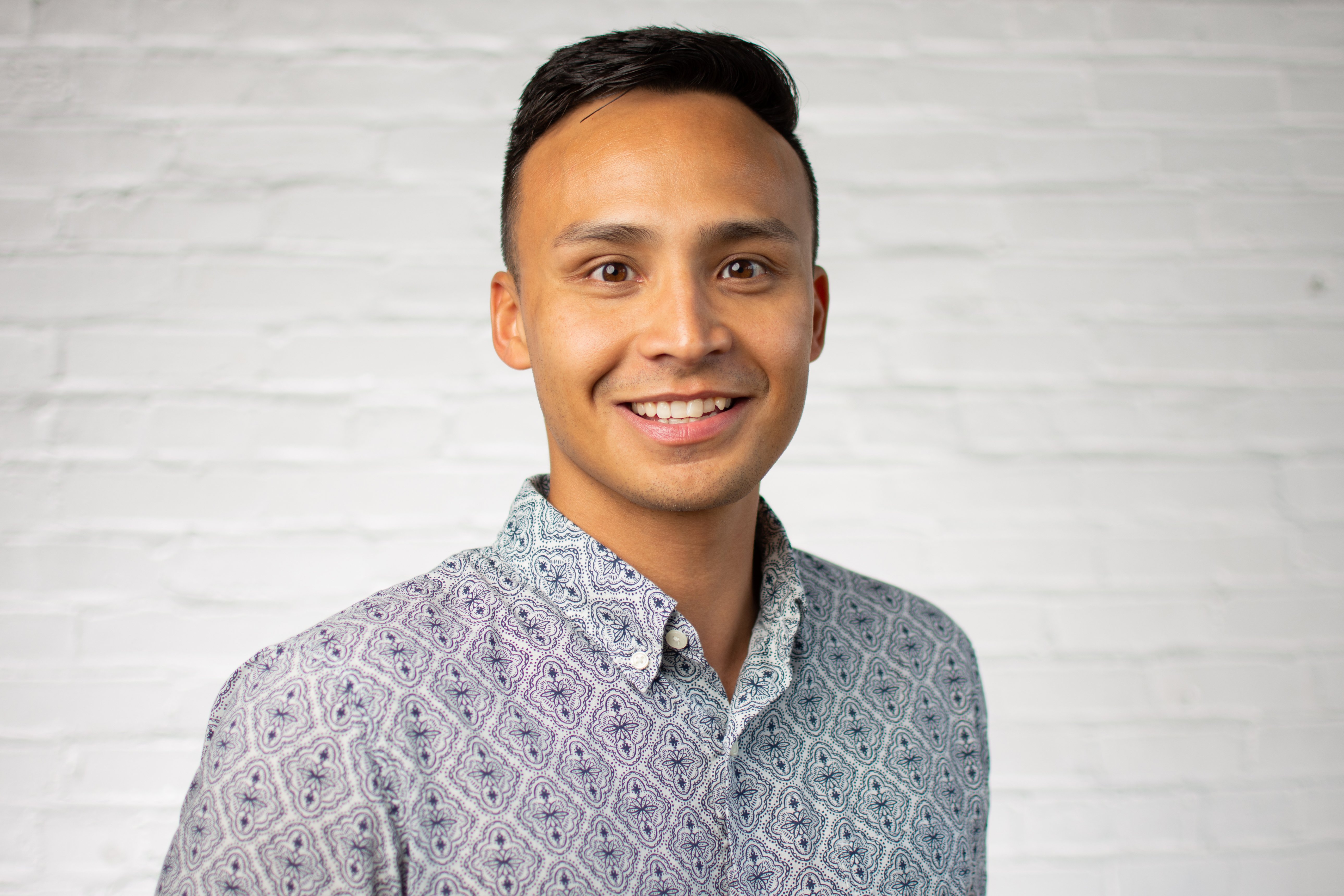 As Switcher's associate product manager, Jared aims to educate and entertain readers on all things live video. He's spent his career in digital content strategy, helping brands to better connect with their audiences.